How to Remove Rausch Sturm from Your Credit Report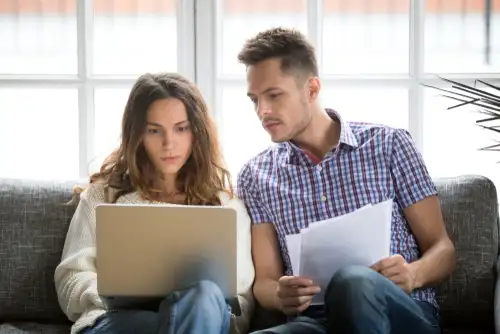 If the Rausch Sturm Israel Enerson & Hornik, LLP, debt collection agency contacts you, it's probably pursuing an old debt. It may also appear on your credit report as a collection account, meaning the original creditor hired Rausch Sturm to collect the debt on their behalf. Rausch Sturm will keep contacting you until you pay the debt or remove its collection account from your credit report with the three major credit reporting agencies in the U.S.
Collection accounts are bad news for your credit score and can have a damaging effect for up to seven years, even after you pay the debt. The only way to prevent Rausch Sturm, or RSIEH, from wreaking havoc on your credit score is to remove its account from your credit report. While dealing with debt collectors is painful, it's better to deal with them ASAP rather than procrastinate.
What is Rausch Sturm?
For the past 40 years, Rausch Sturm has been a medium-sized debt collection agency operating out of Brookfield, Wisconsin, with agents across several states. It collects loans for original creditors, such as:
Auto lenders
Banks
Commercial lenders
Credit unions
Credit card companies
Student loan providers
Telecommunication companies
Utility providers
Is Rausch Sturm legitimate?
Rausch Sturm is a legitimate business and not a scam, but it doesn't have a good reputation among its customers. It had 43 complaints against it in 2021 with the Consumer Financial Protection Bureau (CFPB) and around 86 in the last three years with the Better Business Bureau (BBB). Most of these complaints relate to harassment, inaccurate reporting and failure to verify debt. If you experience similar problems when dealing with Rausch Sturm, consider filing a complaint.
A common question is, "Can Rausch Sturm bring a default judgment against me, sue me or pursue wage garnishment?" The fact is, it can freeze your bank account or checking account until you pay a debt.
Steps to remove Rausch Sturm from your credit report
Removing a collection account isn't easy, but you can use some simple strategies to maximize your chances of success. Regardless of your situation, consider these steps:
Communicate in writing
Verify the debt
Negotiate a pay-for-delete agreement
Hire a professional
Communicate in writing
Debt collectors are notorious for saying one thing and doing the opposite. This often occurs when they make agreements over the phone as it's difficult for a customer to hold them accountable. For this reason, it's extremely important that you communicate with Rausch Sturm in writing only.
Under the Fair Debt Collection Practices Act (FDCPA), you have the right to request that all Rausch Sturm communication is via U.S. Mail. This helps to prevent constant harassment or abuse and holds Rausch Sturm accountable for any agreements. Make sure you keep all written records of your dealings with Rausch Sturm for future reference.
If a Rausch Sturm agent argues or refuses your request for written communication, tell them they are in violation of the FDCPA and hang up. All future communication should arrive via U.S. Mail. If the agency continues to call you, make it clear you intend to file a complaint with the CFPB if it doesn't comply with your request.
Verify the debt
Your next step is time sensitive. Requesting debt validation involves asking Rausch Sturm to prove that the debt belongs to you. You have the right to do this under the FDCPA, so a debt collection agency must comply, but you must make the request within 30 days of your first contact with it.
Verifying the debt information can expose reporting errors, which may get you out of paying a debt entirely. To make a formal request, send Rausch Sturm a debt validation letter, preferably via certified mail. Ask for verification of all the important information relating to the debt, including the date, name of the creditor and amount of the debt.
After you send the debt validation letter, the managing attorney at Rausch Sturm should send you documentation that proves the debt is yours. Read over all the documents carefully to check for any inaccurate information. If you find any inconsistencies, you can file a dispute with the three major credit bureaus. They'll follow up with Rausch Sturm directly and remove the account if they deem it inaccurate, meaning you won't have to pay the debt.
Negotiate a pay-for-delete agreement
If your request to remove the collection account is unsuccessful, you can try to negotiate a pay-for-delete agreement. This means Rausch Sturm will agree to stop reporting the debt to the major credit bureaus in exchange for payment. Many customers don't realize that debt collectors will often agree to accept less than the full amount of the debt, which is why it's important to negotiate.
You can start by offering to pay Rausch Sturm half of the debt amount, and then negotiate until you reach an agreement. Remember to request written documentation that clearly states the terms of the agreement before you make a payment.
After you receive this and make your first payment, wait 30 days and check your credit report. Rausch Sturm should no longer appear, so if it does, contact the agency and ensure it abides by the terms of the agreement. Insist on the removal of the collection account before making your next payment.
Hire a professional
If you're still having trouble removing the account, consider asking a credit repair company to help you negotiate with Rausch Sturm. A credit repair company helps customers get rid of any dings on their credit report so that they can begin rebuilding their credit. If you hire a credit repair company, they'll handle all the negotiations so you don't have to deal with Rausch Sturm again.
It's important to work with a reputable credit repair company, such as Lexington Law. Lexington Law offers three service levels at three different price points. Before signing up, you can get a free consultation with a customer service representative.
They'll help you dispute the debt and remove it if possible. They can also help you remove other negative marks from your credit report, such as charge-offs, late payments and repossessions. Their assistance can help you clean up your credit report and begin to rebuild your credit score.
Rausch Sturm contact information
You can find Rausch Sturm at:
250 N. Sunnyslope Road
Suite 300
Brookfield, WI 53005
Phone number: 866-456-3744
Website: www.rauschsturm.com
Dealing with Rausch Sturm
Rebuilding your credit score isn't easy, but it's worth it, and cleaning up your credit report is an important step. You may have entries on your credit report dragging down your score. The strategies above can help you remove these collection accounts and get your credit score back on track.
Update: This article has been updated to reflect the current number of BBB and CFPB complaints against Rausch Sturm.
Disclaimer: This story was originally published on September 4, 2020, on BetterCreditBlog.org. To find the most relevant information concerning collections or credit card inquiries, please visit: https://money.com/how-to-remove-collections-from-credit-report/ or https://money.com/get-items-removed-from-credit-report/