How to Remove TRS Recovery Services from Your Credit Report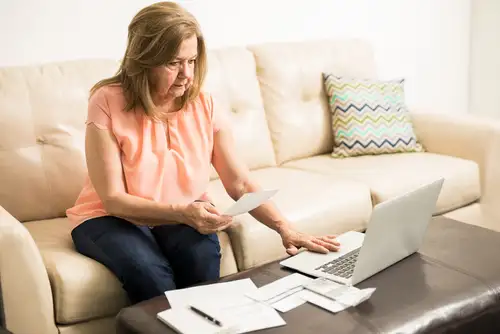 Millions of Americans have debts in the collection phase. If you're hearing from a company called TRS Recovery Services, you're not alone.
Dealing with a debt collection agency can stress you out. But you can stop its collection efforts through a series of steps.
This guide will break down everything you need to know about TRS Recovery Services. It will also explain how to delete this company from your credit report, which could boost your credit score significantly.
About TRS Recovery Services, Inc.
TRS Recovery Services, Inc., is a small debt collection agency founded in 1989. The agency's headquarters are in Marietta, Georgia. You can contact TRS at the address it provides for inquiries:
TRS Recovery Services, Inc.
Attention: TRS Resolutions Department
P.O. Box 674169
Marietta, Georgia 30006
You may wonder how a small company can create so much stress for people who are on the hook for old debts. The company's main office has contracts with call centers who make the phone calls and send the letters you're probably familiar with already.
TRS Recovery has accumulated a lot of complaints from customers. The Better Business Bureau reports 339 complaints about this agency in the past three years.
There were at least two civil cases filed against TRS Recovery Services in which it was accused of violating consumer rights under the Fair Debt Collection Practices Act (FDCPA). The violations include calling at unreasonable hours, ignoring debt validation requests and reporting inaccurate information to credit bureaus.
TRS Recovery Services and Amazon
Lately, a lot of Amazon shoppers have gotten to know TRS Recovery Services as Amazon sends outstanding balances to it. In many cases, consumers didn't know they had a problem with their Amazon payments until they started hearing from TRS Recovery. If they inadvertently paid for a product with a maxed-out credit card, for example, and the transaction failed after the product they bought had shipped, they'd owe Amazon money.
A lot of us have several payment methods saved in our Amazon accounts, so this could happen easily enough. Furthermore, Amazon apparently turns accounts over to TRS Recovery within days instead of months as is standard with actual creditors.
How to get TRS Recovery Services off your credit report
No matter how you got on TRS Recovery Services' radar, you probably want to end your relationship with the company and remove the collection account from your credit reports. Here are the steps to take to deal with TRS Recovery Services and remove this company's collection account from your credit history.
Write a goodwill deletion letter
If you've paid off the balance, ask for a goodwill deletion.
A debt collector doesn't have to remove negative information from your credit report, but it does have the power to do so.
When you ask for a goodwill deletion, you're asking for a favor. And when you have a collection account because of an honest mistake or oversight — and you've paid off the account — why not ask for a favor?
Just write TRS Recovery Services a letter explaining why you were late on your payments in the first place. If you had a job loss or medical expense that prevented you from making payments, you should mention this. Or, if you had no idea you owed money to someone (such as Amazon) until the collection account showed up, mention that.
Explain your history of paying your bills on time. Be polite — just like you would when asking for a favor from a friend or a clerk or bank teller.
Ask for validation of the debt
If the goodwill letter doesn't prompt TRS Recovery Services to delete your negative credit marks, it's time to seek validation on the debt.
The Fair Debt Collection Practices Act gives you the right to see evidence you owe the money to the debt collector. The collection agency has to provide this documentation when you ask for it if you ask within 30 days of first hearing from the agency.
The FDCPA guarantees your right to validate debt only within the first 30 days of hearing from TRS Recovery Services. But this doesn't mean you can't ask after 30 days have passed. It just means TRS isn't legally required to provide the records. Check out a sample debt validation letter here.
TRS Recovery Services should answer your letter with various documents that show you owe the money. When these documents arrive, check them over carefully. If you can find inaccuracies, TRS will have to remove the inaccurate information from your credit reports.
There's also a chance TRS won't be able to find the documents, which means they'll have to delete the negative marks from your credit report with all three of the major credit bureaus: Equifax, Experian and TransUnion.
Negotiate a deal with TRS Recovery Services
TRS Recovery will probably be able to prove you owe it money. When this happens, your best bet is to make a payment.
But this doesn't mean you're giving up. In fact, you'll be employing one of the best strategies for removing this collection account from your credit report: using your payment as a bargaining chip. This involves a pay-for-delete agreement.
TRS Recovery wants your money. You want TRS Recovery off your credit report. Why not make a trade?
Any payment you make translates into profit for TRS Recovery. They may be willing to bend the rules if you agree to make payments on your debt.
Because a debt collector often buys debt for a fraction of the total balance, you can sometimes get away with paying less than what you owe. Start by offering to pay a portion of the debt in exchange for deletion.
Go back and forth. Negotiate with them. Make offers and counter-offers. Be persistent. Eventually, you may get TRS to agree to delete your collection account in exchange for the payment.
TRS Recovery Services should contact the three credit bureaus individually and remove the account from your credit report within 30 days of receiving your first payment. If it still appears after a month, reach out to them and remind them to get a move on.
Hire a credit professional
If you don't feel like dealing with TRS Recovery Services, you don't have to. You can hire a credit professional to help you clean up your credit report.
Credit repair professionals understand the motivations of companies like TRS Recovery Services. They'll know exactly what to say in order to get these companies to agree to remove their collection accounts from your credit report.
There are many reviews of top credit repair companies online that can help you decide which one to work with. Be sure to consider your top credit concerns and budget when choosing a credit repair company.
TRS Recovery Services FAQ
These are the kinds of questions that come up a lot, so here are some answers:
Can I pay off TRS Recovery Services online?
Yes, TRS offers a wide variety of payment options, including an online payment portal. But remember, paying off the bill won't help your credit score.
If you're trying to remove TRS from your credit report, use your payment as leverage to get TRS to remove the negative item from your report. Once you have an agreement in writing, make a payment any way you like: online or by sending a check, money order or MoneyGram.
Will TRS Recovery Services sue me?
Yes, this third-party debt collector could sue you in civil court. The intent would be to force you to make a payment through a court order.
In most cases, the cost of litigation discourages debt collectors from filing lawsuits against consumers. There are exceptions, however.
If TRS is threatening to sue you, keep in mind federal law prohibits TRS from making false and misleading statements about lawsuits it does not intend to file. You should point this out to the agent.
Should I sue TRS Recovery Services?
You have the right to sue a debt collector such as TRS Recovery if it violates your consumer rights.
A lawsuit may be helpful if TRS is reporting inaccurate information about you and refuses to stop despite your attempts to resolve the problems. This could happen if you've been the victim of identity theft, for example.
Can TRS Recovery Services have me arrested?
No, the law does not allow criminal action because of personal debt. TRS also cannot threaten you with criminal action according to federal law.
Can TRS Recovery Services garnish my wages?
TRS Recovery Services could garnish your wages if a judge approves the agency's request. First, TRS would have to sue you and win the lawsuit.
The FDCPA prohibits TRS from threatening any kind of legal action that it has no intention of taking. Report violations to the Consumer Financial Protection Bureau. You could receive $1,000 in damages for violations of this act.
Why am I hearing from TRS Recovery Services?
TRS Recovery is a third-party debt collector which means it's contacting you because of a debt you owed another financial institution, retailer, or lender.
As previously mentioned, TRS Recovery also collects on behalf of Amazon after problems with transactions leave outstanding balances.
Conclusion
Everyone should pay attention to their credit files because a credit score impacts borrowing costs for cars, houses, personal loans and credit cards. Your credit score could also affect your car insurance premiums in most states.
To fix a credit reporting blemish, you'll need patience, time and knowledge of the best steps to take. If you would like to know how to improve your credit and boost your score, check out Money's article on 7 ways to improve your credit score.
Update: This article has been updated to remove unverifiable information.
Disclaimer: This story was originally published on December 29, 2020, on BetterCreditBlog.org. To find the most relevant information concerning collections or credit card inquiries, please visit: https://money.com/how-to-remove-collections-from-credit-report/ or https://money.com/get-items-removed-from-credit-report/