How to Remove Velocity Investments LLC from Your Credit Report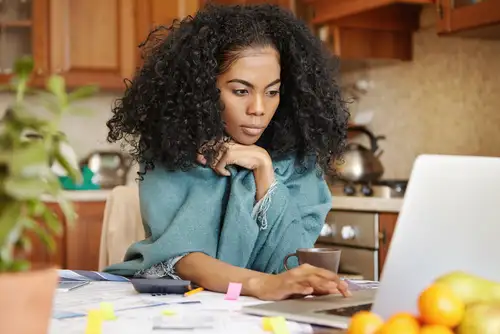 Has Velocity Investments, LLC caused your credit score to take a dive? If so, it's probably an old debt coming back to haunt you. If you fail to make payments on a bill or a loan, your creditor may hire Velocity Investments, LLC to recover payments from you.
But paying off Velocity Investments may not help your credit score. It may even lower your score further. The best way to deal with this agency is to deal directly with the problem: getting the negative item deleted from your credit history. This guide explains several ways to do this.
About Velocity Investments, LLC
Velocity Investments, LLC is a small collection agency with offices in Wall Township, New Jersey, east of Philadelphia. It was founded in 2002.
Like most collection agencies, Velocity Investments gets its fair share of consumer complaints. In the past three years, over 50 people have complained to the Better Business Bureau (BBB) about this agency. Another 150 people have filed complaints with the Consumer Financial Protection Bureau (CFPB). Because it responds to most complaints, the BBB rates Velocity Investments as A+.
Velocity Investments has also been involved in over 10 cases of civil litigation, which is higher than you'd expect for an agency this size. Most complainants claim it violated their consumer rights under the Fair Debt Collection Practices Act (FDCPA). You'll find more in-depth information on this piece of legislation below.
How to get Velocity Investments, LLC off your credit report
You're probably reading this post because you want to get Velocity Investments off your credit report while also stopping the phone calls, letters and other forms of harassment you may have experienced.
Paying off the bill will stop the phone calls, but it won't fix your credit score. In fact, the item will remain for the full seven years as a "paid collection," which looks as bad as an "unpaid collection." To remove the collection account from your credit report entirely, follow the steps below.
Step 1: Brush up on your FDCPA rights
A debt collector's one job is to compel you to pay money on old debt. Whether it's a lump sum or monthly payment doesn't matter all that much. Money from you equals profits for them. That's why they call you so often and send so many letters. Statistics show that, sooner or later, a percentage of debtors will give in and start sending money.
Some debt collection agencies want to speed up the process. They'll get impatient and may violate your consumer rights. They may threaten to sue you, to garnish wages or to call your employer about the debt if you don't make a payment.
Knowing your consumer rights
You may not know it, but you have rights under federal legislation designed to protect you from debt collector abuses. This legislation makes up the FDCPA. Unless you're aware of your consumer rights, there's a chance that a debt collection agency will violate them. Even if the agency doesn't break the law by making outright threats, it may hint at taking illegal actions just to motivate you.
Agencies such as Velocity Investments, LLC often assume you're not aware of your consumer rights. It's up to you to prove it wrong by learning your rights and insisting the debt collector honors them.
The FDCPA prevents debt collectors from:
Calling you before 8 a.m. or after 9 p.m.

Contacting you at a time you have told them is inopportune.

Contacting friends, family or colleagues about your debt.

Calling after you have requested contact only through U.S. Mail.

Using profane or obscene language.

Misrepresenting themselves or information about the debt.

Reporting false information about the debt.
If you experience any of the above, you should file a complaint with the CFPB. You could receive $1,000 per violation.
Step 2: Write a debt validation letter
The FDCPA doesn't just limit ways Velocity Investments can contact you. It also requires agencies to take certain actions when you ask for them.
For example, you're allowed to ask the agency to prove you owe it money by making a debt validation request. This is one of the most powerful tools you have when dealing with a debt collector.
To request debt validation, you need to send Velocity Investments a formal request in the form of a Section 609 letter. This letter will ask the agency to provide documents proving it owns the debt and that you're responsible for repaying it. Velocity Investments must provide this evidence within 30 days of receiving your request. If the agency ignores your letter, it is violating the FDCPA.
When you get the documents about your debt, cross-reference them with your own paperwork. Sometimes, when a debt collection agency buys debt or your original creditor hires it to help collect on the debt, it doesn't get accurate information about those debts. Even small details such as dates of payment and your current balance could be inaccurate. It's worth checking account numbers, too.
If any detail doesn't match up, you can file a dispute with the three major credit bureaus using the advanced dispute method. The bureaus will look into Velocity Investments' entry on your credit report and remove the negative information if it includes inaccuracies.
It's possible the agency could then fix the errors and put the derogatory mark back on your credit report. But it's also possible it can't document your debt, which means you've succeeded in getting this collections account off your credit reports.
However, be aware that you have to mail your letter within 30 days of first hearing from Velocity Investments. Otherwise, the FDCPA allows the agency to interpret your silence as an agreement that you owe the money.
Step 3: Make a deal with Velocity, LLC
If you've missed the 30-day deadline to request debt validation, or if Velocity Investments proves you owe the money, your best bet is to make a pay-for-delete agreement with the agency. With this kind of deal, you agree to pay a certain amount of money in exchange for getting the negative item off your credit history and closing the account for good.
This deal requires a compromise from both parties:
You get the collection account off your credit report.

Velocity Investments gets payment on the debt.
To kick things off, make an offer to pay Velocity Investments half the total balance due. It's highly unlikely the agent on the phone will agree to this, but that's OK. This is meant to be a starting point to give yourself room to negotiate.
Be flexible in your payment amount, but don't budge on getting Velocity Investments to delete its account from your credit report. This is the entire point. Once you find a place to meet in the middle on the payment amount, draft a contract for the agency to sign. Make sure you don't pay them a dime until you get a signature.
Velocity Investments should contact the credit bureaus and remove their account within 30 days of receiving your payment. Monitor your credit report at freecreditreport.com to ensure the debt collector follows through on its end of the bargain.
Ask for help dealing with Velocity Investments, LLC
Velocity Investments can be a tough nut to crack. You may find it difficult to remove this collection account despite your best efforts. In this case, you may want to hire a professional credit repair company.
Credit repair companies can identify damaging accounts on your credit report and negotiate deletions on your behalf. They can help you improve your credit and prevent you from dealing with Velocity Investments altogether.
If you're interested in hiring a credit repair professional, check out this comparison list of the top credit repair companies, which should help you find the best match for your credit situation.
Frequently asked questions about Velocity Investments, LLC
Here are some questions people often ask about this agency and debt collection in general.
Should I hire a lawyer if I hear from Velocity Investments?
Not necessarily. You can gain the knowledge to deal with this problem yourself. Hiring an attorney may not be a cost-effective approach to removing the collection account from your credit report.
However, if the collection account has nothing to do with you because of inaccurate reporting and Velocity Investments won't remove it even after you've pointed out the inaccuracies, it may then be time to hire a lawyer and file a lawsuit.
How long will a Velocity Investments collection account stay open?
A collection account can remain open indefinitely if you don't deal with the problem directly. Even after the agency has stopped calling you, it can sell your debt to another collection agency, re-starting the entire process.
What is the statute of limitations on a collection account?
Statutes of limitations vary by state and type of debt. After the statute expires, you are no longer legally responsible for the debt, but it doesn't go away — organizations just can't successfully sue you over it.
Be careful not to inadvertently restart the statute of limitations on your debt by making a partial payment or contacting the debt collector. Don't contact a debt collector unless you plan to close the account completely as a result of your correspondence.
Is Velocity Investments a scam?
No. Velocity Investments is a legitimate debt collection agency based in New Jersey. When you hear from this company, it's because it has either bought debt from one of your creditors or partnered with one of your creditors to collect an outstanding balance.
How do I contact Velocity Investments?
Contact this agency in writing and send your letter to:
1800 Route 34N
Suite 305
Wall Township, NJ 07719
Phone number: 732-556-9090
Toll-free number: 800-558-4027
Communicating only in writing — or at least getting everything backed up in writing — protects you in the long run.
Can I make a payment online or should I send a check to Velocity Investments?
Velocity Investments has a modern website that includes a "make a payment" option. This is far more convenient than mailing a check or money order. But if you're leveraging your payment to fix your credit with a pay-for-delete agreement, get your agreement in writing before making a payment online.
What if Velocity Investments violates my consumer rights?
If Velocity Investments violates your consumer rights, tell the agent on the phone they're breaking the law. If the agency continues breaking the law, file a complaint with the CFPB. Your state may also have consumer watchdog agencies you can consult. Check with your state attorney general's office for options.
Can Velocity Investments garnish my wages?
Yes, this could happen. But the agency would first have to sue you, win the lawsuit and file a court order seeking a judge's permission.
Update: This article has been updated to reflect the current number of BBB and CFPB complaints against Velocity Investments and to show their current BBB rating. Unverifiable information has been removed.
Disclaimer: This story was originally published on December 29, 2020, on BetterCreditBlog.org. To find the most relevant information concerning collections or credit card inquiries, please visit: https://money.com/how-to-remove-collections-from-credit-report/ or https://money.com/get-items-removed-from-credit-report/