How to Watch 'The Bachelorette' Finale Online for Free Tonight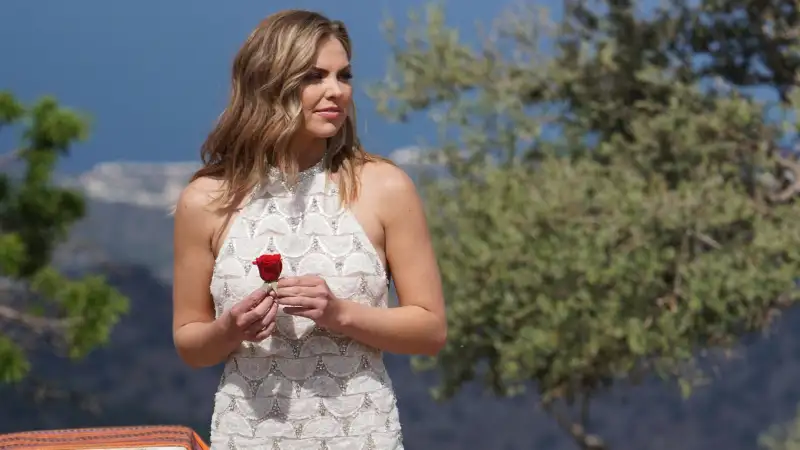 After a sensational season that included a naked bungee-jumping date, a controversial windmill hookup and an infuriating amount of Luke P., The Bachelorette is finally wrapping up.
No spoilers here — heading into Monday night, Bachelorette Hannah Brown has three men left vying for her heart. There's Jed, a musician never spotted without a guitar in hand (or a girlfriend back home); Peter, an optimistic pilot with a baby face and impressive flirting skills; and Tyler, a dance-loving general contractor who has a feminist streak. All three are head-over-heels for her. It's only a matter of time before Neil Lane shows up.
The drama both on screen and off is going to make the 2019 finale of The Bachelorette even juicier. Here's what you need to know to tune in.
When Is The Bachelorette Season Finale?
It's a two-night event. The Bachelorette season 15 finale starts at 8 p.m. EDT on Monday, July 29. It continues at 8 p.m. EDT on Tuesday, July 30. Both nights will have live portions for added effect.
What Channel Is The Bachelorette on?
The Bachelorette airs on ABC, so which channel it's on depends on your location. See the DIRECTV channel guide here, Optimum's here, Xfinity's here and Spectrum's here.
How to Live Stream The Bachelorette Finale Online
We get it — cord-cutting is all the rage. You can watch The Bachelorette 2019 finale online on ABC's website if you have a TV provider login (or your roommate's ex-boyfriend's parents do).
If and when you reach the conclusion that it's probably time to stop using a cable login three times removed from its owner, visit abcinstantaccess.com to sign up. Then you can watch The Bachelorette finale live online without feeling guilty.
How to Watch The Bachelorette Finale Live Without Cable
You can stream the episodes on services like DIRECTV NOW, Hulu + Live TV, Playstation Vue and YouTube TV, all of which include ABC among their offerings. Subscription packages hover around $50 a month, give or take, but you can take advantage of a free or discounted trial for Bachelorette finale purposes.
How to Watch The Bachelorette Finale for Free
OK, now we're getting to the good stuff. If you have a digital antenna, you can watch TV channels like ABC for free.
You can also check out services like Locast and Puffer. Locast broadcasts TV signals over the internet in certain markets, including New York, Philadelphia, Chicago, Denver and Washington, D.C. It's free and works with Roku, Apple TV and more. (Locast does take donations, if you're so inclined.)
Puffer is actually a research project from Stanford University. Once you sign up for free, you're able to watch broadcasts of certain channels local to Stanford (that means Pacific time — stay off Twitter if you're an East Coaster worried about spoilers). Included are ABC, CBS, NBC and others.
Finally, if you miss The Bachelorette finale and want to see it after it airs, you can head to ABC's website. You'll have to wait a week in order to watch the episodes for free without a cable login, but the heartbreak will still sting. Promise.