Hurricane Michael Is Causing Hundreds of Flight Cancellations. Find Out If You're Affected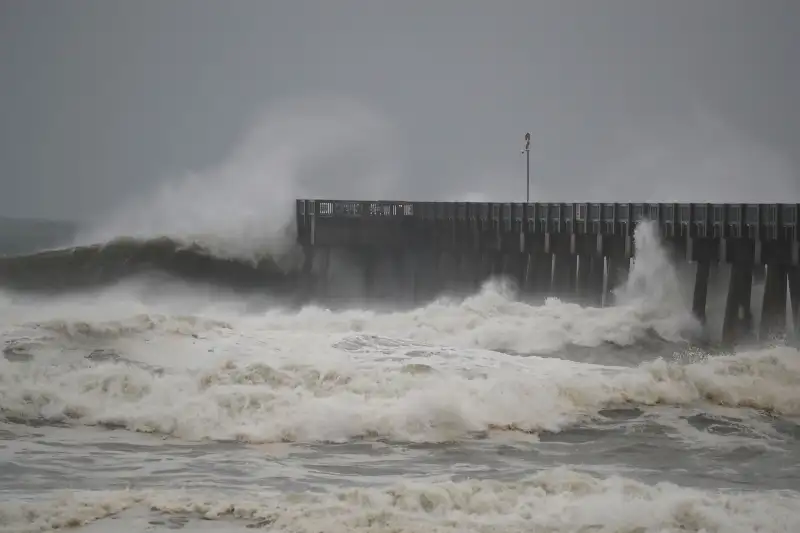 As Hurricane Michael slammed into the Florida Panhandle on Wednesday, airlines are canceling flights and allowing passengers traveling in the Southeast to change tickets for free.
According to FlightAware.com, which tracks flight status in real time, 247 U.S. flights were cancelled on Wednesday, and another 23 flights had already been cancelled for Thursday. The airports along Florida's Gulf Coast were most likely to be affected: The gateways serving Pensacola, Destin-Fort Walton Beach, Tallahassee, and Panama City accounted for 83 of Wednesday's flight cancellations. For that matter, the Destin-Fort Walton Beach Airport was closed entirely for the day.
What are your rights if your flight is cancelled? Generally speaking, if the flight you're scheduled to travel on in the U.S. is cancelled, you are entitled to a full refund of the unused portion of your travels. You can also change your flight without paying any fees if your original flight has been cancelled. Same goes if your flight is delayed more than 90 minutes: You can get a refund or change your ticket, with no fees.
In addition to those rules, when hurricanes or other factors disrupt travel on a grand scale, airlines often preemptively issue "flight waivers" — granting customers the option to change tickets on routes that are likely to be affected, free of charge. Here's how to find out about Hurricane Michael-related flight cancellations, delays, and flight waiver policies for all the major airlines.
American Airlines Flight Cancellations
American announced this week that 75 of its flights were cancelled on Wednesday, October 10, and 10 (so far) were cancelled on Thursday, October 11. The affected airports include Destin-Fort Walton Beach, Panama City, Pensacola, and Tallahassee in Florida.
Check out American Airlines' travel alerts for more information, including details on how to change your flights for free at select affected airports.
Delta Air Lines Flight Cancellations
The weather alert issued by Delta due to Hurricane Michael says that customers scheduled to fly to or from nine select airports in Alabama, Georgia, and the Florida Gulf Coast between October 9 to 11 can change flights for free — so long as the new ticket is reissued by October 14. Delta passengers can also sign up for flight notifications to find out the latest information concerning their travel plans and possible delays or cancellations.
Frontier Airlines Flight Cancellations
The alert issued by Frontier this week allows passengers free flight changes if they were scheduled to travel between Tuesday and Thursday to or from the following cities: Atlanta, Birmingham, Pensacola, Tampa.
To change tickets free of charge with Frontier, the new flight must take place no later than October 31. Use Frontier's Flight Status tool to check if your flight has been cancelled or delayed.
JetBlue Flight Cancellations
JetBlue Airways is allowing passengers to change tickets for free if they were scheduled to travel to or from Tampa on Wednesday, and for passengers scheduled to travel on Thursday and Friday to or from Atlanta, Charleston, Jacksonville, and Savannah.
JetBlue passengers can also use the airline's flight tracker and status tool to check if their flights are delayed or cancelled.
Southwest Airlines Flight Cancellations
Southwest has issued a travel advisory for Hurricane Michael, alerting passengers that their travel may be disrupted this week if they are scheduled to fly to or from Atlanta, Charleston, Jacksonville, New Orleans, Norfolk, Panama City, Pensacola, Raleigh-Durham, or Tampa.
Go to Southwest Airlines' Check Flight Status page to see if your flight has been cancelled or delayed. And be advised that Southwest always allows free flight changes.
United Airlines Flight Cancellations
United has cancelled flights to and from the Pensacola (PNS), Destin-Fort Walton (VPS), and Northwest Florida Beaches (ECP, near Panama City) airports in Florida, through Wednesday afternoon.
The airline also issued a travel waiver giving passengers free changes on flights departing between October 9 and October 18 for the airports above as well as the following gateways in the Southeast: Atlanta, Charleston, Columbia, Greenville-Spartanburg, Mobile, Myrtle Beach, Savannah.
Rates are subject to change. All information provided here is accurate as of the publish date.