At $137,000, the New BMW i8 Is a Steal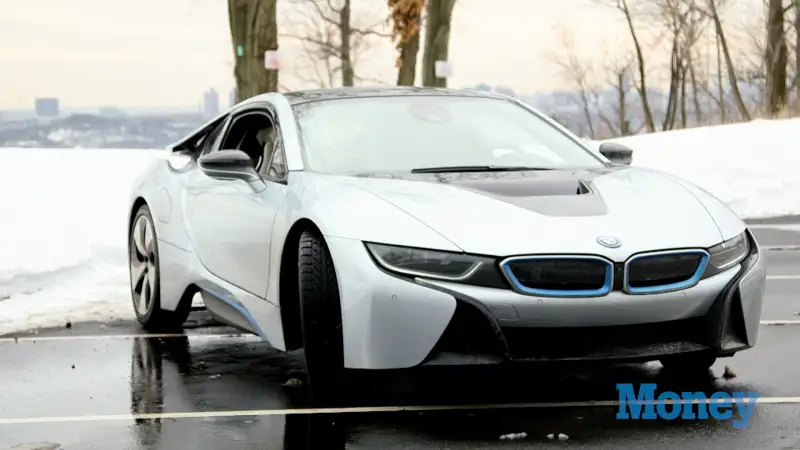 The commotion started before I even got to the car. People were taking pictures. The BMW i8 did indeed stop traffic; a guy in a delivery truck braked in the middle of 50th Street to ask permission to take a picture — as if truck drivers in New York City are always asking permission to do things.
When you get to test drive a lot of cars you try to be blasé about them. Bentleys, Benzes, Mustangs, Corvettes, Jags. Next.
Not this time. The BMW i8, a hybrid-electric sportscar machine, is unlike anything else I've ever driven. Yes, maybe the lowercase 'i' in i8 is a deliberate reference to Apple's elegant gadgetry, but it's not by any means a stretch. If you married an iPhone to SpaceX and put the thing on wheels, this is what you might get. The shape is exotic, a curvaceous wedge that is screaming aerodynamics. Its winged doors could make Agent 007 envious. They open skyward, but on the practical side they require only a foot and a half of clearance.
The i8 is priced from about $137,000 to $140,000, although I'm sure you could get one for $130,000 if you negotiate hard. Take it. A steal. Why do I write this way? Wasn't the Jaguar F-Type and its 550-horsepower power plant a cushy blast? Yes indeed. Is the 2015 'Vette not an All-American power avenger going from 0 to 60 miles per hour in a heartbeat? Yes and yes. Love it.
The i8 is a different animal. It has two engines, a battery-powered variety fore and a gasoline-powered one aft. And the latter is a 1.5-liter, three-cylinder number borrowed from the MINI Cooper. How could that putt-putt possibly provide any punch? It does, thanks to some clever German tinkering. The MINI engine is a mini-monster, with an attached turbo booster that raises the output to 228 hp. No big deal, right? Hitch that threebee to the battery-powered, 128-hp traction machine in the front and you get a hybrid 330 horses in a car that weighs 3350 lbs. That's some 500 lbs. lighter than a Volt. We're talking about a thrust-to-weight ratio out of a 757.
One of the keys here is the electric engine. As with all electrics — whether you're driving a Volt, Tesla, or Lionel model train — you get instant torque, because the power reaches the wheels at close to lightspeed. You aren't actually going to be traveling that fast, although when you punch the i8 in Sport mode, it sure does feel that way. The two large circular indicators that dominate the dashboard change color from cool blue to hot orange. You are in rocket mode, and the i8 starts ripping up pavement at a hellacious clip as you click through the paddle shifters. It's an elevator ride to 60 mph in four seconds and change. Am I being a tad hyperbolic here? I fear not.
Yet even in the battery-only eDrive mode the ride is special. You drift along as if you are driving a submarine in an urban aquarium, motoring in near silence as spectators gawk. Put on Miles or Mozart or Maroon 5 or whatever you like and you get the sensation that you are seated inside your iPhone listing to iTunes. Try not to notice the people noticing the car. The battery-priority modes you can choose from include Comfort, which imparts much of a sedan feel to the ride, and Eco Pro, which maximizes the fuel savings.
Fuel savings. It's sort of ironic in a car that clocks in at $136,650 that fuel efficiency is part of the conversation — especially with gas prices under $2 — but BMW is taking the view that energy efficiency is relevant at every price point. And it certainly is. Toyota's Prius became a status symbol in California for exactly that reason — at least until Tesla got going. The i8 has an electric-only range of about 30 miles, which stinks, before the conventional motor kicks in to charge it. There's also a portable charger that plugs into a standard 110-volt socket. Combined, the i8 touts a 76 mpg efficiency rating. That gives it a combined range of about 300 miles considering its smallish fuel tank. But as is the case with the Volt, the gas-electric combo eliminates range anxiety from the equation.
Drawbacks? Of course. The i8's light weight derives from the carbon fiber tub that forms the body, which creates a large lip at the doorway. To say it's awkward getting in and out of the i8 would be an understatement. The two nominal back seats are very comfortable...for a couple of bags of groceries. There's a sort of trunk, too, that holds the charger and not much else. On the other hand, the interior is nothing short of cool and elegant, with blue seatbelts and accent lighting offsetting the light gray leather.
So maybe only rich tree-huggers will want to buy an i8, which is a shame. Not that people shouldn't buy gas guzzling Viper SRTs if that's what they want in a sports car. To me, it's all about the ride, and the i8 is just ridiculously fun to drive.