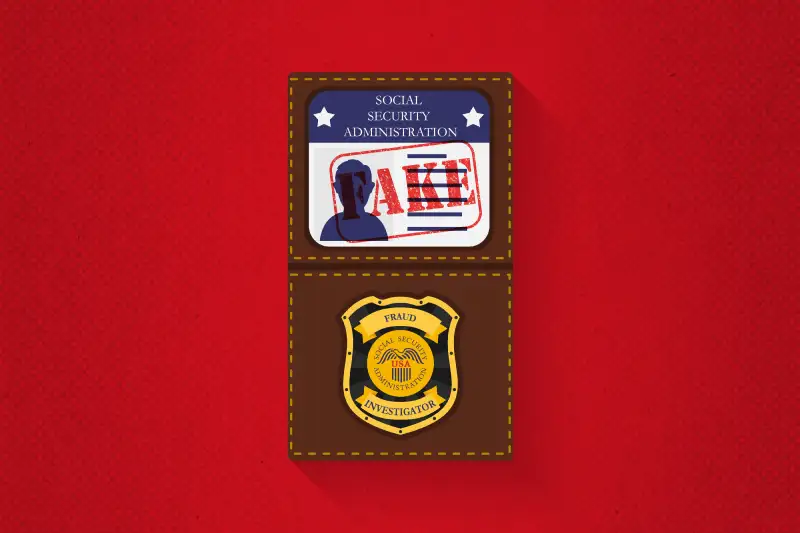 Illustration by Money; Getty Images (3); (logo) Courtesy of the Social Security Administration
The call came as I was on the 4 train, late to work and deep in thought about the finale of The Bachelor. I didn't recognize the number. It had a 917 New York area code, though, which seemed legit, so I stepped off the subway and called back.
The man who picked up said he was a fraud investigator, contacting me because my Social Security number had been compromised. I was suspicious, but then he provided my full name and location. And, perhaps most vexingly, he wasn't mad when I declined to offer the last four digits of my number — he just suggested I take down his name and and look him up with the police.
What follows is the story of how I almost fell for a Social Security scam. It's also a cautionary tale, so you don't have to spend hours panicking like I did.
Here is what I wish I'd known.
There's a Social Security Scam Going Around
According to the Social Security Administration and the Office of the Inspector General, there's a "nationwide telephone impersonation scheme" happening right now. Fraudsters are pretending to be government officials in hopes of stealing identities — exactly what they did to me, all over the country.
"We urge you to always be cautious and to avoid providing sensitive information such as your Social Security number or bank account information to unknown people over the phone or Internet," Nancy A. Berryhill, the acting commissioner of Social Security, says in a news release. "If you receive a call and are not expecting one, you must be extra careful ... Do not reveal personal data to a stranger who calls you."
I didn't give up my Social Security number, but my scam call definitely left me shook. I was especially confused by the man's demeanor — he patiently relayed his name and number as I scribbled them on the back of a MetroCard. He even spelled out his name, Christopher Morris.
This, along with the fact that he knew my own name and number, threw me. What kind of scammer voluntarily spells his name? What kind of criminal encourages you to contact the police?
You Can Check Whether a Social Security Call Is Legit
I eventually hung up, but I did fret for the rest of the day: about whether the call had been real, whether I'd given too much information, whether I should be picking up the number's repeated follow-up calls.
When I searched on Twitter, I saw that I wasn't alone. People were getting similar calls about their Social Security numbers being suspended in California, North Carolina, Kansas and more. But, as the Federal Trade Commission pointed out in a recent blog post, Social Security numbers don't get suspended. You should never tell any random caller your Social Security, bank account, credit card or debit card number.
Here's a good general rule of thumb: The government does not randomly call people. They don't ask for money over the phone, they don't give grants over the phone, and they certainly don't threaten you over the phone.
If you, like me, are not totally sure whether a call is fake, Berryhill says "you can always get the caller's information, hang up, and contact the official phone number of the business or agency the caller claims to represent." In the Social Security Administration's case, that's 1-800-772-1213.
You Can Help the Government Crack Down
Social Security scam calls are a real problem: More than 35,000 people complained about them last year, according to the FTC. They lost $10 million, some of it in gift card codes that scammers requested to prevent the alleged seizure of victims' bank accounts.
Luckily, I didn't lose anything, but I don't want this trend to continue. If you get a scam call and you, too, want to help out, you should report the fraud to the Office of the Inspector General.
You can do it online, via mail, on the phone or (for some reason) over fax. The office will ask for description of the fraud, so having the caller's alleged name, number, information requested and the time and date of the call is helpful. The office will also ask for your contact information, but you can remain anonymous.
As for me, I've mostly calmed down about my own call — and learned a lot. Now, I finally can think about The Bachelor in peace.