Here's How Much an In-N-Out Manager Makes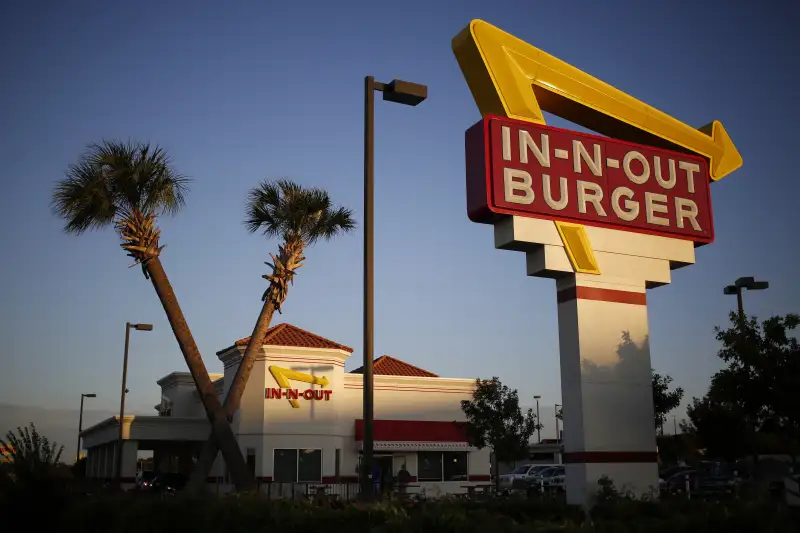 Bloomberg—Bloomberg via Getty Images
In-N-Out is not only known for its tasty shakes and burgers.
The popular West Coast-based fast-food chain has been ranked as one of the best companies to work for in terms in work-life balance — and its employees get free burgers, too.
But In-N-Out's store managers perhaps have the best deal: a $160,000 paycheck.
That's according to The California Sun, a daily newsletter by journalist Mike McPhate. Denny Warnick, vice president of operations at In-N-Out, told McPhate they pay employees well to ensure quality service — a central tenet for the company since its founding in 1948.
"Paying their associates well was just one way to help maintain that focus, and those beliefs remain firmly in place with us today," Warnick told The California Sun newsletter.
A representative from In-N-Out confirmed the news to Money but did not provide more details on the wages In-N-Out employees earn.
According to The California Sun, In-N-Out employees earn at least $13 per hour when they start. They also get a number of benefits, including 401(k) plans, paid time off, healthcare plans and employee discounts.
That starting rate is likely to rise in coming years, as California is incrementally raising its minimum wage to $15 per hour by 2022 for large companies. California's minimum wage is currently $11 per hour.
In-N-Out does not regularly disclose how much its employees earn, the company representative told Money. But job and recruiting websites like Indeed often publish estimates of these wages, according to employee input. Indeed says In-N-Out store managers make closer to $90,646 a year. An Indeed representative told Money the salaries listed on their website come from past and present employees and job postings — and it is unclear if these higher salaries have been around long enough to be included into their calculations.
As The California Sun notes, though, Indeed estimates that architects and lawyers in California earn on average $112,00 and more than $115,000, respectively. So In-N-Out store managers not only earn more than triple their peers at other restaurants, but also more than the average lawyer in the Sunshine State.
In-N-Out itself has become a West Coast staple and rival to the East Coast's Shake Shack chain. The traditional burger joint only recently added a new item to its menu — hot chocolate — for the first time in 15 years.