These California Firefighters Are Getting Paid Minimum Wage to Battle Deadly Wildfires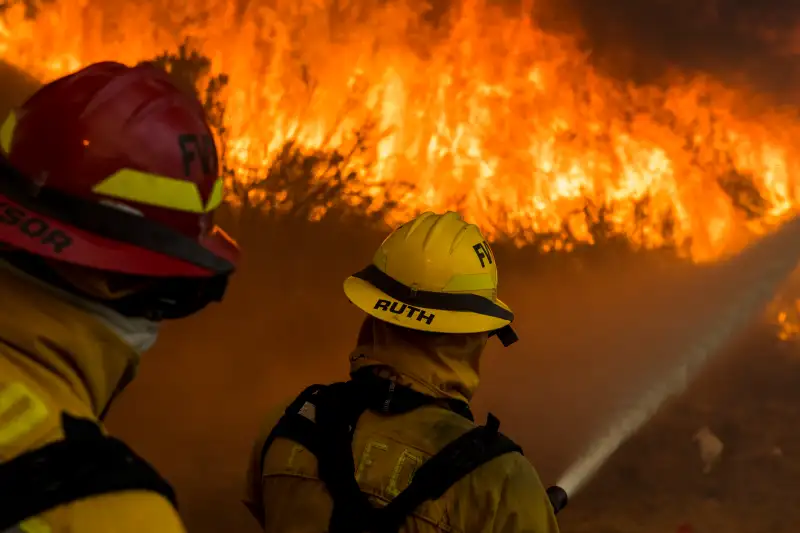 Stuart Palley—LA Times via Getty Images
As deadly, fast-moving wildfires burn a devastating path through Northern California this week, thousands of firefighters took to the front lines to try to contain the aggressive flames.
Some of the thousands of firefighters battling those flames in sweltering heat and in heavy gear and helmets earned just $10.50 an hour — California's minimum wage — for work that puts their lives in danger.
Those firefighters are entry-level first responders employed by the state's department of Forestry and Fire Protection, known as Cal Fire. They work alongside counterparts from local and federal agencies, who make more money per hour and work fewer hours each week.
"We're doing the exact same job," said Mike Lopez, president of Cal Fire's Union Local 2881, adding that entry-level firefighters make up around 20 percent of the department's 8,000 employees.
"It becomes emotional," he added. "It becomes a mindset in the firefighter that you're not treated comparably to all the other firefighters."
More than 20 fires broke out across California this week, destroying more than 3,500 homes, businesses and wineries, killing at least 24 people and resulting in hundreds of missing person reports. The most damaging fires burned in Napa and Sonoma counties just north of San Francisco, where Cal Fire and local firefighters fought on the front lines starting Sunday night.
Since Cal Fire firefighters work 72 hours a week — 16 more than local firefighters, who work 56 — those who started battling the aggressive fires when they began earlier this week only just started getting time off on Wednesday morning, Lopez said.
While entry-level Cal Fire firefighters are paid $10.50 an hour, they earn time-and-a-half through mandatory overtime, which makes up 19 of their 72 hours worked a week. In total, that gives them a more comparable salary to their counterparts at other agencies, but only because they are required to work more hours, Lopez said. The same goes for other, higher-status positions within the department.
Before the union's most recent contract agreement, the department saw lower retention rates and fewer employees aiming for higher positions due to a pay scale that did wasn't adjusted to reflect a minimum wage increase. At the time, that meant entry-level firefighters could earn more than their superiors, thus reducing morale and incentivizing firefighters to leave the department for other positions at county and local agencies.
Finalized at the end of last year, the union's most recent four-year contract includes raises for nine jobs within the department, alleviating the pay hierarchy issue. Under that contract, entry-level firefighters still earn minimum wage, which will rise to $15 per hour by 2022.
In recent years, as the costs and impacts of fires across the state have grown, so have the demands of the job, Lopez said. The long hours are tough on the employees, who often don't see their families for days or weeks at a time depending on the time of the season.
And the fire season has become longer than in years past, Lopez noted, in part due to a six-year drought that left vegetation dry and more prone to catch and spread fire. It starts picking up in May, instead of July, and October continues to produce the most devastating blazes.
"The cost of these fires and the impacts on our firefighters and their families has gone up exponentially three or four times more than it was 10 or 15 years ago," Lopez said. "There's no such thing as fire season anymore."