Is Buying a House a Good Investment?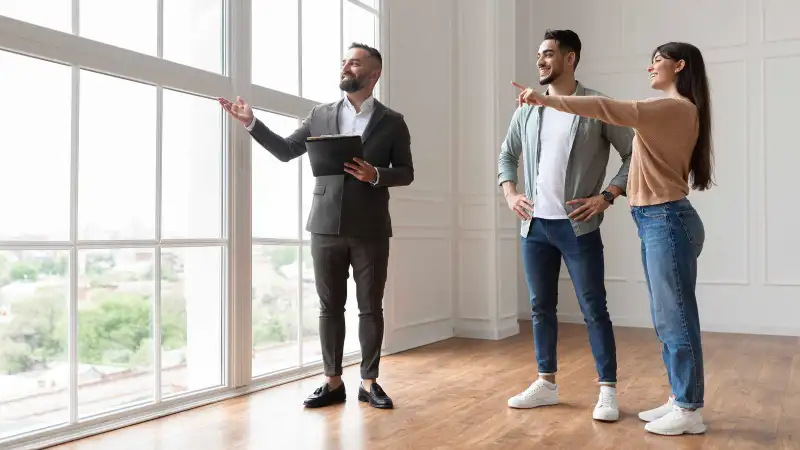 Owning a house is more than just having a place to sleep and eat. For many, it's the epitome of the American dream — where one can raise a family, enjoy retirement and build generational wealth.
Buying a house can be a good investment under the right circumstances. It can also be a risky choice if you're not financially prepared. With such a large amount of money involved, it's best to know the pros and cons of buying a home before making such a huge financial decision.
Read on and find out everything you need to know about making a home purchase and whether homeownership is the right choice for you. (This story is focused on buying a primary residence, aka a home to live in. If you are interested in buying an investment property read about these simple ways to invest in real estate.)
The pros and cons of buying a home
Real estate investing is not like investing in the stock market, where you can buy or sell on a daily basis if you so desire (though we wouldn't recommend it). A home is a long-term investment. If you buy a home as a primary residence, it can increase in value over time and provide a financial windfall when you sell.
You gain equity in the home over time, which can provide a source of emergency funding if your financial situation takes a turn for the worse. You can tap into the value you've gained in the home with a home equity loan or line of credit, or with a cash-out refinance.
As with every personal finance decision you make, you need to consider the upside and the downside of buying a house and what your goals for homeownership are. Only then will you know if a home purchase is the right choice for this phase of your life.
Pros
The property value should appreciate over time
You gain home equity as you pay down your mortgage
Interest paid on a mortgage is tax deductible
Can be a source of rental income and increase cash flow
Cons
Requires a large cash outlay for a down payment
Closing costs can be as high 6% of the home's value
The home can depreciate in value
There are ongoing maintenance costs
What can affect your home's value
The value of your home changes over time. On average, most homes appreciate or gain value at a rate of around 3.5% or 4% per year, which makes real estate investing a good way to increase your net worth. Between 2012 and 2022, according to the St Louis Federal Reserve, the median home sales price increased from $238,400 to $454,900 (by the end of the third quarter) — nearly doubling in value over a 10-year period.
However, there may be circumstances where a home may depreciate, or lose value, especially over the short term. The following factors can influence whether your home appreciates or depreciates.
Location
Homes located in what are considered desirable locations are more likely to gain rather than lose value. Some of the best places to live will enjoy proximity to parks, schools, entertainment and other amenities that many homebuyers look for. For example, a recent study showed that homes located near a park or open spaces are valued between 8% to 20% higher than comparable homes.
You should also keep in mind that the land the home is located on will be the more valuable component of your property. Even if a home falls into disrepair, the right location could mean your property can still be worth more than when you originally bought. Consider where you buy if you want to improve your home's chances of appreciating in value.
Real estate market conditions
What's happening in the broader housing market will also affect your home's value. If you are in what is called a seller's market, where buyer demand outpaces the number of available homes for sale, you will more likely be able to get top dollar when you sell your home. During 2020 and 2021, for example. housing inventory was nowhere near enough to meet buyer demand, resulting in bidding wars and homes selling for thousands of dollars above asking price.
On the other hand, if you're in a buyers market, where there are more homes for sale and not enough buyer demand, home prices are likely to decrease in order to attract buyers. Still, if you own a home for many years, you will probably sell it for more than you paid for it because it appreciated over a long period of time.
Home size
The size of a home relative to nearby homes will also influence how much it's worth, although there is a large amount of variability based on the location. When a home is put up for sale, one of the factors a real estate agent or appraiser uses in determining market value is the amount of usable space in the home and the price per square foot (the latter is calculated by dividing the home's sales price by the number of square feet).
All else equal, larger homes with more usable space tend to have a higher value, while homes with non-usable space (think unfinished basements or land that cannot be built upon for some reason) tend to have a lower value. This was especially true during the pandemic when buyers were looking for homes that either already had or were large enough to add spaces for home offices, workout rooms, and large family areas that could be used for entertainment.
Interest rates
Mortgage interest rates affect the value of a home by making it more or less affordable. Low rates mean the monthly payments will be lower as well, making it easier for borrowers to qualify for a mortgage loan. The result is that more buyers can afford larger and more expensive homes because the monthly payments are more affordable.
This is what happened during the height of the pandemic, when interest rates dropped below 3%. Low rates and monthly payments led to a buying frenzy which in turn helped push home prices higher. On the flip side, higher mortgage rates make a home purchase less affordable for a larger number of potential buyers.
Overall economy
The health of the economy influences a home's value as well. In a growing economy where unemployment and consumer prices are low and wage growth is high, the housing market thrives. With more disposable income and stable interest rates, more people can afford to invest in real estate and feel confident their purchases will pay off.
When the economy slows, however, buyer demand slows as well. With less demand and fewer home sales, home values tend to fall.
Costs associated with buying a house
Buying a home requires qualifying for a mortgage and having enough cash on hand to make deposits and cover lender fees. There are also ongoing costs you'll need to consider and plan for in your budget before taking the homeownership plunge.
Down payment
A down payment is money paid upfront when a home is bought and is a percentage of the home's value. While most lenders recommend a down payment of 20% or more of the purchase price, it can be as low as 3% for a conventional mortgage (0% for a VA loan). As a matter of fact, the average down payment made by first time homebuyers in 2022 was about 7%.
Even with a smaller down payment, however, you will need several thousand dollars in cash. For example, if you plan on making a 5% down payment on a $250,000 home, you will need to pay $12,500 upfront.
Closing Costs
You will also need to have enough money to cover the closing costs related to obtaining a mortgage. These costs can range between 3% and 6% of the purchase price and include fees for loan application and origination costs, appraisal fees, inspection costs and attorney fees, among others. Closing costs need to be paid on the day of closing and are separate from the down payment.
Following the example above, after making a down payment of $12,500, your loan amount would be $237,500. The closing costs would range between 3% and 6% of the loan amount — or between $7,125 and $14,250.
Insurance
Once you've made the investment in a new home, you want to protect it. Plus, if you finance your purchase, your mortgage lender will require you to get homeowners insurance. Home insurance is a policy that will reimburse you for property damage due to accidents or certain kinds of natural disasters, or for items lost due to theft.
There are many different types of coverage available, so you should shop around and compare policies and premiums to find the best home insurance company for your needs. Cost can vary depending on the location of your home and the type of coverage you choose, but the national average premium is about $1,200 per year.
Note that if your down payment is less than 20%, your lender will also require you to pay for private mortgage insurance, a policy that protects the lender but not the homeowner and will increase your monthly payment.
Monthly mortgage payment
Most of those who invest in a house borrow the bulk of the purchase price from a mortgage lender. You will be responsible for making monthly payments until you either sell the home or pay off the remaining loan balance.
Your monthly payment will be determined by your starting loan balance (home price minus down payment) and the interest rate you qualify for. These payments will include a portion that is applied to the loan principal and a portion applied to interest. Typically, the interest payment is highest at first and progressively decreases as the loan balance decreases.
Generally speaking, if you have a high credit score and low debt-to-income ratio, you'll be offered a lower interest rate and monthly payment by the lender. You do get a tax benefit for paying all that interest — the mortgage interest is tax deductible.
Home maintenance and repairs
Once you buy the home, you will be responsible for maintaining the property in good condition. Maintenance costs are ongoing and can vary greatly depending on the condition of the home. For newly built homes, a homeowner can expect to pay about 1% of the home's value in yearly maintenance. As the home ages, that percentage can increase to 4% or more of the original purchase price.
In 2022, homeowners spent an average of almost $3,018 per year in maintenance costs, according to home services site Angi. Although owners can take care of some routine maintenance themselves, other projects will require a professional. The most common maintenance projects include:
Lawn care/landscaping - can be as simple as mowing the lawn to resodding and replanting
Plumbing - from leaky faucets and clogged drains to broken sewer pipes
Yearly HVAC cleaning and maintenance
Clearing rain gutters
Exterior/interior paint touch-ups
Pest control
Electrical - from changing burnt-out bulbs to replacing faulty wiring
HOA fees
If you buy a home in a gated community, condominium development or other development that has common areas, you will be part of a homeowners association. The HOA is in charge of the upkeep of these areas, as well as establishing and enforcing rules governing the appearance of homes within the association. In order to provide maintenance and insurance for the shared spaces, HOAs charge a monthly fee.
How much you'll pay in HOA fees will depend on the size of the neighborhood, the amenities included that require maintenance and the size of your home — larger homes typically pay a higher fee. On average, monthly HOA fees run around $300, but you may find neighborhoods where the fee is as low as $100 or as high as several thousand dollars. These fees can change over time as well, as maintenance costs increase.
Property taxes
Once you invest in a house you'll be responsible for paying for property taxes on a yearly basis. This tax is assessed by the county and used to fund local schools, improve infrastructure and support public services. The amount of tax paid is determined by state tax laws and the assessed value of the property.
In 2019, the most recent numbers available, homeowners paid an average of $3,561 a year in property taxes. However, depending on the state, median property taxes range from less than $1,000 to more than $8,000 per year.
Home prices over time
Home prices tend to be sticky downwards — which means single-family homes don't lose value very easily and don't usually give up all the value they've gained. Below is a chart of how home prices have changed over the past ten years and what the average mortgage rate was.
Note that there is a big jump in price gains in 2020 and 2021, when the pandemic caused a buying frenzy that sent home values soaring. Such large increases are not typical.
| | | |
| --- | --- | --- |
| Year | Home price | Yearly Appreciation |
| 2012 | $238,400 | 5.59% |
| 2013 | $258,400 | 5.89% |
| 2014 | $275,200 | 8.62% |
| 2015 | $289,200 | 4.60% |
| 2016 | $299,800 | 3.71% |
| 2017 | $313,100 | 7.69% |
| 2018 | $331,800 | -2.72% |
| 2019 | $313,000 | 4.51% |
| 2020 | $329,000 | 9.04% |
| 2021 | $369,800 | 14.57% |
| 2022 | $433,100 | 6.80% (by the end of third quarter) |
When is buying a house not a good investment?
A home purchase is not a good investment if it doesn't fulfill some sort of need. The primary function of a house is to provide shelter. When you take closing costs and realtor fees into consideration, the upfront costs of buying and selling a home are too high to make financial sense if you are moving every two to three years.
Likewise, if the cost of buying a house puts a strain on your budget to the point where you are barely making ends meet, it doesn't make sense to invest in a home — a downturn in the economy, loss of a job or other financial setback could lead to foreclosure and loss of the money you invested to begin with.
Is buying a house a good investment summary
Under the right circumstances, buying a house can be a good investment. Homes tend to appreciate in value over time and help create generational wealth. A house also provides a safe place to raise a family and can generate income as a rental property.
But buying a house also requires a large financial commitment and ongoing costs beyond making a down payment and qualifying for a mortgage. Anyone considering a home purchase must weigh the costs against the benefits to determine if it's the right choice. Using a home affordability calculator can help make that decision. Once the decision to buy is made, shopping around for the best mortgage lender will help you get the best rate and terms.