It Takes Jeff Bezos 26 Seconds to Make What One of His Washington Post Employees Earns in a Year
Money is not a client of any investment adviser featured on this page. The information provided on this page is for educational purposes only and is not intended as investment advice. Money does not offer advisory services.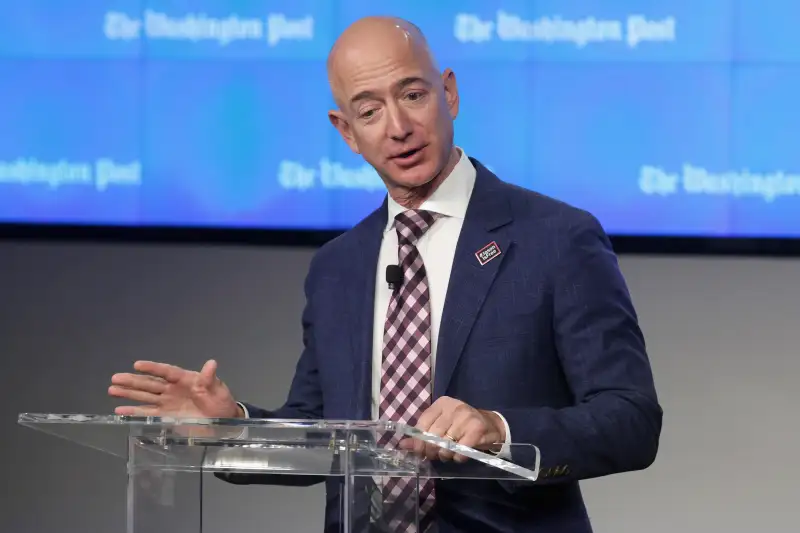 Chip Somodevilla—Getty Images
This summer, hundreds of Washington Post employees signed an open letter addressed to Jeff Bezos, the paper's billionaire owner, asking for salary increases and better benefits.
"Please show the world that you not only can lead the way in creating wealth, but that you also know how to share it with the people who helped you create it," the staffers wrote to Bezos—who is also the founder and CEO of Amazon and the richest man in modern history.
Since that letter was signed in mid-June, the net worth of Bezos has continued to skyrocket, now topping $158 billion—creating an even larger financial gulf between the paper's owner and the employees who make it run.
So how do Washington Post salaries compare with the earnings of Bezos? The numbers are striking.
Like many tech billionaires, Bezos makes the vast majority of his riches not through salary or bonuses but based on the increase in the stock price of the company he owns and runs—in this case, Amazon. According to estimates from the Bloomberg Billionaires Index, Bezos began 2018 with a net worth at $99 billion, so he's made about $59 billion so far this year, as Amazon shares have soared.
August 15 is the 227th day of the year. Divide $59,000,000,000 by 227, and you'll see that so far in 2018 Jeff Bezos has boosted his net worth by an average of $260 million per day. That breaks down to earnings of about $10.8 million per hour, or $3,000 per second.
In 2013, Jeff Bezos bought the Washington Post for $250 million. In other words, based on the insane pace of the rise in his net worth this year, Jeff Bezos could buy the equivalent of a Washington Post every day — or he could just dump the money in the Puget Sound or the Potomac River — and he would still see an increase in his fortune.
As for the people who work at the Washington Post, PayScale.com estimates that the average employee there makes $78,000 per year. So it takes Jeff Bezos less than a half a minute — 26 seconds, to be more precise — to make the average Washington Post staffer's $78,000 annual salary.
It's unclear how much money Bezos is making as owner of the Washington Post. Despite widespread struggles among print publications, the Washington Post reported earlier this year that it had been profitable for two years in a row. Looking back at 2017, Post publisher Fred Ryan wrote of readers "subscribing in record numbers, with digital subscriptions more than doubling since January and more than tripling since last year."
Here's some more astonishing math regarding Bezos's bucks: The Amazon CEO makes as much in one hour as 138 Washington Post employees earn in a year combined. And, in a typical day, Jeff Bezos makes as much as the total annual incomes of 3,333 average Washington Post employees.
Neither Jeff Bezos nor the Washington Post has issued an official public response to the open letter written by staffers asking for better wages and benefits.