A New Era Has Begun for JetBlue, and Travelers Will Hate It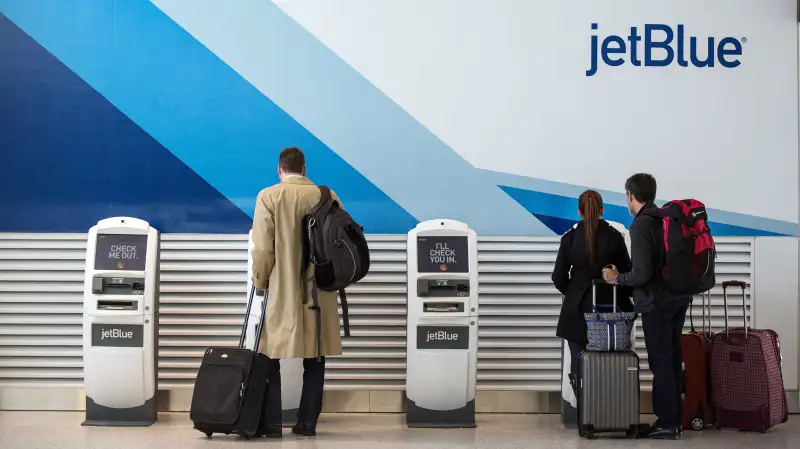 Andrew Burton—Getty Images
When word spread back in September that JetBlue CEO Dave Barger was stepping down from his post in early 2015, two interesting things happened: 1) The company stock soared, rising 5% immediately after the news; and 2) travelers who loved JetBlue for its customers-first policies began to panic.
As Fortune put it, equity analysts tended to view Barger "as being 'overly concerned' with passengers and their comfort, which they feel, has come at the expense of shareholders." With Barger and his pesky, stubbornly customer-friendly policies out of the way, JetBlue—under the leadership of new CEO, former British Airways executive Robin Hayes—could hop on the pathway to higher and higher profits by implementing more fees and cost-cutting measures on par with other airlines.
Consequently, the change at the top was welcomed by investors and dreaded by flyers and travel advocates who loved JetBlue specifically because it didn't engage in the very nickel-and-diming policies analysts were pushing for. Even before it was announced that Barger was out, Marketwatch foresaw the likelihood that JetBlue would soon begin "putting customers second," while first and foremost pleasing investors by jacking up fees and cutting back on amenities. Frequent flyer expert Tim Winship described Barger's departure as "the beginning of the end for JetBlue as we know it," while noting the risks inherent in the airline's likely policy shift:
Nonetheless, this week JetBlue announced that it is reducing average legroom and introducing a new fare structure that means passengers buying the lowest-price tickets will have to pay extra if they want to check luggage. The changes, which will be instituted starting in 2015, will leave Southwest Airlines as the only domestic carrier to grant free checked bags (two of them, in fact) for all passengers.
Shrinking legroom will come as a result of 15 more seats being added to JetBlue's Airbus A320 planes. Even after squeezing in the new rows of seats, JetBlue's average legroom will be 33.1 inches, which is still slightly more than what the typical passenger on Southwest or Virgin America can expect. The real heartbreaker to travelers is likely to be the new "Fare Families" structure, which consists of three bundled options that travelers must choose from when booking a flight. At the low end of the pricing spectrum, tickets do not include a checked bag. Passengers who pay higher fares are entitled to checked bags (one at the middle level, two at the high end), and also get bonus loyalty points.
Exact details on pricing and what specific amenities are and aren't included in the various fares haven't been released yet. JetBlue became immensely popular among travelers for perks including free snacks and free entertainment on seatback screens. Presumably, even at the low end JetBlue passengers will get more than the "Bare Fares" of Spirit Airlines, which include with almost nothing other than basic transportation—even water and seat reservations cost extra. But JetBlue's moves certainly seem inspired by the example set by Spirit, which is widely known as one of the simultaneously most hated and most profitable airlines.
JetBlue's changes are clearly aimed at pleasing investors—shares of the company stock jumped more than 4% on Wednesday, nearing a seven-year high—but Hayes, currently the airline's president, still claimed that the company was focused on delivering "the best travel experience for our customers." In a statement accompanying JetBlue's press release, Hayes is also quoted saying that JetBlue remains different from the pack. "As we focus on executing this plan," Hayes said, "JetBlue's core mission to Inspire Humanity and its differentiated model of serving underserved customers remain unchanged."
Travelers seem to feel quite differently about the matter. The very active traveler community at the Flyertalk forum has been bashing the changes because they remove what made JetBlue special and worth seeking out, and turn the carrier into just another (hated, annoying, nickel-and-diming) carrier. "Lovely. The 'We'll attract more customers by being exactly like every other airline' move," commented one Flyertalk member. "Charging for bags and a crappy FF [frequent flier] program? What a combo!" commented another. "Seriously though, they've completely lost their appeal."
Another highlighted how Southwest will soon be the only major domestic carrier including free checked bags with flights: "Now, especially if I have a bag, Southwest will be the way to go...and I hate Southwest."