Ford's New CEO Already Has a Comeback Story: Saving Michigan Football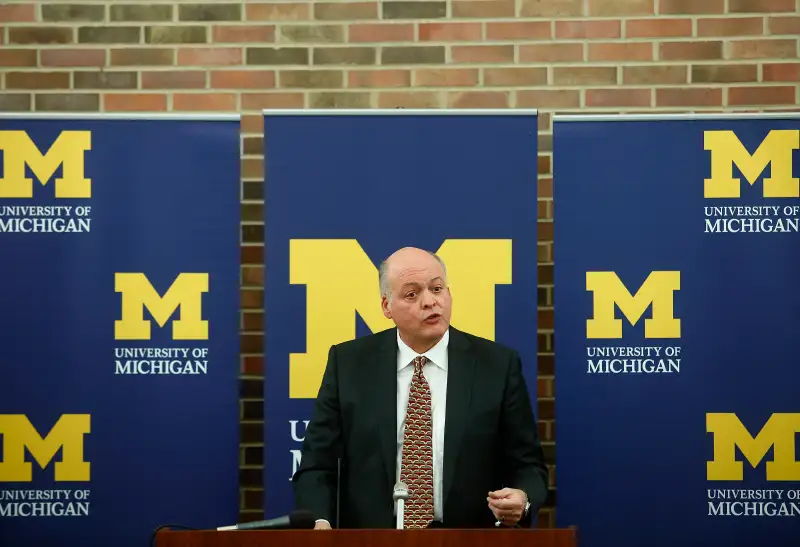 Jim Hackett is no stranger to turnarounds.
When the new CEO of Ford began his 16-month tenure as interim athletic director at the University of Michigan in 2014, the embattled program was in one of its most tumultuous periods in its history. With a controversial athletic director having just resigned, a losing football team and concerns rising over the safety of student athletes, Michigan athletics were at a tipping point.
But Hackett, a Michigan alum and former football player under coach Bo Schembechler, turned it around with a key hire and a brand overhaul — and top school officials and student leaders credited him with revitalizing the spirit of Michigan athletics and inspiring its fans. Appointed as President and CEO of Ford Motors last week, Hackett now faces another challenge in revitalization, this time in returning one of America's most beloved car brands back to a leading force in the auto industry.
So how will he do it? Hackett said his stint as Michigan's athletic director will help inform his new role.
"Leadership principles apply in both cases," Hackett told Money in an email about his experience at Michigan and now at Ford. "People want to be with people who have a vision of being the best, upholding the institution or enterprise values and are humble enough to get better."
While Hackett's tenure at Ford has been brief, his ability to climb the ladder there has been anything but. He started as a board member back in 2013 and was elevated to executive chairman of Ford Smart Mobility LLC last March. Hackett's appointment as CEO comes during a volatile time at Ford. Just a week before he assumed his new role, the car giant announced it was eliminating 1,400 jobs. The auto industry is also in the midst of a cultural shift as Silicon Valley gains traction in the market with a push toward autonomous vehicles. For the first time, Tesla's market valuation surpassed that of both Ford and General Motors in April.
When announcing Hackett's appointment, Bill Ford, executive chairman of Ford, described him as a "a true visionary who brings a unique, human-centered leadership approach to our culture, products and services that will unlock the potential of our people and our business."
And Hackett displayed those same qualities while at Michigan when he stepped in to fill the coveted role vacated after Dave Brandon, now the CEO of Toys 'R' Us and a former CEO of Domino's Pizza, resigned.
"Just his perspective on problem solving really seems applicable [for all of his work], from furniture manufacturing and workplace design to running an athletic department to running an enormous automobile manufacturer," University of Michigan President Mark Schlissel said in an interview with Money.
Brandon's tenure was plagued with problems including fan unrest over rising ticket prices and a high-profile sexual assault case involving a football player. There were also questions about athlete safety after a Michigan quarterback was kept in a 2014 game after he suffered a concussion.
When Hackett arrived, he said the sports program was focused on television revenue and "an arms race for football excellence."
"Michigan lost sight of how to invest in this in a future way that supported the values of the football program and its university," he said. "By restoring its vitality, we were able to prove that not only did football improve, but the morale at the whole university improved."
Hackett worked under intense media scrutiny, quickly ousting football coach Brady Hoke and replacing him with fan-favorite Jim Harbaugh — the first of several decisions that cemented his legacy at the university. An NFL coach, former Michigan quarterback and entertaining character, Harbaugh, like Hackett, has a knack for turning around fallen and suffering programs quickly.
Gregory Shamus—Getty Images
The Harbaugh hire was all thanks to Hackett, Schlissel said.
"As you might imagine, we had back-up candidates in mind, but it was the personal relationship that Jim Hackett developed with Harbaugh that led to our ability to recruit the best coach possible that was available to us," Schlissel said.
With the noteworthy hire, football ticket sales rebounded. Hackett also extended the contract of beloved basketball coach John Beilein — who this year led his team to a surprising Big 10 victory — and secured an 11-year contract with Nike for Michigan apparel.
Schlissel, who even as Hackett's boss sometimes felt like one of his mentees, said Hackett's contract negotiations were one of his greatest accomplishments at Michigan. "He was masterful at playing these companies off of one another and getting for the university at that time the best contact in college athletics," Schlissel said.
Hackett also connected with students and fans in a way his predecessor didn't. After Michigan's stunning defeat at the hands of the Michigan State Spartans in 2014, Hackett penned a letter to fans and students amid threats against Michigan players, asking "our community not to lose this game twice by condoning thoughtless comments."
"He really had a great sense of the moment and stepped up with a wonderful message — and that's what a lot of corporate leadership is about and what a leader needs," Schlissel said.
Now Hackett faces a challenge on a national scale at Ford, where he faces big expectations to serve as a visionary leader ready to change Ford from a less of a traditional car company to one that's more flexible and forward-thinking.
"He seems like the right man at the right place at the right time," Schlissel said.