Meet the NFL's New Highest-Paid Player, a 26-Year-Old Who Used to be Tom Brady's Backup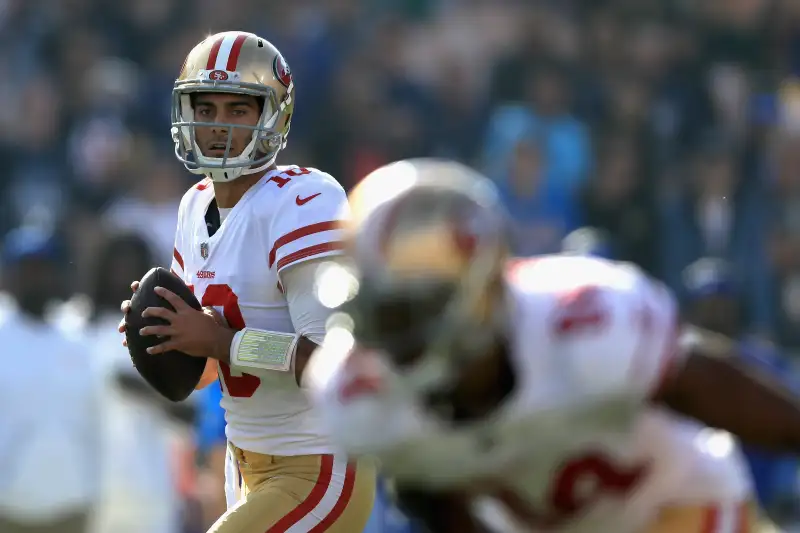 Sean M. Haffey—Getty Images
Tom Brady's former back-up quarterback will now have a higher salary than him.
San Francisco 49ers quarterback Jimmy Garoppolo reportedly closed a record five-year, $137.5 million deal with the NFL this week, making him the highest-paid athlete in the sport. The record-shattering salary means he'll earn $27.5 million per year.
Garoppolo, who is 26 years old and was a second-round draft pick back in 2014, surpassed Detroit Lions quarterback Matthew Stafford, who had previously set a record with a five-year, $135 million deal in August 2017, as the highest-paid athlete in the NFL.
Garoppolo left the New England Patriots in November 2017 when he was traded for the 49ers' 2018 second-round draft pick. A struggling team, the 49ers improved with Garoppolo as the starting quarterback. Garoppolo completed 67.4% of his passes for 1,560 yards last season, and the team went 5-0 in games that he started.
Before joining the 49ers, Garoppolo was Brady's back-up quarterback with the Patriots. In the wake of the Deflategate scandal, he stepped in as the Patriots' starting quarterback during Brady's four-game suspension in 2016. The second-stringer had big shoes to fill, as Brady is considered one of the best quarterbacks in history. Brady currently has a two-year, $41 million contract with the Patriots.
NFL quarterbacks are generally a team's highest-earning players, and salary negotiations for these top athletes get competitive. Knowing your status within the team is a big factor in how much money you can command, a NFL agent told Money last year. And for the 49ers, it appears Garoppolo's role is vital.
Certainly, an athlete's base pay is not their only shot at a big payday. Fresh off their historic Super Bowl LII win, Philadelphia Eagles players each earned $112,00 for winning. And though Brady and the rest of the Patriots missed their shot at defending their Super Bowl title, they still earned $56,000, each. In addition, well-known athletes also earn extra cash from endorsement deals.
Garoppolo's deal was first reported by NBC Bay Area and the NFL Network. A representative from the 49ers did not respond to a request for comment from Money.