Here's How Much Jimmy Kimmel Is Getting Paid to Host the 2018 Oscars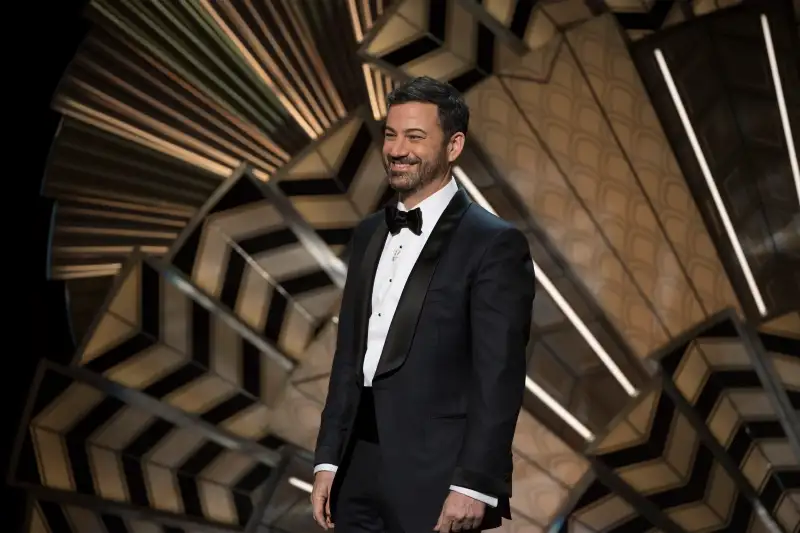 Eddy Chen - ABC via Getty Images
Jimmy Kimmel will return to host the 90th Academy Awards on Sunday, March 4, but he's definitely not doing it for the paycheck.
Kimmel was paid $15,000 to host the 2017 Academy Awards, he revealed on KROQ's radio show "Kevin & Bean" in an interview last year.
"I think it's illegal to pay nothing," the Oscars host joked, according to Variety. "I'm not sure I was supposed to reveal this," Kimmel continued. "But nobody told me not to. I consider this their fault."
"They asked like 14 people and they all said no and then there was me. I absolutely was surprised."
$15,000 is a far cry from his salary as the host of Jimmy Kimmel Live!, which airs on ABC (as do the Oscars). Kimmel reportedly makes 1,000 times more — $15 million per year — as the late-night talk show, though it's possible his contract with ABC contains a clause requiring him to host additional network specials like the Academy Awards. Kimmel's reps did not return a request for comment about whether he is making the same amount to host the 2018 Oscars.
But during his 2017 KROQ interview, Kimmel said he was told that former Oscars hosts Chris Rock and Billy Crystal were paid the same amount as him, USA Today reported.
Although the pay is only $15,000, celebrity hosts also have a show rider, which is the list of demands that is added to their contracts spelling out what the performer requires in their dressing room or after the show. Riders can include anything from certain kinds of food to scented candles, personal yoga teachers and chefs, specific colored couches and $300 bottles of champagne. Some estimates say the riders can get into the low six figures, as some celebrities have especially extravagant requests.
Oscars swag bags gifted to nominees and attendees are also worth a lot — with this year's bag totaling $100,000 worth of free trips, spa treatments and the popular DNA testing kit from 23andMe.
Hollywood awards shows aren't the only broadcasts with low pay grades. Artists and musicians who perform at the Super Bowl don't get paid at all. The NFL says the exposure to such a large audience — about 100 million people around the world tune into the annual championship game — is basically priceless, and no amount of money can top becoming a household name.
The Oscars will be broadcast live Sunday on ABC. You can also live stream the show or watch it on the ABC app.