How to Watch 4th of July Fireworks Live Online for Free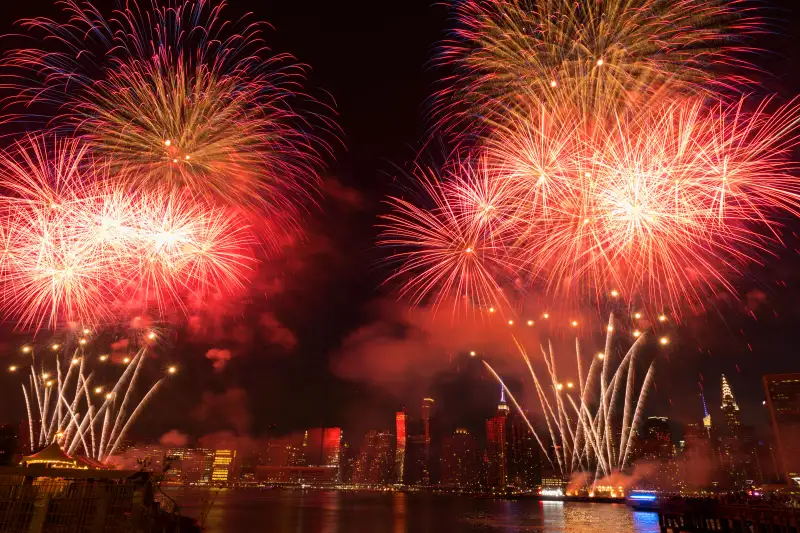 Did you get too sunburned, eat too many hotdogs or drink too much beer and now need to take a break from July Fourth celebrations?
Don't worry — skipping out on the party doesn't have to mean missing the fireworks. And because you can live stream just about anything these days, Independence Day fireworks shows are no exception. Simply select which city's pyrotechnic display you want to watch, turn up the volume and enjoy it while sitting in the sweet A/C. You don't even have to put on bug spray.
Here's how to live stream the best Fourth of July fireworks shows online for free:
Washington, D.C.
A Capitol Fourth will be live from the country's capital from 8 p.m. to 9:30 p.m. Eastern. It's a star-studded event: Not only is John Stamos is set to host, but the Beach Boys, Pentatonix, Andy Grammer and Jimmy Buffett are also scheduled to perform.
You can live stream it on YouTube below or on the PBS site.
New York City
Similarly, Macy's will host its annual Independence Day show in NYC starting at 8 p.m. Eastern, though amNY reports that the actual fireworks start at 9:25 p.m. In addition to neon pinwheels, swirling water foundations and pulsing hearts aplenty, the event will feature fireworks in 25 colors. Oh, and Kelly Clarkson will be there.
You can see it all on NBC New York's website, though you'll need a login with your cable TV provider. If you can't crib one from a roommate's wealthy parent or an ex, simply stalk the #MacysFireworks hashtag on Twitter for all the iPhone videos and photos you could ever want.
Boston
It's much easier to find a live stream of the 2018 Boston Pops Fireworks Spectacular than it is for Macy's. The free public event kicks off at 8 p.m. Eastern, with fireworks starting at 10:30 p.m. Rachel Platten, Rhiannon Giddens, the Indigo Girls, Rita Moreno, Natalie Cortez and the Tanglewood Festival Chorus will be performing, as well.
You can see it all for free on Bloomberg.com, Boston.com, BostonGlobe.com or BostonPopsJuly4th.org.
Seattle
Not on the East Coast? No problem. The Seattle Cancer Care Alliance Summer Fourth will feature about 8,500 pounds of fireworks shooting up as high as 1,000 feet over Lake Union. The event starts at noon Pacific time, but the fireworks are set for 10 p.m.
You can watch a free live stream on the KIRO 7 website. Just click the LIVE button in the upper right hand corner and then make it full screen to savor the fireworks in all their red, white and blue glory.
Disney
Disney World may not be a city, but it is a famous fireworks destination. And on Wednesday night, you can skip paying exorbitant ticket prices in favor of loading up a free live stream of "Disney's Celebrate America! A Fourth of July Concert in the Sky" from Florida's Magic Kingdom.
The broadcast starts at 9:10 p.m. Eastern on the Disney Parks Blog. Keep your eyes on the sky over Cinderella Castle and enjoy the pyrotechnics at the most magical place on earth.