Here's How Much You'd Save by Dumping K-Cups for Traditional Brewed Coffee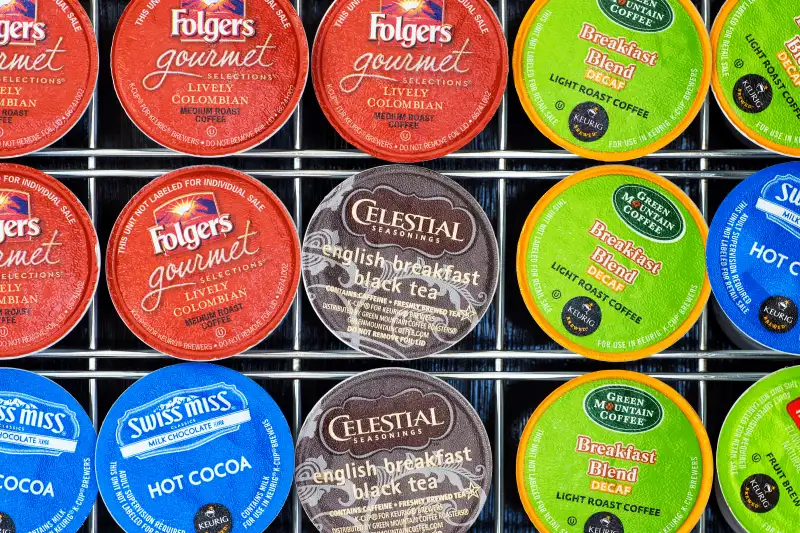 Shutterstock / Rob Hainer
This week, the Atlantic ran a story in which John Sylvan, inventor of the K-Cup—the single-serve coffee pods that are increasingly taking over home and office counter space—dropped a bombshell. "I don't have one. They're kind of expensive to use," Sylvan said of the K-Cup system he created. "Plus it's not like drip coffee is tough to make."
This isn't exactly like Henry Ford saying that he prefers bicycles to cars, or Steve Jobs praising the cost-effectiveness of a rotary phone over an iPhone, but it's sorta in the same ballpark.
Sylvan acknowledged that he feels "bad sometimes" about creating the K-Cup, which he likened to "a cigarette for coffee, a single-serve delivery mechanism for an addictive substance." Also, the proliferation of coffee pods—which are mostly unrecyclable, and which take up more and more space in landfills thanks to America's ever-growing love affair with coffee—have raised serious environmental concerns as they've increased in popularity. Quartz declared them "the most wasteful form of coffee" on the planet.
For now, though, let's focus strictly on the household economics of single-pod coffee brewers. To what degree are they "kind of expensive" compared with regular coffee makers?
First, there's the cost of the machine. Recently, marketing professor Eric Anderson at Northwestern University's Kellogg School of Management noted that in 2002, the average coffee maker cost $35. Today it's still easy to find a basic coffee maker for that price, or even $20 or $25. By 2013, however, the average coffee maker purchase price hit around $90, partly due to the spread of pricey single-pod brewers from Keurig (the K in K-Cups), Nespresso, and others. At Bed Bath and Beyond, the least expensive Keurig coffee maker is $100, which seems fairly typical.
But that's only a small factor in how much more K-Cups cost compared with brewing traditional drip coffee. The Atlantic story estimates that the tiny amount of coffee used in each K-Cup winds up costing the equivalent of $40 per pound. That's easily three times the price of a pound of ground or whole bean Starbucks coffee.
How much more money, then, does a household spend by using K-Cups? The answer depends on several factors, including how much coffee you drink and what kind, and how carefully you shop for deals on coffee makers and the coffee itself. Over the years, various penny-pinching individuals have done the math on the subject, and the breakdown usually shows that K-Cups cost two or three times more per cup compared with traditionally brewed coffee.
One fairly typical analysis, comparing Caribou brand K-Cups versus ground coffee, showed that the per-cup cost was 66¢ versus 28¢, respectively. If you make three cups a day, 365 days a year, that adds up to around $723 spent on K-Cups, versus $307 for regular coffee brewers. So you'd easily save $400 a year by going the old-fashioned route—which, again, Sylvan points out accurately, ain't exactly hard to handle.
For an idea of how much your household specifically would save—or, on the flip side, how much you're paying for the convenience of K-Cups—check out the coffee maker calculator one economist created a couple years back. Enter a few data points into the Excel calculator, including how many cups of coffee you brew per week, the cost of coffee machines you're considering, how much you typically spend on coffee, and even how much of the coffee pot you usually wind up pouring down the drain, and it'll spit out the per-cup price breakdowns. We entered several different scenarios, and K-Cups were at least twice as expensive in all cases.
If the majority of your coffee does come brewed via K-Cup, at least you can take solace in the fact that you're not hitting Starbucks or another coffee shop several times a day. Compared to that, your K-Cup habit will seem downright cheap.