New Cereal Cafe Sells Bowls of Frosted Flakes for $7.50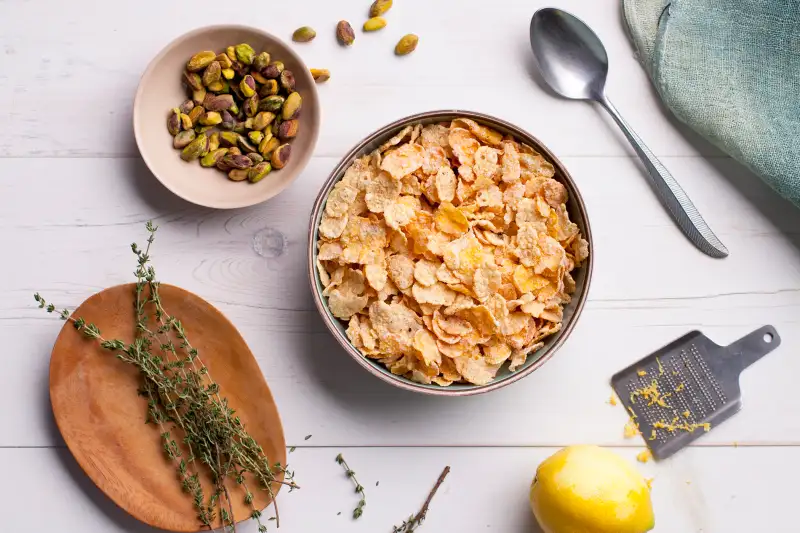 Mark Jordan—courtesy Kellogg's
Cereal has been disappearing from Americans' breakfast tables for years. Sales of cereal have declined as on-the-go consumers have increasingly turned to yogurt, fast food breakfast sandwiches, and other quick, convenient options. And cereal giants like General Mills and Kellogg have taken the trend on the chin, in the form of shrinking revenues.
Now, though, Kellogg thinks it's come up with a way to bring excitement and a dash of fanciness to the sorry, soggy cereal eating experience. The company has teamed up with celebrated culinary experts Christina Tosi (founder and owner of Milk Bar) and Anthony Rudolf (former general manager at Per Se) to open a café in New York City's Times Square devoted just to cereal—specifically, Kellogg's cereal.
As the Wall Street Journal put it, this won't merely be a spot to grab a quick snack but instead will serve as a "dining event." The menu features Kellogg's classics like Frosted Flakes, Rice Krispies, Chex, and Raisin Bran, but they're prepared in ways like you've never seen in groggy mornings at your household breakfast nook. An order of The Chai Line, for instance, includes fresh peaches and Chai tea powder atop Crispix. The Corny Blues mixes Kellogg's Corn Pops with blueberry jam, lemon zest, and a pinch of salt. All orders come with locally produced milk from Five Acre Farms.
As for price, a small bowl is $6.50, and the large is $7.50—or roughly double the cost of an entire box of any of these cereals at your local grocery store.
Customers can also expect fun surprises when their orders are ready, Rudolf explained to Eater. "When it comes time for you to receive your cereal, we give you a buzzer and your buzzer will tell you what cabinet to go to," he said. "You'll open up the cabinet, and there's your cereal — or maybe not. Maybe it's the morning paper or an apple or a banana or maybe you get the toy in the cereal box. And maybe the toy in the cereal box is a temporary tattoo, or maybe it's Hamilton tickets."
Read Next: 12 Things Americans Are Suddenly Buying More Than Ever
The overarching idea, Kellogg hopes, is to get consumers thinking that cereal is not the stop of last resort when you're hungry and lazy. Instead, cereal can be something to get excited about. First and foremost, the cafe--which opens on July 4--is about marketing rather than trying to make some profits with overpriced cereal.
In a broader sense, "They are trying all different ways to get their name in front of consumers," John Stanton, a food marketing professor at Philadelphia's St. Joseph's University, told the Wall Street Journal. That goes for Kellogg's, as well as brands like Chobani, Pepsi, and many others that have opened special cafes and pop-up eateries featuring their products presented in unusual ways. Stanton said such measures could be necessary to build excitement for brands, given how difficult it is to reach consumers in today's noisy, ad-clogged world. "Everything they did in the past is not going to be what makes companies successful in the future."