Khloe Kardashian's Brand Just Invented a Completely New Clothing Size — and There's a Fascinating Reason Why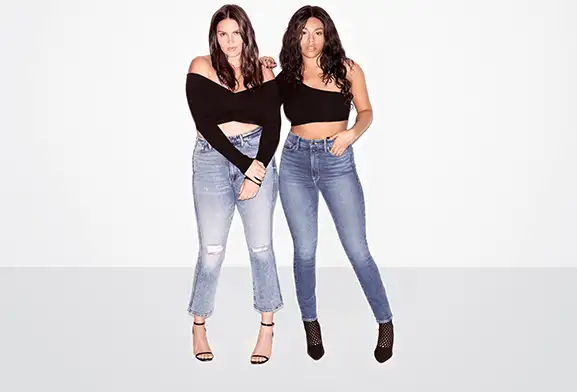 Khloe Kardashian's clothing company, Good American, is starting to sell jeans in a size that straddles the line between straight and plus sizes — a fashion first that will continue the brand's size-inclusive mantra. And it turns out the inspiration for Good American to create the first-ever size 15 option came about when they were crunching their sales numbers.
The company found it received 50% more returns on clothing in sizes 14 and 16 than in any other size, according to a Good American spokesperson. A little more digging showed the reason may be that Good American, like many other clothing brands, switches its pants style in between those two sizes to make it more flattering on heavier body types, Good American co-founder and CEO Emma Grede said in an Instagram video on Tuesday.
And that revelation paved the path to Good American's new size 15, debuting Thursday as part of a new line called the "Good Curve collection."
Good American says it "invented" the size — and industry experts say they've never heard of a size 15 prior to now. Industry sizing is based off of ASTM International's Standard Tables of Body Measurement, which currently does not include a size 15. Currently, Good American's sizing runs from 00 to 24, and it doesn't call any sizes "plus size," which is a 14 or 16 in most brands, according to Jack Plunkett, CEO of Plunkett Research Ltd., a market research firm that provides consumer data and analyses to organizations.
However, Plunkett says, the industry is rapidly changing as a result of "vanity sizing," the practice of brands selling items in a size not consistent with the ASTM guidelines. For example, if a consumer can buy an item in a smaller size at one store than at another, he or she will likely go to the store whose smaller size fits, Plunkett explains.
This issue makes it particularly difficult to determine the true apparel size of the average American woman. "It's really hard to put a number on the average size, but you will find the industry generally says size 14," Plunkett says.
And like Good American, Plunkett says many other manufacturers are experiencing similar return rates on all sizes because of the lack of certainty surrounding women's sizing.
"The confusion is causing that high and expensive return rate," Plunkett says.
Creating a new, more inclusive size is just the latest move by Good American to promote body positivity, which has been a cornerstone of the brand since it launched in 2016.
"This isn't just about finding the perfect pair of jeans, but embracing your body and being proud of all that you are," Kardashian said when Good American first debuted.