Kia and Hyundai Owners Could Get up to $6,125 From Car Theft Class Action Settlement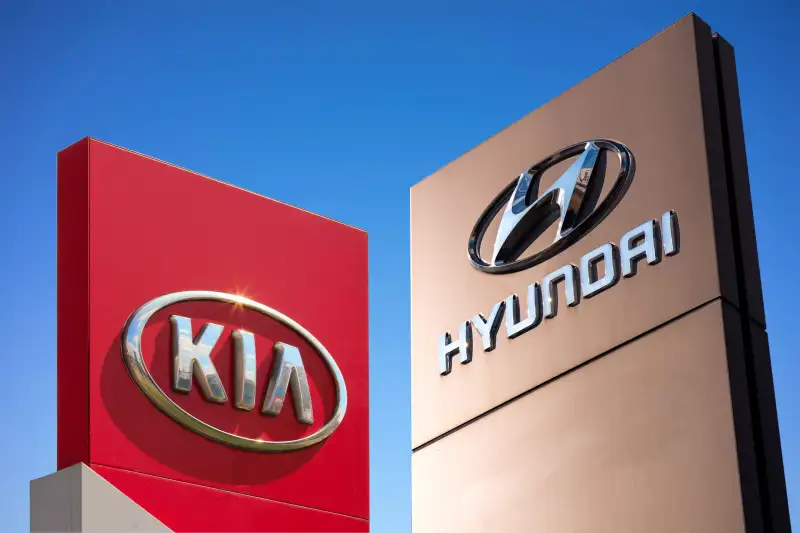 Korean automakers Kia and Hyundai count themselves among the most celebrated car brands in America. But over the last year, the auto giants have gotten into hot water for a wave of car thefts targeting their vehicles. Now, owners of the nine million affected cars will have a chance to collect thousands of dollars each in the aftermath of the security breakdown.
On Thursday, Kia and Hyundai agreed to a $200 million class action settlement for those who fell victim to the qualifying car thefts. The automakers are also providing free installations of anti-theft features for people who own affected vehicles. However, owners may still encounter challenges finding affordable auto insurance (or any coverage at all) for affected vehicles.
Who is eligible for money in the Kia-Hyundai theft settlement?
According to the terms of the $200 million settlement, Kia and Hyundai will be paying out $145 million to compensate for out-of-pocket losses suffered by vehicle owners whose cars were stolen and damaged or unrecovered. The settlement applies to over two dozen vehicle models manufactured between 2011 and 2022, including popular models like the Hyundai Elantra, Kia Sportage and Hyundai Sonata.
Compensation for total loss of vehicle ranges up to $6,125, and compensation for damage to cars and personal property ranges up to $3,375.
The car brands will also be compensating owners for travel expenses resulting from theft, like car rental fees, public transportation reimbursement and traffic tickets incurred by thieves in the stolen automobiles.
The settlement is just a proposal, meaning it will need to be approved by the court before consumers can begin to file for reimbursement. Law firm Hagens Berman, which filed the class-action lawsuit against the automakers, advises consumers to keep on the lookout for settlement websites in the near future for details around securing payment.
Additionally, Kia and Hyundai are offering the installation of anti-theft safety features in all qualifying models for free. Owners of affected vehicles can bring their cars to dealerships for the installation of an engine mobilizer.
The companies have not referred to this offer as a recall, but both say they have reached out to most owners affected by the security issues, and will notify all owners by the end of May. These correspondences will contain the necessary information for scheduling a service to add the upgraded features.
The list of models that qualify for upgrades can be found on Kia's media release announcing the settlement. Those whose cars are not able to accommodate the installation can be reimbursed up to $300 for the installation of a glass breakage alarm or other form of theft-deterrent.
Rise in theft of Kia and Hyundai cars led to lawsuit
About nine million vehicles manufactured by Kia and Hyundai lacked anti-theft features available in many other cars on the market. A viral video from May 2022 featuring a group of car thieves specifically targeting these automobile brands exposed the relative ease with which somebody could steal one.
The rise of thefts continued throughout 2022 and in 2023, leading attorneys general from 17 states and the District of Columbia to urge the National Highway Traffic Safety Administration to order a recall of the vehicles.
The wave of crime has been a scourge for Kia and Hyundai owners; at least two major auto insurance providers, Progressive and State Farm, had dropped insurance coverage for those makes, and others have increased premiums. Since early February, many owners of these vehicles faced difficulty finding new coverage.
The security weakness stems from the vehicles' insert-and-turn ignition systems, which are considered less safe than the increasingly common push-to-start ignitions that require the key fob to be physically within the car to activate. The cars also lack engine immobilizers, which prevent the engine from turning when the key is not in proximity to the vehicle.
Can Kia and Hyundai owners get car insurance now?
While the proposal for settlement is still in the works, the companies' efforts to schedule anti-theft upgrades with consumers means that the cars will at least be made safer soon. This could persuade insurance providers who dropped coverage for Kias and Hyundais to resume writing policies for them again.
Because these companies are free to make this decision at their own discretion, though, it's not clear when this might happen. In the meantime, AAA stepped up to offer insurance policies to affected owners in a partnership with Hyundai.
More from Money:
Money's Best Autos of 2023, From Sports Cars to SUVs
Car Insurance Woes Continue for Kia and Hyundai Owners Despite $200 Million Settlement
Drivers Are Shopping Around for Cheaper Car Insurance as Premiums Soar