A Massive Smoke Detector Recall Was Just Issued. Here's How to Check If You're Affected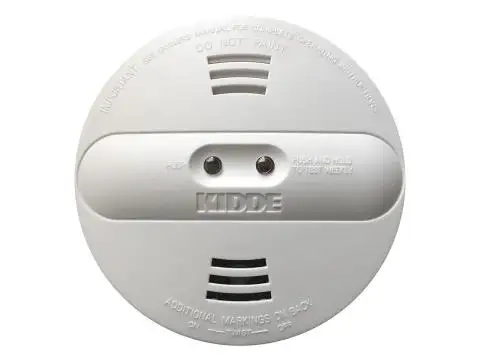 Fire safety manufacturer Kidde has issued a recall covering nearly 500,000 dual sensor smoke alarms after finding that a malfunction in the devices puts them at risk for not alerting people to fires.
The recall, issued on March 21, affects about 452,000 smoke alarms in the U.S. and about 40,000 units in Canada. The devices are under recall because a yellow cap left on the smoke alarms during the manufacturing process could cover one of the detector's smoke sensors, potentially blocking its ability to detect smoke and warn people of a fire in their houses.
Thus far, Kidde has received one report of a yellow cap being included on a smoke alarm before it was installed in a home. There have been no reports of injuries or other incidents.
According to Kidde, the affected models include PI2010 and PI9010. The devices should have "KIDDE" printed on the front center with the model number and date printed on the back.
How to check if your smoke alarm is affected
Customers who have the Kidde models under recall are urged to check their smoke alarms for the presence of a yellow cap. If the cap is present, they should contact Kidde immediately for instructions on getting a free replacement smoke alarm and wait until it arrives to discard the faulty detector.
Kidde said customers should not try to take the smoke alarm apart, open the casing or try to remove the yellow cap — just wait until the replacement arrives. If your smoke detector doesn't have a yellow cap inside, there is no need to change anything.
The U.S. Fire Administration advises people to check their smoke detectors at least once a month and replace the batteries twice a year, saying that three out of five home fire deaths occur because the affected houses did not have working smoke alarms.
See more details on replacing the recalled smoke alarm here.