How Kylie Jenner Used Lipstick and Instagram to Become the Youngest 'Self-Made' Billionaire in the World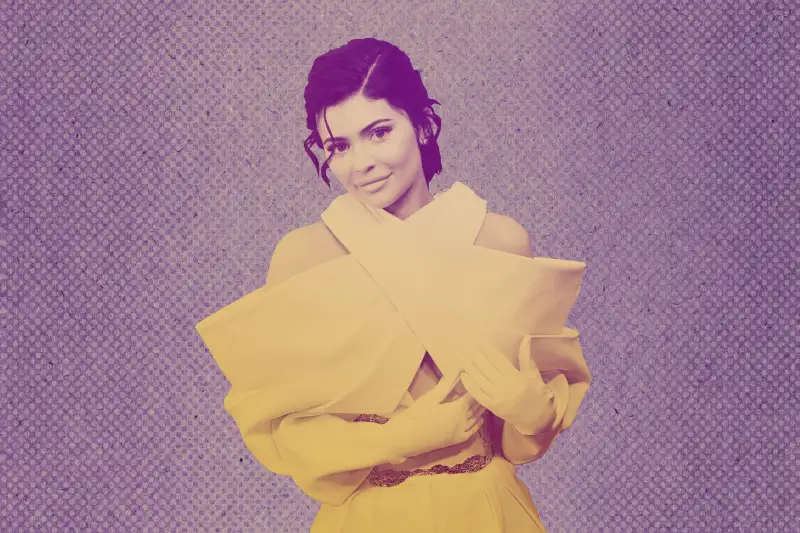 Photo illustration by Sarina Finkelstein for Money; Getty Images (2)
Kylie Jenner caught the briefest of breaks from the Jordyn Woods news cycle this week when Forbes formally named her the youngest self-made billionaire ever.
Jenner is no stranger to making history or headlines. A prominent member of the uber-famous Kardashian clan and onetime owner of the most-liked Instagram photo in history, 21-year-old Kylie Jenner is a straight-up businesswoman. Her ever-expanding makeup company, Kylie Cosmetics, is valued at $900 million — and it's largely responsible for her new ten-figure title.
For years, Jenner has combined her social media savvy with her stardom to promote lipsticks, eyeshadows, and more to her 175 million followers. They're not the only ones paying attention. Kylie Jenner is so influential and powerful that a single tweet she posted last year complaining about Snapchat led its stock to tank.
She and rapper Travis Scott live in a $13.4 million mansion. Even their 1-year-old, Stormi, is rich: She has a diamond necklace and a miniature Lamborghini.
Here's everything we know about Kylie Jenner's money.
Is Kylie Jenner a Billionaire? Is Kylie Jenner a Self-Made Billionaire?
Kylie Jenner is, alongside people like George Lucas and Oprah Winfrey, one of the top five wealthiest celebrities in the U.S. Forbes says she passed $1 billion net worth mark thanks to her 100% ownership of Kylie Cosmetics and the cash she's recently pulled in from its foray into Ulta stores.
But the terms of Kylie Jenner's "self-made" status are constantly under scrutiny.
She's the daughter of Olympian Caitlyn Jenner and manager Kris Jenner, who was previously married to lawyer Robert Kardashian, which makes her part of the Kardashian family. They collectively star in the reality show Keeping Up With the Kardashians, which is in its 16th season. The Kardashians' network is huge, wide-ranging and undoubtedly gave Jenner's career a boost.
Forbes has been criticized in the past for not fully acknowledging Jenner's advantage. Writer Roxane Gay tweeted last year that Jenner's "success is commendable, but it comes by virtue of her privilege." In a Tuesday tweet, Dictionary.com coyly reminded its followers that self-made means "having succeeded in life unaided."
In response to the outcry, Forbes wrote last year that as long as someone doesn't "inherit a business or money, she is labeled self-made." But the magazine did concede that "the term is very broad and does not adequately reflect how far some people have come and, relatively speaking, how much easier others have had it."
How Does Kylie Jenner Make Money?
Teen Vogue once put Jenner and her sister Kendall Jenner on the cover with the label "Kardashians in Training." And indeed, Kylie Jenner's career does follow the same lines as her siblings'.
When starting out, she modeled and leveraged her name for cash, earning $100,000 in 2011 for a partnership with the nail polish brand OPI. In 2013, she and her sister launched the "Kendall and Kylie" clothing line at PacSun. Jenner has since picked up sponsorships with Gillette, Beats, Puma and Adidas.
But Kylie Jenner's net worth is mostly built upon Kylie Cosmetics, which began about four years ago. According to Forbes, Jenner — who was already known for her (somewhat engineered) pout — invested $250,000 to make 15,000 $29 lip kits. She then advertised them on social media ahead of the release date. When the Kylie Lip Kits finally went live, they sold out in minutes.
That sort of popularity is standard with Jenner. In 2016, when she debuted a nail polish line with Superdrug, the company sold eight bottles per second.
"I feel like everything I do, my hair color, my makeup, I always start these huge trends, and I don't even realize what I'm capable of," Jenner told TIME in 2015.
Kylie Cosmetics now sells bronzer, highlighter, lip gloss, blush, eyeliner and more. Kylie Jenner's shop operates through Shopify and outsources production. It came to the brick-and-mortar makeup franchise Ulta over the holidays, leading Kylie Cosmetics to earn about $360 million in revenue in 2018.
Jenner's Instagram is also a big moneymaker. She earns a rumored $1 million for every #ad (recent posts include spon con for Sugarbearhair vitamins and Teami detox teas).
Who Is the Richest Kardashian-Jenner Sister?
Wondering which Kardashian girl boss has the most money? Kylie Jenner's net worth is the highest of the bunch, but her siblings certainly aren't hard-pressed for cash.
Kim Kardashian West, at 38, has her own beauty line KKW and a wildly popular (but now-defunct) mobile game. Kim is worth an estimated $350 million. (Her husband, rapper Kanye West, is worth $250 million, according to Celebrity Net Worth.)
Then there's Khloé, a 34-year-old whose denim brand once made $1 million in one day. Thanks to that, her appearances on Keeping Up With the Kardashian spinoffs and her $250,000 Instagram ads, Khloé has a net worth of $40 million.
Kourtney, who at age 39 is the oldest Kardashian sister, is close behind Khloé with a net worth of $35 million.
Kendall, 23, has a net worth of $30 million. That may soon change, given that her $22 million salary made her the highest-paid model of 2018, but she's still far from catching up to Kylie Jenner.