Pizza Vending Machines Are Now a Thing at Little Caesars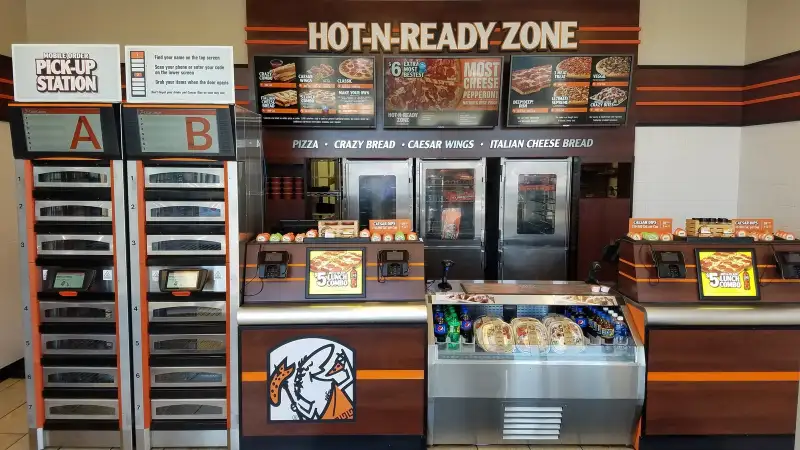 PRNewsfoto/Little Caesars Pizza
Little Caesars wants you to pick up your pizza from a giant heated vending machine.
On Monday, the Detroit-based pizza chain announced the introduction of a device it calls the Pizza Portal, which looks like a series of small ovens stacked atop each other like shelves. It will allow customers to order and pay from a mobile device, and then pick up pizzas without waiting in line—and without ever interacting with a single human being.
The first devices are being unveiled at more than a dozen Little Caesars locations in the Tucson, Ariz., area, USA Today reported. The Reserve-N-Ready system, as the company calls its new automated process, will expand to more locations later this year. The plan calls for a national rollout in 2018.
To use Reserve-N-Ready, customers must place an order and pay via Little Caesars' mobile app. The app sends a notification when the order is ready, and the customer can proceed to the pickup location and sidestep anyone waiting on line who needs to talk to a Little Caesars employee. Reserve-N-Ready customers step up to the Pizza Portal and use a three-digit pin or scan a QR code to unlock the machine and retrieve the order.
Little Caesars' CEO David Scrivano told USA Today that he thinks Pizza Portals will "augment" store staffing rather than replace employees. The hope is that the new system will boost sales, which in turn will require more hiring within the company. "There will always be counter people," Scrivano said.
Little Caesars is owned by the Illitch family, which also owns the Detroit Red Wings, the Detroit Tigers, and the MotorCity Casino Hotel. The family matriarch, Marian Ilitch, is the richest self-made woman in America.