How to Live Stream NFL Games for Free in 2018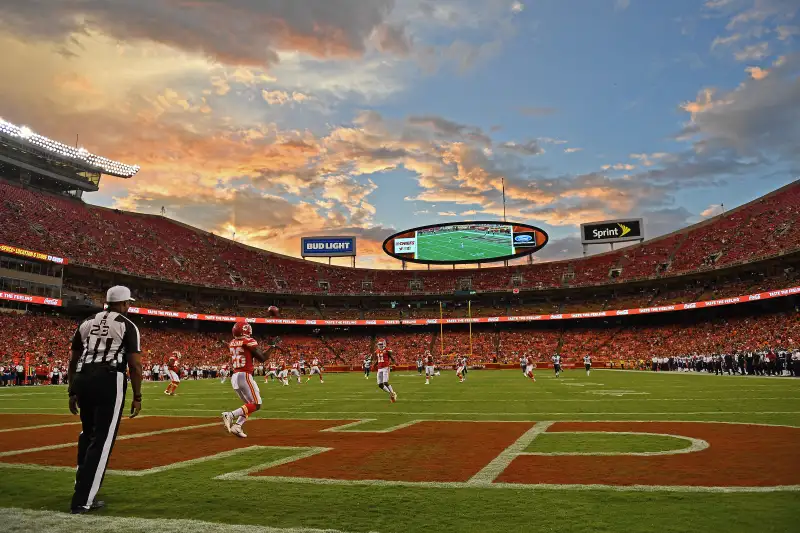 [This guide for how to live stream NFL games for free is from 2018. While these methods may still work, check out our 2019 version of how to watch NFL games for free here.]
The 2018 NFL season is here, and cord-cutting football fans can rejoice: It just got easier to live stream games for free, with no satellite or cable TV package required.
For the first time, fans can watch NFL games online for free via the NFL App. After you've downloaded the app, you'll be able to live stream many NFL games — specifically, your local team's games, as well as nationally broadcast prime time games like NBC's "Sunday Night Football" — throughout the entire season.
Downloading the NFL App is free, and there is no charge for using it to stream games. You can even use it for free live streaming of the 2018 season's "Monday Night Football" games, which are broadcast by the pay TV channel ESPN. (Just make sure you're connected to wifi before you stream a game on your phone or tablet. If you're not, you could wind up eating a huge chunk of your data plan.)
[UPDATE: For at least some NFL matchups, fans can only stream games on their phones if they turn off wifi and use cellular data, apparently. That's fine if you have an unlimited data plan, of course, but it could prove costly if you have a limited plan and want to stream lots of games over the course of a month.]
Alternately, you can live stream the same selection of games for free through the Yahoo Sports app — although it won't work on your TV. "Live games are available only on the Yahoo Sports app on mobile phone and tablet," the service notes. "Screencasting is not permitted."
Bear in mind that the apps will give you free streaming only for in-market games and nationally televised prime time games. If you happen to be a fan of a team that plays somewhere else in the country — say, you're a Chicago Bears fan who lives in Miami — you'd have to pay around $300 per season to watch your team every week, with a special package that includes access to out-of-market NFL games.
Even so, the NFL is making it extraordinarily easy this season to live stream many games. In past seasons, only Verizon wireless customers were able to live stream NFL in-market and nationally televised games for free; all of the other options for streaming games came with a fee. Now fans can stream these games live with either the NFL App or Yahoo Sports app regardless of their wireless provider.
Yet another way to live stream NFL games for free is available via Amazon Prime, which is streaming "Thursday Night Football" games more than half of the weeks in the season. And it's totally free if you're an Amazon Prime member.
Other major sports leagues, which feature far more games in the course of a season, generally force fans to pay up for live streaming games. For example, the subscription price of the NBA League Pass, which allows fans to stream games on TV and mobile devices, ranged from $120 to $250 last season. The regular price of the baseball streaming service MLB.TV, meanwhile, is between $90 and $116 per year, and that only includes access to out-of-market games — so you can't even watch your local team play.
The NFL is obviously taking a very different approach to live streaming. Why? NFL TV ratings declined last season for a variety of reasons. Among the factors that have been blamed for declining ratings: overexposure due to more and more TV broadcasts, poorer quality games on the field, and fan boycotts in the wake of NFL players kneeling during the national anthem.
Another reason TV ratings for NFL games have declined may simply be that fewer people are watching TV.
"The NFL is actively trying to figure out how to reach not only cord cutters, but also the young 'cord nevers,'" Chris Brantner, who runs StreamingObserver.com, explained to USA Today. "How are they going to capture young fans who never have and never will pay for cable? Young people who consume content mostly on mobile devices? I think this is also a test to see if they can capture those eyeballs."
The NFL is different from the other major sports leagues in that most of its games are televised not on cable channels but on free over-the-air networks like Fox, CBS, and NBC. NFL fans can always watch the Sunday broadcast of their local team's games for free on TV, either via a cable package or with the assistance of a digital antenna, which might cost as little as $25.
But what about the potential fan who watches video content exclusively online — who doesn't own a TV and never plans on getting one? The new free streaming options give the NFL a better chance to win over that individual as a lifelong fan.