5 Ways People Are Using AI to Try to Make Money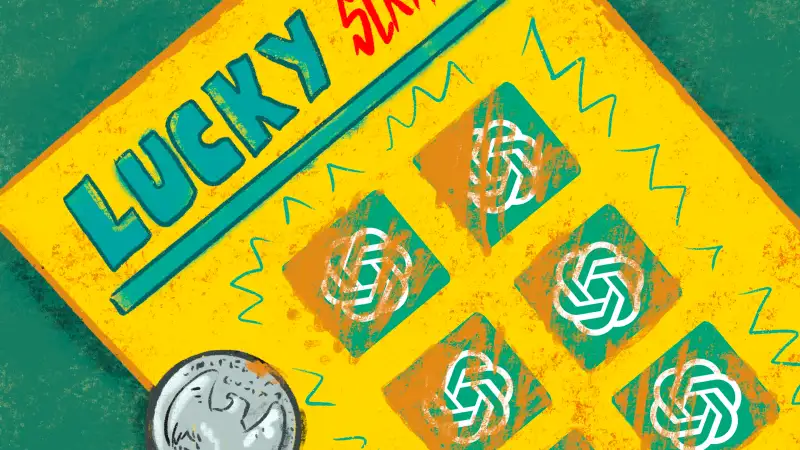 As entrepreneurs, corporate executives and investors race to figure out how to leverage artificial intelligence to make money, folks at home are also wondering if AI tools like ChatGPT can help them get rich.
On social media, there are countless videos, tweets and articles detailing methods for using AI to make money online with ideas like building websites, marketing products and selling AI-generated artistic creations.
"I'm about to show you how you can make hundreds of dollars a day online using ChatGPT," YouTuber Monique Hinton, promises in a recent video about AI side hustle ideas. "And you don't have to have any skills to do this. Why? Because ChatGPT is going to do most of the work for you."
With pitches like this, it's not surprising that Microsoft founder Bill Gates and countless others routinely describe AI as "revolutionary." In many ways, ChatGPT and AI in general have taken the tech world by storm. Research indicates that ChatGPT can be used to predict stock prices, and companies that benefit from the rise of AI, like Nvidia and Google-owner Alphabet, have seen their stock prices surge in 2023.
As people try to incorporate the exciting new tech into their workflows, however, the results have sometimes been embarrassing — or worse. Students have been caught using ChatGPT to write essays and discussion posts for classes and been accused of plagiarism. At least one news site had to issue corrections after using AI to publish stories that included multiple inaccuracies in basic math. Recently, a lawyer in New York City came under fire after using ChatGPT to write a legal brief that reportedly cited fictional cases fabricated by the AI chatbot. It's probably not a good idea to use ChatGPT to write a cover letter when applying for a job either.
All that said, with the right concepts, the right prompts and maybe a bit of luck, there's no doubt some people will succeed making money online with AI. But getting rich quick is seldom as easy as it sounds — and that will remain true even in a world with chatbots and other mesmerizing tools at our fingertips.
For example, Hinton suggests you could start a service for writing product descriptions for online stores, using AI to do the work. What she doesn't mention is just how hard it can be to get anyone to pay you to do this — or the fact that instead of hiring your service, someone could just use ChatGPT to accomplish the same task for free.
AI's potential at work — and the risks involved
Acknowledging there's "huge potential" for business endeavors with AI, Kelly Donovan, principal of career services firm Kelly Donovan and Associates, says it's best to hold off on quitting your day job to became an AI entrepreneur.
"Some of the possibilities, right now, I think a lot of us haven't even imagined," Donovan says. "There really are some opportunities, although at the moment, it has some limitations."
Among the problems are that OpenAI's ChatGPT and Google's Bard sometimes make mistakes. They don't always understand what a user intended from a prompt, and they can generate inaccurate results, especially when pushed beyond their zones of knowledge. Working with a tool that has a mind of its own, that makes mistakes in ways that aren't always easy to grasp, comes with risk, particularly if you want to deploy these tools to try to get rich quick on the internet.
Instead, experts encourage thinking about ways to use AI as a tool that can complement whatever it is you're already doing or want to do. When used wisely, ChatGPT or Bard can help you generate ideas, handle basic tasks and generally accomplish more, whether that's your day job, a side hustle or a money-making idea you're excited about and just haven't yet acted on.
How people are trying to use AI to make money online
All over the internet, AI enthusiasts are discussing money-making ideas with the technology. Based on social media discussions, videos and conversations with experts, here are some of the ways people are trying to make money online using AI:
Use AI to help sell products
The potential for artificial intelligence applications in e-commerce is quite apparent. You could use AI tools to brainstorm a concept, assist with a design, write marketing copy and handle customer interactions.
But nothing about this method is foolproof given that there's tough competition for customers online. AI might be able to help you, but success is still contingent on a good idea and execution.
"We've certainly heard the kind of get rich quick stories from it, but there are a lot of people who've tried it and haven't really gotten anywhere with it," Donovan says.
Before trying anything like dropshipping (an online retail model that involves items being shipped directly from suppliers), she recommends consulting with an actual expert about the viability of your idea.
Make digital content with AI
Creators are trying to use AI tools to make digital content they can monetize, like blogs, digital, art, podcasts and videos.
You could use AI to generate scripts, come up content ideas, draft blog posts and so on. Then, you could theoretically run ads or sell subscriptions with the content. The catch is that you're only going to make money if you successfully find an audience, and that's hard to do.
For example, in a recent video more than 300,000 views, business influencer Matt Phelps promoted a strategy for affiliate marketing with ChatGPT and gave an example of making a website that promotes products for improving your jawline.
The title of his video claims you can earn $100 per day, but it's not clear where that number comes from. Like much of the social media content around getting rich with AI, the premise seems to be more aspirational than practical.
Complete freelance assignments
Donovan says AI can help people be more productive handling freelance tasks — and possibly make more money.
Someone who works as a freelance marketer could try to use AI to come up with the first draft of what they've been assigned to do for a brand, she says. Bear in mind what while using AI this way can streamline the process and save time, you'll still need to have someone with expertise reviewing the output.
"In its raw, unedited form, it could have errors, there could be issues with plagiarism, it might not have the right nuance," Donovan says.
And with freelancing, you're likely going to find yourself in competition with other people interested in the same business. You could have trouble making money if the quality of your AI-generated work isn't on par with a company's expectations of what a skilled and knowledgeable human professional would create.
"To provide the level of quality that a brand would want, that's where that human editor comes in," Donovan says. "But it can transform the role of a writer to the role of an editor, so it makes you more productive."
Of course, there could be ethical considerations if you don't disclose that you're using AI to complete freelance tasks, so consider having a conversation about this with the company paying you.
Work multiple remote jobs
Remote workers are exploring ways to use ChatGPT to complete their job duties more quickly to free up personal time — or time to work a second remote job.
"Some people are juggling two remote jobs at the same time in some cases without the knowledge of either employer," Donovan says. "AI will probably make it more feasible for someone to do that."
She doesn't necessarily encourage this, however, due to the risks if word were to get out. On the other hand, it might be fine to use AI to simplify your workflow at your current job. In fact, many companies are eager to have their employees try these tools.
It's best to be transparent with your employer (or employers, plural). That way, if at some point you make a mistake and it's ChatGPT's fault, you'll at least have approval to have been using it in the first place.
Pursue a startup idea
AI tools could enable Americans to grow startups at lower cost in less time. Because of the time-saving possibilities of AI, it's easier to pursue a business idea as a one-man operation, or even as a side project alongside a 9-to-5 job, says Julie Bauke, an independent career strategist.
If this is something you're interested in, she recommends thinking about your passions and areas of expertise to come up with a business idea in a related niche. "You have to combine what you like to do or what you're interested in and what you could get excited about and what's in demand," she adds.
You can research if there are AI tools that can help you with your idea. If so, try to become an expert in using them, whether they're design tools, copywriting tools, coding tools, customer support tools or something else, she says. There's even potential for using AI to work on your pitch deck or brainstorm possible names for your business.
Using AI, you may be able to keep more of the work in house and avoid having to pay outside contributors for assistance. This can make it cheaper to develop your startup idea. The tradeoff is the quality might not be as high and there could be less of a personal imprint on the project. And like many of these other ideas for making money with AI, the odds of getting rich from a startup are very low.
More from Money:
Best Personal Loans of June 2023
10 Easy Ways to Make Money Online