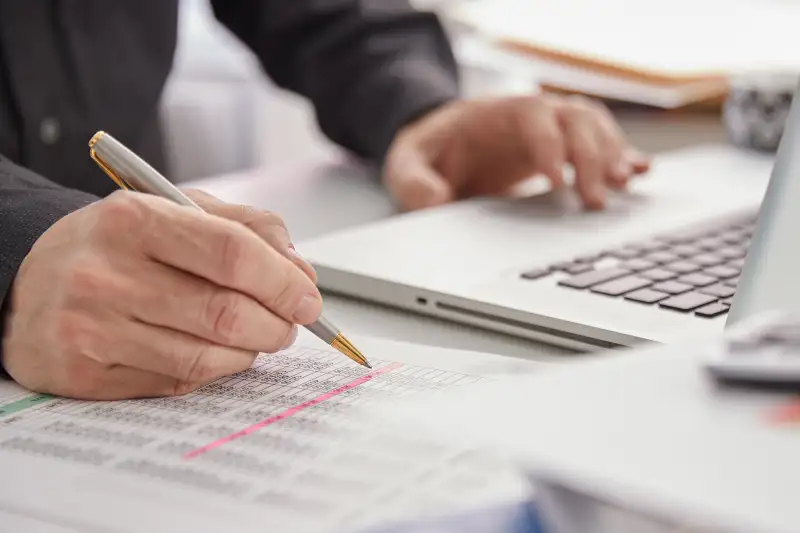 Creating passive income is a great way to set yourself up for true financial stability. Whether you're wondering how to make money from home, want to earn money from investing or you're just looking to make some extra cash to see you through a rough financial spell, there are many ways to accomplish your goals.
This guide will walk you through a few of the most effective passive income strategies. Anyone, no matter what their financial circumstances may be, has equal access to these methods. We're not saying it's easy — passive income opportunities take a little work to set up — but they can help you broaden your income stream and break out of the paycheck-to-paycheck lifestyle.
What is passive income?
Passive income is any money you earn while you're not actively working. It can come from selling a product online, renting your property or growing your wealth through investments. By definition, passive income is what you earn outside of doing your regular job.
That doesn't mean it's free money. Passive income streams take work and creativity to set up. Some of the best sources of passive income, such as affiliate marketing, can be taken on as full-time jobs. The key difference between passive income vs. active income is when earnings flow to you. "Passive" means you're making money even while you're sleeping.
There are several types of passive income. It might be a side hustle — such as renting an extra bedroom in your home — that helps you make your monthly payments, a bank account that earns interest or an investment in a small business. Below are a few examples of passive income opportunities that you can start this year.
What are the most lucrative passive income streams?
From investments to rental properties, passive income means thinking outside the box. The most lucrative sources of passive income are relatively low-risk, consistent and adaptable to your schedule.
The best way to start earning is to find a source of passive income that fits your current lifestyle. Let's break down the best passive income ideas in more detail.
Look into investing in businesses
Smart business investments are a surefire way to grow your wealth over time. There's just one caveat: they have to be really smart.
Investing in a new business is risky. Food service, bars and retail businesses tend to have high overhead costs and won't make money for the first few years (if they succeed). So, investing in your friend's new restaurant might not be the right choice if you're looking for stable growth.
However, investing in an established young business is a smart passive income opportunity. Look for companies in fast-growing industries that show a high potential for growth. A few of the fastest-growing industries this year include:
Biotechnology
Real estate
Tech (AI, cloud computing and data analytics)
Renewable energy
On-demand services (delivery, streaming services and rideshare)
Healthcare and pharmaceuticals
The best way to determine the risk of any business investment is to talk to a financial advisor — it's worth the cost to find an opportunity for stable growth.
Try investing in rental properties
Rental space is a great way to generate passive income with minimal work. If you have a guest home or an accessory dwelling unit (ADU) on your property, consider renting it out through a vacation rental service like Airbnb. Alternatively, rent your property to long-term tenants if you're prepared to handle the responsibilities of being a landlord. If you don't have a second home or ADU, you can also consider renting a spare bedroom in your house to a college student, traveling nurse or another short-term tenant.
Don't have a space to rent? You can join a real estate investment trust (REIT) to invest in large-scale rental properties. REITs allow individuals to get involved in the real estate market for a low initial investment. A REIT probably won't become your primary source of income, but it can be a reliable addition to an investment portfolio.
Get a high-yield savings account
If you're looking for a risk-free passive income investment, consider opening a high-yield savings account. These accounts are offered by online banks and credit unions and allow your savings to collect interest at a faster rate than traditional accounts.
The best high-yield savings accounts offer as much as 4% APY. Unlike investing in the stock market, these accounts are generally FDIC-insured and there is no risk of losing your savings, so long as you don't invest more than $250,000 in one savings account with one institution.
Consider CDs and money market accounts
Certificates of deposit (CDs) are another option if you want to earn interest on your savings. These accounts collect high interest rates, but your funds are not accessible for a certain amount of time. CDs are bought for a pre-set term that can be anywhere from a few months to over 10 years, and there is no limit to the number of CDs you can buy.
If you want to be able to access your savings in the short term, consider a money market account. These accounts are federally insured but usually offer variable interest rates — meaning your earnings will fluctuate depending on market conditions. Unlike with CDs, you can withdraw or transfer funds from your money market account any time (with monthly limits).
Open a dropshipping e-commerce business
Want to sell products online, but don't have the time or funding to open a traditional brick-and-mortar business? Dropshipping is the best solution.
With dropshipping, a third-party company ships a product from the retailer to the buyer. Website platforms like Shopify and Wix allow you to set up a dropshipping company and sell your products without having to house your own inventory. In other words, you can open your own e-commerce business with a minimal upfront investment.
Here are a few steps to starting a successful dropshipping business:
Find your niche. Pick a niche product that helps you stand out. For example, graphic T-shirts for a specific fandom or baby products for busy parents.
Choose your supplier. Compare distributors and find the best wholesale price (and quality) for the products you want to sell. AliExpress, Doba, Worldwide Brands and SaleHoo are all examples of popular dropshipping suppliers.
Develop and promote your brand. Start marketing your dropshipping business on social media. By generating content tailored to your customers and gaining followers over time, you can develop a successful, unique brand.
Starting a dropshipping company is a good way to dip your toes into entrepreneurship. There is minimal risk, but make sure to read a dropshipping company's reviews and pick a trustworthy supplier before you start selling.
Sell online courses
If you have a unique skill or educational background, you can earn passive income by recording lessons, then selling them as digital products. Sites like Patreon offer a platform for creative people to sell content to their subscribers. You can offer music, writing, acting and other lessons without actively logging on to teach.
Those lessons don't have to be in video format. You can also record audiobooks (with proper permission from the copyright holder) and sell them online.
Sell digital products
A digital product is an online asset that is delivered and used electronically. Common examples include e-books, apps and tickets to live events.
Self-publishing is one way to create your own digital products. If you have a knack for writing, you can publish and sell your work online. This is much faster than the traditional publishing process, but you should be prepared to invest some time and money into marketing for your book to make a profit.
Non-fungible tokens (NFTs) are a type of digital product that can't be replicated. These tokens can be bought and sold for a profit, or they can generate passive income through something called NFT staking, which is the process of locking up NFTs on a digital platform to earn rewards.
Invest in crypto
Investing in cryptocurrency is another option to generate passive income. As the crypto market continues to gain popularity, it's becoming a more mainstream form of investment. In fact, according to NBC News, in 2022 about 21% of Americans were involved in some form of crypto trading.
It's important to realize that cryptocurrencies are volatile. You shouldn't put all your investment funds into crypto — there is a high risk of the market dropping at any given time. However, a small crypto investment can be fun to monitor and might just pay off. Talk to your financial advisor about the safest cryptocurrency investments before you get started.
Start a blog
A successful blog will generate passive income through affiliate marketing or product referrals that earn a commission. Here are a few steps to starting a profitable blog:
Pick a unique subject. Travel, parenting, food and wellness are popular blog topics but you can add your own spin to stand out from the crowd. Choose a subject you know a lot about to cut down on research time.
Post frequently. Start generating interest in your blog by posting every day. Be sure to link to your posts from your other social media accounts. When your blog is established, you can earn money even when you're not creating content.
Utilize free SEO tools. Tools like Ahref Keyword Generator and Google Keyword Planner can help you include key search terms in your content and improve your search engine ranking.
Start marketing. Reach out to brands that appeal to companies interested in your blog subject to offer affiliate marketing services. For example, if you write about dogs, try offering ad space on your blog to pet food brands. Each time a reader clicks on an ad in your blog and goes on to purchase a product, you'll receive a commission.
Start a YouTube channel
A YouTube channel is another way to earn money through affiliate marketing. Starting a profitable YouTube channel takes a lot of time and dedication, but once your channel takes off, there are a few ways to earn. Those include:
Paid ads that play before and during your videos
Selling branded content in your videos
Paid channel memberships for subscribers
Be aware that YouTube is extremely competitive. You shouldn't expect to make money right away. However, if you already have a significant following on social media and are willing to put some effort into promoting your videos, you can start gaining subscribers and building a profitable channel.
Take and sell stock photos
If you love photography, stock photo websites like Alamy or Adobe Stock offer an easy way to sell your photos and earn passive income. These sites buy photos from amateur photographers and sell them as digital products.
Depending on the stock photo site you're working with, you might earn a commission for every sale. You won't earn as much of a profit as you would from selling your photos directly, but it's a good way to earn a little extra cash while improving your craft.
Passive income FAQ
What's the difference between active income and passive income?
The main differences between active and passive income are how you earn money and how consistently. Active income has to be worked for through a nine-to-five job or side hustle. Developing a passive income stream takes some upfront work, but will continue to earn money for you while you're not actively working. Dropshipping businesses, electronic publishing and investing are all ways to earn money passively.
Can you really make a lot of money with side jobs?
It depends on the job. Passive income jobs can generate any amount of income based on the financial investment and amount of effort you put into them. That said, even a little extra income is better than none. The sooner you invest in passive income opportunities, the more your wealth will grow.
Is passive income taxed?
Yes, passive income is taxed. It may be taxed at the same rate as active income, but that's not always the case. Some passive income streams, such as dividends paid through stock investments, may be taxed as capital gains. Capital gains tax rates can be significantly lower than the rates applied to earned income. Rates can be anywhere from 0% to 20%. The exact passive income tax rate depends on a number of factors, including your annual income and whether your investment is considered short-term or long-term gains.
What does the IRS consider passive income?
According to the IRS, passive income is any wealth generated from activities you are not directly participating in. That includes investments in businesses, peer lending and mutual funds. Renting your own property or selling your own products are not considered passive income activities by the IRS.
Find a source of passive income that fits your lifestyle
Want to make 2023 the best money year of your life? Find an opportunity to earn passive income and stick with it.
Investing in real estate isn't for everyone. Neither is starting a blog or selling your own ebook. What matters most is that you find a source of passive income that fits your lifestyle. Remember, any extra income is better than nothing. Set yourself up for a better financial future with the hustle or investment that works for you.