At Last, You Can Buy Wallpaper and Sheets with Big Macs on Them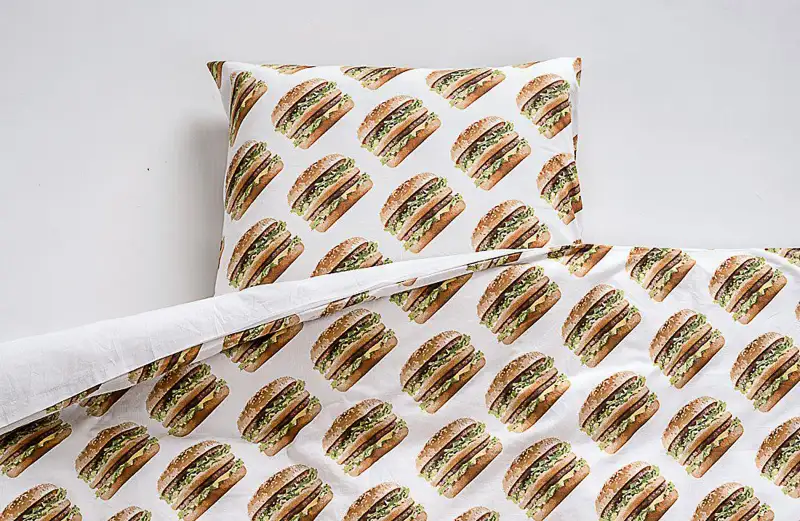 courtesy of BigMacShop.se
Perhaps even stranger than the existence of the new Big Mac Shop collection is the fact that sales are currently limited to one country: Sweden.
The collection was introduced on Tuesday at a "McWalk" fashion show in Stockholm. The range of products includes Big Mac bedding, Big Mac thermal underwear, and Big Mac wallpaper, priced at the equivalent of about $47, $58, and $54, respectively. All items feature the same picture-perfect image of a Big Mac that you only see in ads—never in the restaurant when you buy one—repeated hypnotically over and over.
Yes, this has all the makings of an April Fools gag. But it's not April 1 yet. And based on the reporting of AdAge and AdWeek, among others, these are indeed actual products that are actually for sale, in Sweden at least. (Alas, we tried to make a purchase on the site but were shot down with the message that delivery was not available to the U.S.)
AdWeek clarified that while the Big Mac collection wasn't a joke, it was "part of a global day of McDonald's hijinks" called imlovinit24 that took place earlier this week. The campaign called for 24 marketing stunts in 24 cities around the world, including a huge Big Mac jigsaw puzzle in Madrid and a tollbooth in Manila that dispensed free McDonald's food to drivers. Profits from Big Mac Shop sales will be donated to Ronald McDonald House Charities.
At last check, bedding, thermals, and wallpaper from the collection were still available to interested Swedes, but it appears as if the collection's rubber boots, raincoats, and dog clothing are already sold out.