5 Things to Know About McDonald's All-Day Breakfast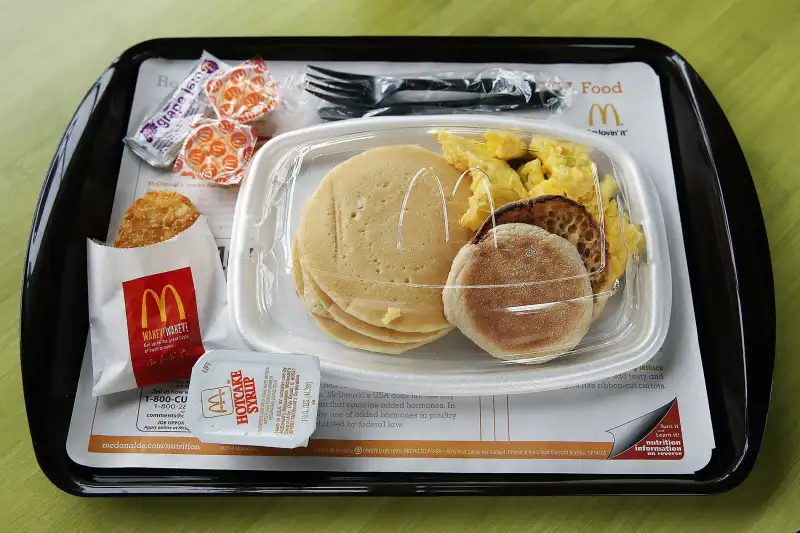 Justin Sullivan—Getty Images
For many years, McDonald's said that it was pretty much impossible to serve all-day breakfast. The thinking was that the restaurants were too busy, and the kitchens were too small, to handle breakfast orders on top of burgers and the rest of the menu.
But after receiving tens of thousands of demands for all-day breakfast on social media—and after finding itself in a fairly desperate situation in which sales have declined substantially—McDonald's has capitulated, and the era of all-day breakfast kicks off on Tuesday, October 6. That means that around the nation, McDonald's customers can order breakfast items past the usual cut-off time of 10:30 a.m. So today, you can expect plenty of fast food enthusiasts to be enjoying McDonald's breakfast for lunch, brunch, dinner, a mid-afternoon snack, and anything and everything in between.
Here are a handful of things to take note of concerning the arrival of McDonald's all-day breakfast.
Only part of the breakfast menu is available all day. Because of the complications of adding breakfast to the menu alongside the rest of the usual afternoon options, McDonald's is limiting the kinds of breakfast items available for the entire day. All-day menu options vary by location, though most will have a core selection of things like hot cakes, fruit and yogurt parfait, oatmeal, sausage burrito, and hash browns.
No Egg McMuffins in the South. The biggest "controversy" over McDonald's all-day breakfast is that there is a sharp division of North and South. "Maybe the Mason-Dixon line should be renamed the Biscuit-McMuffin line," industry publication Nation's Restaurant News deadpanned. It was decided that Southern tastes prefer biscuits over McMuffins, and because it was too difficult for McDonald's restaurants to serve both all day, locations had to go one way or the other. McMuffins rule most of the country, while the Southeast's "Biscuit Belt" stretches through Appalachia, and from Louisiana east through to Georgia. Florida, however, has been declared McMuffin territory, presumably because the state is so full of transplants from other parts of the country.
The move is an unusual popular crowd pleaser for McDonald's. The world's biggest fast food burger joint has become a magnet for haters over the years, with McDonald's serving as a high-profile punching bag for anyone who has a beef with obesity, poverty, nutrition, environmental issues, and beyond. So the fact that the switch to all-day breakfast is generating McDonald's praise by the masses is a very big deal. "This is the consumers' idea. This is what they want us to do," McDonald's president Michael Andres told the Wall Street Journal last month. "That's why I think this could be the catalyst for our turnaround."
AdAge noted that McDonald's new ad campaign highlights the idea that all-day breakfast was driven by customer demands, with people reading random Tweets sent out about the big change:
Some McDonald's are offering freebies to celebrate. While there is no national promotion heralding the era of all-day breakfast, McDonald's in various parts of the country are hosting specials. On Monday, for instance, a McDonald's-Uber partnership was offering free delivery of McDonald's food to customers in the greater Miami area. On Wednesday, Colorado McDonald's are hosting a special "PJ Day," in which customers who wear pajamas into restaurants will be rewarded with a free Egg McMuffin; "5 a.m. to midnight offer, shirts and shoes required," the promotion stipulates.
While popular, all-day breakfast could backfire. McDonald's is somewhat in danger of cannibalizing sales with all-day breakfast—and because breakfast items are generally cheaper than burgers and sandwiches, profits could remain flat, or even decrease. "The lower check average [of breakfast items] doesn't drive the margin as much as higher-priced items like premium burgers," Darren Tristano, an executive vice president at Technomic, explained to CBS News.
MORE: 5 Things That Will Challenge McDonald's No Matter Who Is CEO
How Breakfast Became the Most Important Meal of the Day in Fast Food
The Fascinating Egg McMuffin-Unemployment Connection