Medical Guardian Review | Medical Alerts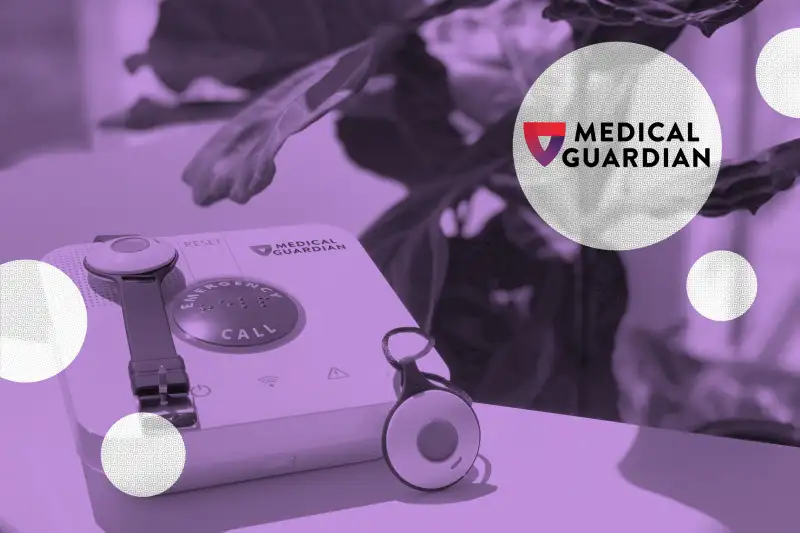 Medical Guardian Classic Guardian. Madison Russ/ Consumers Advocate.org
Medical Guardian is a highly regarded manufacturer of medical alert systems that offers five different devices, along with a mobile app and several accessories to aid in caretaking. They also have 100% US-based monitoring centers, which helps improve response time and accessibility, possibly giving quicker access to local emergency responders.
Medical Guardian's Credentials
Medical Guardian's Accessibility
Medical Guardian's Customer Satisfaction
Medical Guardian's Medical Alerts Overview
Pros
Uses both Verizon's and AT&T's 4G LTE networks for a much broader range than competitors, most of which have access to only one network.
Has a fairly quick response time according to third-party testing and customer reviews.
Its wireless, wearable devices have some of the longest range in the market.
The company and its monitoring centers are 100% U.S.-based and representatives are fluent in both English and Spanish.
Cons
High number of consumer complaints claiming difficulty in canceling memberships
No motion sensors, air quality monitoring or carbon monoxide detectors
Company summary:
Medical Guardian is one of the top medical alert companies in the United States. It offers five different products, from landline-compatible to wearable, 4G LTE-enabled devices. Its devices are compatible with both Verizon and AT&T, which can give them a considerably wider range than competitors'.
The service comes with a mobile app called MyGuardian, through which users can be monitored and located. It also facilitates billing, device maintenance and lets caretakers talk to each other.
When it comes to customer service, Medical Guardian is known to have fast response times, although many customers report having difficulties when canceling memberships.
Medical Guardian's services
As one of the best medical alert systems available, Medical Guardian has a broad range of devices and accessories for different types of customers, whether it be older adults that stay at home or active people with health conditions that could require emergency help at a moment's notice.
What Medical Guardian offers
Medical Guardian's offerings are broad and include both home units and mobile devices. It also recently added a smartwatch that pairs with the MyGuardian app.
MyGuardian website and mobile app
The MyGuardian platform offers a wide array of features that can offer caregivers with some peace of mind.
To start, the app/website has a monitoring system where caretakers can see the location history, battery history and current status of the device. This makes it a very valuable tool in the case of a missing person (or a lost device, of course).
It also offers a messaging platform where users can communicate with what the company calls a Care Circle, a group of close people, such as family members, that can keep an eye on the device wearer. It also allows them to talk amongst themselves when there are decisions to be made. This circle of people also gets notifications when the alarm button is pressed.
The app also offers a billing section that allows users to see their payment history, see upcoming charges, change credit card information and adjust payment dates if necessary.
Medical Guardian home systems
Home medical device systems typically consist of a corded base station and the wireless button that can be worn by the user. The base station which also works as an alarm button itself and as home base for the wireless device, can be placed anywhere in the house. These usually have a range of around 1,000 feet or more.
The brand's home systems are not that different from other competitors, they include an emergency button and a two-way communication system. They do, however, offer a slightly more range for the wireless buttons and long-lasting battery backups.
While only two models are available, they cover both possible connections (landline and mobile) and can be paired up with additional accessories in the company's catalog.
Classic Guardian
The Classic Guardian is a traditional base unit that connects to a landline and includes a button to wear while walking around your property. Medical Guardian waives the equipment fee for this model, so you essentially get the device for free.
Connects to landline
$29.95 a month
$27.45 per month if done in one annual payment, which equals a free month of service
Includes one button with pendant or wristband
1,300 foot range
32-hour backup battery
Home 2.0
Medical Guardian's more advanced option, the Home 2.0, relies on cellular networks, and includes more modern features such as voice activation. It requires a $149.95 equipment fee upfront.
Uses 4G LTE signal or Wi-Fi by both Verizon and AT&T
Voice activated
$37.95 a month
$32.04 per month if paid as one annual payment, which equals a free month of service
Includes one help button with both pendant and wristband button holders
1,400 foot range for wearable buttons
32-hour backup battery
Medical Guardian on-the-go systems
Mobile systems are meant to be worn on the body or carried around in a bag wherever you go. They use cellular networks, and some also function as hubs for additional buttons that can be worn to the yard or used by a companion.
Since the release of their now-discontinued Active Guardian, Medical Guardian has offered some very competitive mobile systems. Currently, there are three options, all of which can use both AT&T and Verizon's networks.
Look at the company's three on-the-go medical alert devices to see which could be right for you or your loved one.
MG Move
This is Medical Guardian's most recent addition to their line-up, a smartwatch with an included emergency button and easy access to the MyGuardian mobile app. Note that there's a $199.95 upfront equipment fee for this model.
Uses 4G LTE signal by both Verizon and AT&T
$39.95 a month
$36.62 per month if done in one annual payment, which equals a free month of service
GPS location tracking
Weather forecasts on the screen to avoid any weather-related emergencies
24-hour battery runtime
Mobile 2.0
The Mobile 2.0 (second iteration of the Mobile Guardian) is an on-the-go device that can also function as a base unit with a 500-foot-range. It comes with additional alert buttons that can be worn as a watch or on a lanyard. The upfront equipment fee is $124.95.
Uses 4G LTE signal by both Verizon and AT&T
$44.95 a month
$36.62 per month if done in one annual payment, which equals a free month of service
Includes additional alert buttons that connect to the main unit
Buttons have a 500 range from the main unit
GPS location tracking
Battery life up to 5 days
Equipment is free
Mini Guardian
The Mini Guardian is the lightest lanyard-worn device in the Medical Guardian catalog, and includes 4G LTE connection, GPS location tracking and up to five days of battery life. The equipment fee for this product is $149.95.
Uses 4G LTE signal by both Verizon and AT&T
$39.95 a month
$36.62 per month if done in one annual payment, which equals a free month of service
Five-day battery life
Water resistant
GPS location tracking
2-way speaker
Additional accessories
You can include these add-ons in your plan for an extra monthly fee.
Fall detection pendant
Like most medical alert systems, Medical Guardian also offers automatic fall detection for an additional $10 a month. A different pendant is required for fall detection, however, as it is not a feature simply enabled on regular devices.
Voice-activated wall button
For occasions when the user doesn't have their pendant and is too far away from the main unit, there's a voice-activated, wall-mounted help button for $4.99 a month. These are ideal for places where the wearer might be at a higher risk for falls, such as the bathroom.
Wireless wall button
For those who simply prefer to have additional alerts to place in important areas of the house, these extra help buttons can be added for $2.99 a month each.
Lockbox
Medical Guardian offers lockboxes where device wearers can store their home keys. A lockbox is a small box that can be placed outside the home and opened with a pin code, making it easier for emergency services and loved ones to access the house in case of an emergency. Medical Guardian charges $2.99 a month for one, but sometimes will add a free lockbox as a special offer.
MG Protection Plan
The MG Protection Plan is applicable to all devices and costs $6.99 a month. It includes coverage for parts failure, loss or theft of the device.
Warranty
Medical Guardian offers a one-year warranty for all devices and accessories. This warranty covers defects in materials or workmanship; but does not cover normal wear and tear, abuse, loss or theft.
What Medical Guardian does not offer
While Medical Guardian does offer the most important services a medical alert system should have, it lacks additional preventive features such as motion sensors, which could include additional fall detection, and air quality monitoring.
These are things that many brands have successfully integrated into their products and can add yet another layer of security.
Medical Guardian's credentials
Medical alert systems aren't regulated or licensed by any organizations or government agencies. However, in order to gauge their services and standing, there are certain certifications you can check, especially regarding the company's monitoring center, such as the following.
Licenses and registrations
No licenses or registrations were found for Medical Guardian.
Awards and certifications
Classified as Five Diamond by The Monitoring Association (TMA). In order to keep this certification, the company is required to comply with certifications like the ones listed below, on-going employee training, consistent improvement of services (such as reducing false dispatches) and to keep up with the TMA's strict standards.
Certification by the Electronic Security Association (ESA). ESA members are trained and certified in monitoring and detection services and their installation.
FM Approved. FM certifies voice and alarm communications systems, precisely like medical alerts.
UL Listed. Medical Guardian's monitoring centers are UL-Listed. This indicates that their centers have been found to be reliable, have high-quality equipment and energy backups to ensure 24/7, uninterrupted services.
Third-party ratings
While not many organizations monitor medical alert systems, there are some institutions or third-party organizations that have tested the product or provide a platform for reviews and customer complaints. These include the sites below, both of which gave Medical Guardian better than average ratings.
Legal or regulatory actions
During our research, we found one lawsuit filed in December 2017 listing Medical Guardian as the defendant. The lawsuit included allegations that Medical Guardian violated the Telephone Consumer Protection Act to sell their products. This was dismissed with prejudice (meaning dismissed permanently) by the suing party.
Our research did not uncover any regulatory or legal actions regarding Medical Guardian's service or products as of publication time.
Note that, although we try to include accurate and up-to-date information on regulatory and legal actions, we don't claim this information is complete or fully up to date. As always, we recommend you do your own research as well.
Medical Guardian's accessibility
Medical Guardian is available for purchase online in any of its service areas, which includes all 50 US states and Puerto Rico, with the Classic Guardian also available in Canada. According to our research, they're easy to contact and have a wide range of channels for doing so.
Regarding financial accessibility, the Medical Guardian cost is quite competitive and in line with industry standards. Considering the use of two cellular networks, the company's mobile offerings are some of the best value in the market.
Availability
Available all across the United States, Canada (only the Classic Guardian model) and Puerto Rico
Uses 4G LTE networks of both AT&T and Verizon, which expands service areas
Contact information
Phone (1-800-313-1191/1-800-668-9200)
Email (info@medicalguardian.com)
Live Chat on website
Solid social media presence (Facebook, Instagram, Twitter and Youtube)
User experience
Medical Guardian's devices are, much like other medical alert systems, easy to use, with large, visible buttons with different ways to be worn depending on users' preferences.
The online app, MyGuardian, has a wide array of features, which are well organized and visible on its home page. It connects caregivers and loved ones with the main user, and provides valuable information as to their whereabouts, subscription status and device upkeep. While there might be a learning curve for those users with little technological experience , the app's dashboard is clear and easy to understand.
Limitations
Just like most medical alert systems, Medical Guardian can sometimes be slow to respond and contact caretakers or local emergency services. Despite being relatively fast when compared to other competitors, this is still an issue worth mentioning.
Also, according to reviews, customer service seems to be inconsistent in terms of availability, usefulness and troubleshooting ability. Most negative reviews involve issues when it comes to the process of canceling accounts and returning devices.
Medical Guardian's customer satisfaction
When it comes to customer care, Medical Guardian's reviews are mixed. While the actual monitoring service, their emergency response and devices receive decent reviews, other services such as troubleshooting and membership cancellation have some issues.
Customer complaints
According to reviews on pages such as the Better Business Bureau, customers have had issues when canceling their Medical Guardian accounts, and some have received unwanted calls from them.
Some customers claim that Medical Guardian has kept charging for the service after users (or users' relatives after the user has died) attempt to cancel the subscription. There has also been some reported confusion with accounts not being properly canceled, with older information left in the database, resulting in mix-ups between former and current customers in times of emergency.
Reviews regarding the devices and service are much better, and Medical Guardian has a reputation for quick response times in emergencies.
Medical Guardian FAQ
What cell service does Medical Guardian use?
Medical Guardian uses the AT&T and Verizon's 4G LTE networks.
Do you need a landline for Medical Guardian?
You only need a landline for the Classic Guardian plan. All other devices use 4G LTE and/or Wi-Fi.
How do I cancel my account?
In order to cancel your Medical Guardian account and subscription, users must call the company at 1-800-313-1191 and request cancellation. While the company doesn't offer long-term contracts, you can only cancel after a minimum of 90 days of use. Customers must then mail their equipment back within 30 days or risk paying a $350 fee.
Is Medical Guardian in Canada?
At the moment, Medical Guardian only offers one device in Canada: the Classic Guardian, which works with a landline.
How we evaluated Medical Guardian's medical alerts
We took into account several factors when evaluating Medical Guardian's devices and services:
Product catalog, how many different devices they have available and for how many different situations or lifestyles
Price of membership, annual payment offers, upfront equipment fees and the cost of any add-ons the company offers
Features such as voice command, motion sensors, the mobile app interface and the range for wireless buttons
Customer service regarding issues with the devices or other services such as purchases and cancellations
Summary of Money's Medical Guardian Review
The Medical Guardian medical alert system is a top-tier competitor in the space. It has great cellular network accessibility, has a model that works in Canada (the Classic Guardian), and has an easy-to-use comprehensive mobile app that provides extra security.
Some of the devices, however, have high equipment fees to go along with the costly add-ons.
Users should also be aware of issues when canceling memberships, as it is a consistent complaint in customer reviews.