Meghan Markle's First Cookbook Will Raise Money for Charity. Here's How to Buy It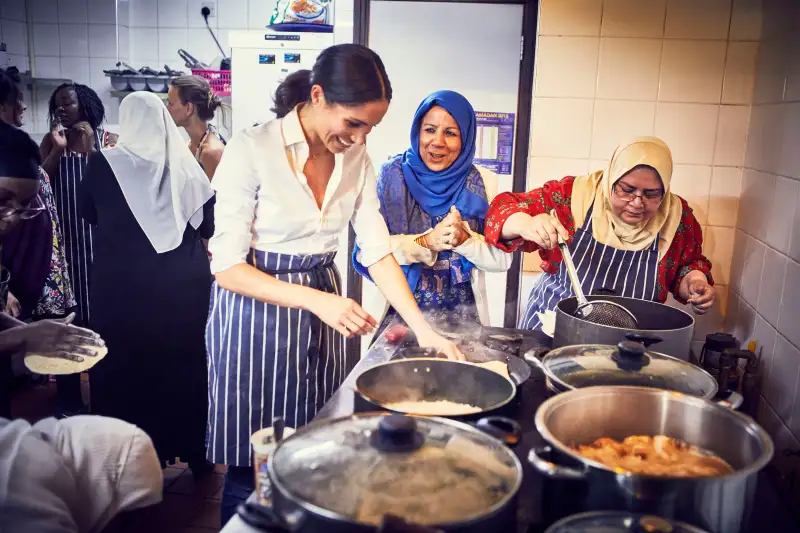 Jenny Zarins—PA/REX/Shutterstock
After spending over a decade as a TV and movie star, the Duchess of Sussex is exploring a new type of media: a book.
Meghan Markle is working this week to release Together: Our Community Cookbook, her first royal project on her own since marrying Prince Harry in May. The book centers around the Hubb Community Kitchen, a group of displaced Londoners who have been meeting to cook for their families since their homes burned down in last year's Grenfell Tower fire.
It includes more than 50 recipes for everything from coconut chicken curry to spiced mint tea, and Markle penned the foreword.
But her involvement doesn't stop there. According to The Guardian, the book was actually Markle's idea.
Markle stopped by the kitchen at the Al-Manaar Muslim Cultural Heritage Centre back in January to cook with some of the women. When one of them mentioned that money issues meant they could only use the communal spot twice a week, she suggested they stage a fundraiser using their knowledge of Middle Eastern, North African and Eastern Mediterranean cuisine.
"She saw the lovely food cooked by these women. So she goes: 'Why not do a cookbook?'" Zahira Ghaswala told the Guardian. "At that time I thought it was a flying comment, and that was it, really. But now here we are."
The women are hoping to sell 50,000 copies of the cookbook and raise £250,000 (about $330,000). That would allow them to keep the kitchen open seven days a week.
"I immediately felt connected to this community kitchen; it is a place for women to laugh, grieve, cry and cook together. Melding cultural identities under a shared roof, it creates space to feel a sense of normalcy — in its simplest form, the universal need to connect, nurture, and commune through food, through crisis or joy — something we can all relate to," Markle said in a statement. "Through this charitable endeavor, the proceeds will allow the kitchen to thrive and keep the global spirit of community alive."
Markle is no stranger to philanthropy: Before her wedding, she and Harry asked for donations to seven charities in lieu of gifts. After the ceremony, the duchess donated her flowers to a local hospice, according to CBS News.
Proceeds from the cookbook will be managed by The Royal Foundation of The Duke and Duchess of Cambridge and The Duke and Duchess of Sussex.
You can buy the book here.