Meghan Markle's Priceless Tiara Came From the Queen — And Hasn't Been Seen in Public for Decades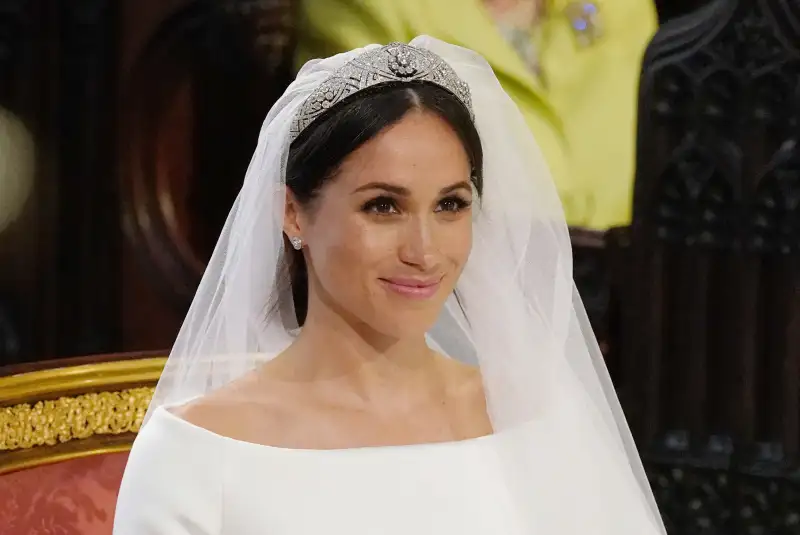 Meghan, the Duchess of Sussex, nailed the "something borrowed" part of her royal wedding to Prince Harry on Saturday when she wore a diamond bandeau tiara on loan from Queen Elizabeth.
The English tiara held a 16-foot veil in place for the 36-year-old American, and it's predictably steeped in tradition. In fact, the piece was originally made to accommodate a gift from another royal wedding: Queen Mary's. According to the Kensington Palace, Mary received a diamond broach when she married Prince George, the Duke of York, back in 1893. The tiara was later designed to feature it.
Queen Elizabeth II received the platinum-and-diamond bandeau in 1953 and then lent it to Meghan for her wedding. Before that, Queen Mary's tiara hadn't been seen in public since before her death in 1953. The palace says it's "a flexible band of eleven sections, pierced with interlaced ovals and pavé set with large and small brilliant diamonds" with a 10-diamond center.
And though it may a priceless piece of history, Queen Elizabeth could definitely afford to spare it for the royal wedding — in addition to her own jewel vault, the royals also have access to the Crown Jewels, a collection valued at $4 billion.
The Crown Jewels are a set of 140 ceremonial pieces containing 23,578 gemstones, according to the Sun. It's where the regalia featured at various coronations comes from, but the Queen's collection contains more than just crowns. Kensington Palace noted that it also includes "church and banqueting plate, orders, insignia, robes, a unique collection of medals and Royal christening fonts."
The jewel collection is stocked with highly valuable objects, but perhaps its most notable is the Cullinan I, the biggest diamond in the world. The gem is worth an estimated £400 million, or about $540 million, on its own, according to the Daily Express.
"The Crown Jewels are the most resplendent and famous of the nation's treasures," the Royal Collection Trust writes on its website. "Kept under the watchful eye of the Yeoman Warders at the Tower of London, they constitute the most complete collection of royal regalia in the world."
Luckily, Queen Elizabeth regularly lends jewelry from her private collection. Not only did Meghan wear one of her tiaras on Saturday, but Catherine, the Duchess of Cambridge did as well back in 2011.