Why Seasonality Doesn't Matter in the Housing Market This Spring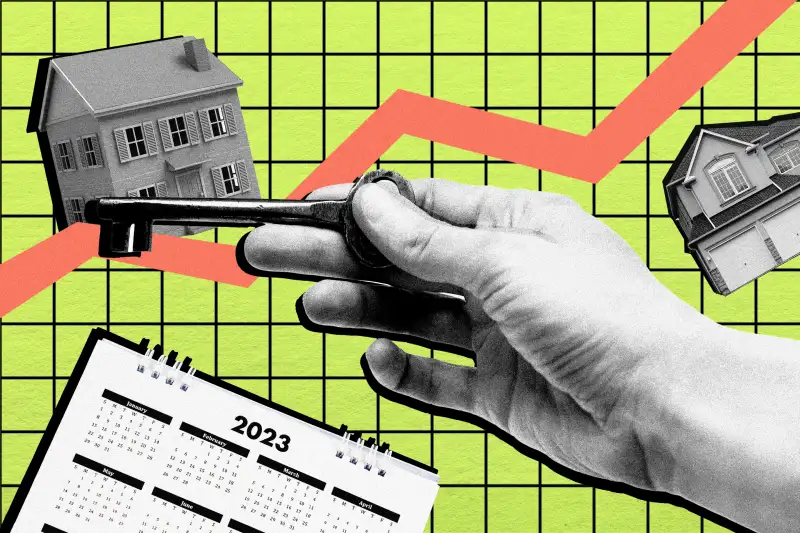 Eddie Lee / Money; Getty Images
The housing market usually has seasonal ebbs and flows. Spring is historically a very strong season for the real estate market, and home sales tend to peak during the warmest months of summer.
But now, with interest rate hikes continuing to affect the terms mortgage lenders are offering to homebuyers, seasonality might not hold nearly the same influence on real estate. Rather, it looks like the market in 2023 could be all about mortgage rates.
Housing market bucks seasonality trends
Spring is normally the start of the busiest time of the year for home sales. However, there have been fewer closings than usual so far in 2023, even as the historically-active season kicks off. "We're not seeing the typical spring seasonal increase in business," Redfin agent Shauna Pendleton said in a news release.
The real estate market is morphing. The Federal Reserve's interest rate hikes have had a depressing effect on the housing market. When the central bank hikes rates, it becomes more expensive to borrow money. This ripples across to variable-rate loans like credit cards and mortgages, pushing these rates up in turn. The rate hikes are indirectly causing the market to shirk its typical seasonal trends.
As the Fed softens ever so slightly on its most recent rate hike, mortgage rates seem like the new end all, be all for the housing market in 2023.
"There's no seasonality," Pendleton said. "Homebuyers and sellers are hyper-focused on mortgage rates."
It's all about the mortgages
When the Fed announced its most recent rate hike, the central bank signaled that it could be finishing its rate hikes earlier than expected. The news wound up pushing mortgage rates down at the end of March, in turn bringing up mortgage demand by 2.9%. This continues a trend we've witnessed throughout the first quarter of 2023.
Basically, whenever mortgage rates dip, more buyers seek out mortgages. The flip side is that when mortgage rates creep higher, homebuyers tend to ease off and demand for mortgages declines — regardless of normal seasonal trends in the housing market.
Experts predict that the recent increase in mortgage demand will be short-lived. The softened rate hike comes in large part due to the multiple banking meltdowns that took place in March, and barring any more instability, interest rate hikes will resume their normal trajectory.
Low mortgage rates are obviously good for homebuyers. They're good for sellers, too. Low mortgage rates mean a larger market of potential buyers, and that can lead to more competitive bidding.
Moreover, many sellers want to hold onto the low mortgage rates they secured years ago, when rates were much lower than they are nowadays. If they're still paying off their mortgage, they don't want to give up that favorable rate.
If mortgage rates continue to stay high or even rise further, many of these potential sellers will opt to stay put. In a recent poll Americans said they expect mortgage rates to rise from 6.93%, the current average rate for a 30-year fixed-rate mortgage, to over 8% in the next year. If that happens, real estate might be in for a stagnant 2023.
More from Money:
3 Trends Shaping the Spring Housing Market for Buyers and Sellers
9 Best Home Equity Loans of 2023