The Most Expensive House in America Is Now For Sale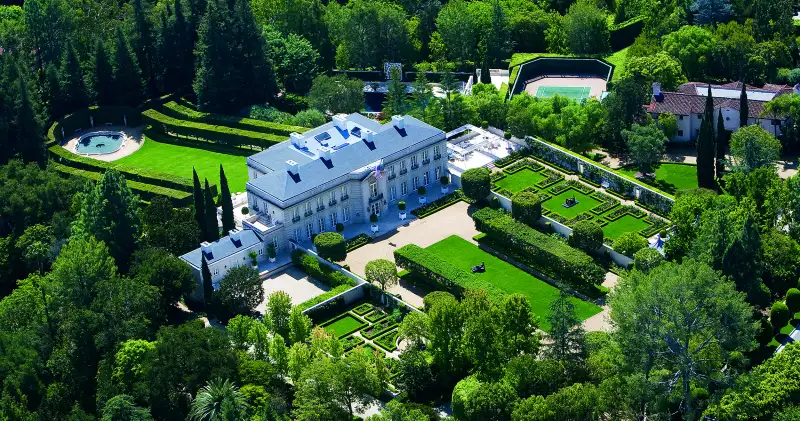 Courtesy of Rogers and Cowan
The most expensive home in the United States is now for sale for a whopping $350 million.
The Bel-Air estate may be familiar to those who watched "The Beverly Hillbillies" television series, where it was featured. The property hit the market this week — months after the passing of its longtime owner, Univision billionaire A. Jerrold "Jerry" Perenchio, who died at age 86.
During his three decades living there, Perenchio named the estate "Chartwell" and expanded its size to 10.3 acres.
The 25,000-square-foot limestone mansion was built by architect Sumner Spaulding in 1933 and was inspired by 18th century French Neoclassical design. It features a wine cellar, a formal salon, a ballroom and a period-paneled dining room. Perenchio's expansion of the property was designed by Henri Samuel, whose other clients included the Vanderbilts, Rothschilds and fashion designer Valentino.
The mansion sits on the sprawling property, which also touts a tennis court, a guest house designed by architect Wallace Neff, manicured gardens, a 75-foot pool and pool house, and a shielded parking area that fits 40 cars.
Part of Perenchio's expansion includes the former home of Ronald and Nancy Reagan, located across the street, according to Variety. Perenchio purchased it in June 2016 for $15 million.
A slew of Los Angeles real estate agents from Hilton & Hyland, Coldwell Banker Global Luxury and Berkshire Hathaway Home Services have been enlisted to help sell the home.
In addition to the massive estate, Perenchio also owned a penthouse in Museum Tower in Manhattan and a private golf course in Malibu.