The Mueller Investigation Is Over. Here's How Much It Actually Cost Taxpayers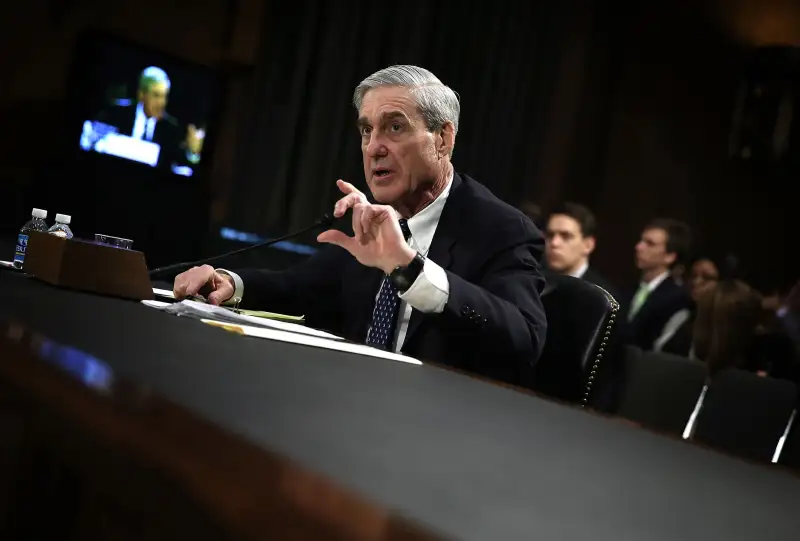 Now that a summary of the Mueller Report has been released, we know that Special Counsel Robert Mueller's investigation "did not establish that members of the Trump Campaign conspired or coordinated with the Russian government in its election interference activities."
Without proof of collusion, then, was the Mueller investigation a waste of money? President Donald Trump and many of his supporters seem to think so. But while the Mueller investigation cost tens of millions of dollars, it also pulled in well over $20 million in fines, forfeitures, and settlements from former Trump campaign manager Paul Manafort and others charged during the investigation.
"It's a shame our country had to go through this," Trump said on Sunday, in reaction to the release of the Mueller Report summary by Attorney General William Barr. Trump also characterized the investigation, which stretched out over nearly two years and placed a cloud over his presidency, as an "illegal takedown that failed."
Trump has repeatedly called the Mueller investigation a "witch hunt" and a "hoax" created for partisan purposes. Conservative commentators from Fox News and other outlets have argued that the Mueller investigation has been a huge waste of money. In a tweet in late November, Trump himself accused Mueller and his investigators of "wasting more than $40,000,000."
But how much did the Mueller investigation really cost? Fact checks conducted by Politifact and Roll Call said that Trump's $40 million figure was an exaggeration and not true in all likelihood.
According to Mueller's expense reports filed through September 30, 2018, the Russia investigation had cost $25 million. Assuming that the costs incurred by the Mueller investigation stayed roughly on the same pace, the Mueller probe's final total is likely to be $32 million to $35 million.
(For what it's worth, the Mueller investigation seems to have cost significantly less than other major investigations into U.S. presidents. The probes into the Clintons and Reagan officials in the Iran-Contra scandal cost $70 million and $47.4 million, respectively, which equate to $98 million and $104 million in today's dollars, after adjusting for inflation.)
Beyond the principles at work and the need to unearth the truth about what happened during the 2016 presidential campaign and afterward, the Mueller investigation yielded substantial fines and settlements that have arguably made the probe more than worth the money it cost. The Mueller investigation charged 37 people and entities overall, including guilty pleas from Trump's former personal attorney Michael Cohen, Trump's former campaign chairman Paul Manafort, and Trump's former national security adviser Michael Flynn.
While it's unclear exactly how much money the Mueller investigation has brought back to the U.S. government, the probe may wind up breaking even or maybe even a profit. A month ago, USA Today estimated that the special counsel's investigation had collected settlements worth $28.6 million — the vast majority of it from Manafort, who is being forced to give up millions of dollars worth of New York City real estate.
That could be an underestimate for how much money the Mueller investigation nets, however. CNBC reported that the real estate and cash holdings Paul Manafort was forfeiting as part of his plea deal could be worth upwards of $42 million to $46 million once all of the properties are sold.