Amtrak Gets Stricter on Baggage, But Still is Very, Very Generous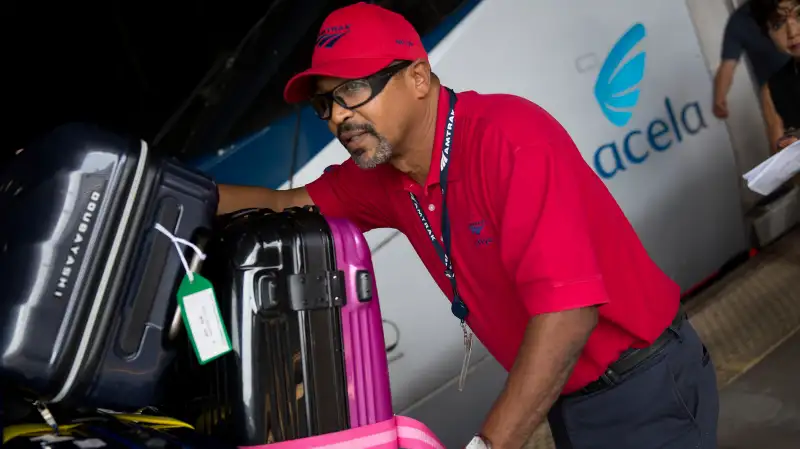 Andrew Harrer—Bloomberg/Getty Images
If you were passing through the Amtrak terminal at New York City's Pennsylvania Station last night with a Wes Andersonian amount of luggage, you most likely overheard a loudspeaker announcement telling you the next time you brought a mountain of luggage, it would cost you something.
Effective October 1st, Amtrak will begin to enforce its long-standing baggage policy.
From now on, passengers get 150 pounds of luggage gratis: two personal items up to 25 pounds each, and two carry-ons up to 50 pounds each. If you really need to, you can take two more pieces aboard for $20 each. In other words, for $40 you can transport up to 250 pounds of your stuff.
"It isn't so much a revenue generator as it is a baggage space control device," the Mineta Transportation Institute's executive director emeritus Rod Diridon told Marketplace.org, who added that the policy change perhaps should have been revenue focused, considering the underfunded nature of rail in the U.S.
When you compare Amtrak's $40, 250-pound luggage limit to airline baggage policies, it seems extremely generous. On U.S. Airways domestic flights, for example, the first 50-pound bag is $25, the second $35, the third $150, and the fourth $200, bringing you to a total of $385 for 250 pounds when you count the 40-pound carry-on and a 10-pound personal item.
That same assortment of luggage would be similarly expensive on other carriers—$360 on United, for example. At $150, Southwest comes off as a relative bargain, but not compared to Amtrack.
In practice, these policies shouldn't cause much of a ripple: Lugging 250 pounds on a train isn't exactly commonplace.