NFL Preseason Tickets Aren't Even Worth $10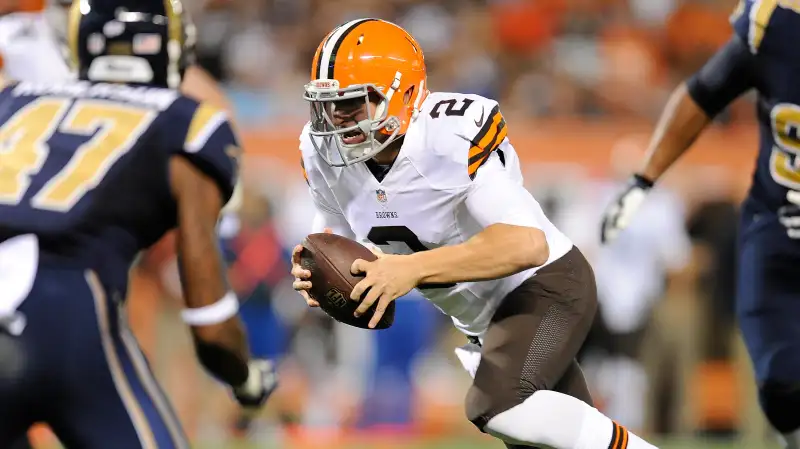 Every year around this time, sports talk radio overflows with rants about the meaninglessness of the NFL preseason. Actually, the anger is about more than just that the games don't mean anything in terms of rankings or even what fans can expect out of their team in the coming (real) season. Sure, the quality of the games is low due to the fact that starters rarely play for more than a few minutes. But that's only part of the equation that makes the preseason a magnet for hate.
What also gets fans up in arms is that some of their team's favorite, most important players might get hurt when they do briefly jump into the action during these meaningless games. And the thing that really drives the most loyal fans nuts is that they are forced to buy tickets—usually at full price—for these matchups that mostly feature players they don't know and may not see again in the regular season. Anyone who buys season tickets, after all, is required to pay for seats for two home preseason games as part of the package. These are tickets, by the way, that cost an average of $81 apiece at face value last year.
During the regular season, prices on the secondary market for those tickets can and often do soar far above their face value. According to the ticket resale and research site TiqIQ, the average resale price for tickets at most NFL stadiums is more than $200, and tickets for home games for Seattle Seahawks and New England Patriots average over $400.
That's all during the regular season, though. During the preseason, it's a different story entirely—because, again, fans couldn't care less. Leading into this past weekend, tickets for NFL preseason games hosted in Cleveland, Detroit, Atlanta, and Arizona were all selling for $10 or less at secondary ticket sites such as StubHub. Meanwhile, the get-in price on Thursday night in Buffalo, when the Bills host the Detroit Lions in their final preseason game, has dropped as low as $4.50.
Another game this Thursday, in which the San Diego Chargers will host the Arizona Cardinals, is also a matchup drawing a remarkable disinterest among fans. Not only is it a work night, but not much is expected in terms of success or playoff runs from either team this year—plus the two teams are playing again, 11 days after this preseason game, when it actually means something as the Monday Night Football season opener.
Last week, the San Diego Union-Tribune reported that tickets to the preseason game were starting at around $6 on the secondary market, with many seats selling for 85% off face value. Prime seats on the 50-yard line were on the market for around $19.
Stating the obvious, Miro Copic, a San Diego State University College of Business Administration marketing lecturer, said to the Union-Tribune that the shockingly low prices of these games "really does create a question about the value of preseason for fans."
He then offered an interesting suggestion that could turn the preseason, currently a subject of great frustration among fans, into something that could make them happy, and even build the customer base: "It's almost like the NFL could offer them for free as a PR activity. One of the things that should be considered is how do you make preseason a way to engage fans who otherwise may not afford a Charger game, or are now willing to get apparel?"