8 Places You Can Buy Nintendo's New, Highly Anticipated Super NES Classic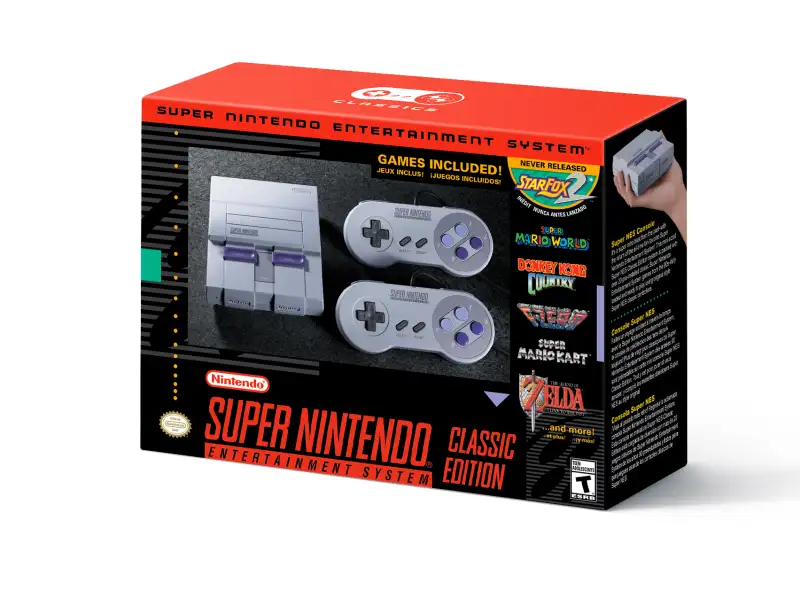 It's finally here.
The highly anticipated Super Nintendo Entertainment System Classic Edition from Nintendo officially hits shelves Friday. The retro game console, which quickly sold out during pre-sales, will be available at a number of retailers and online — but not for long.
The $79.99, hand-held Super NES Classic Edition console comes with 21 popular games, including Super Mario Kart and the never-released Star Fox 2. The throwback to the 1990s game console is already a big hit among nostalgic fans, and Nintendo has announced plans to increase its inventory and ship them through the new year.
But getting your hands on one immediately might not be so easy. Here's where and how you can buy track down the Super NES Classic Edition if you haven't already snagged one.
Best Buy
All Best Buy locations will be selling Super NES Classic Edition consoles on Friday. Starting before the stores open on Friday morning, employees will hand out tickets to those waiting in line, the company said on Twitter.
//platform.twitter.com/widgets.js
Best Buy is also only selling the consoles in stores Friday, so people will not be able to buy them online. It is unclear when Best Buy will make the new Nintendo gaming system available for purchase on the site.
GameStop and ThinkGeek
The Super NES Classic Edition consoles will be sold at all GameStop and ThinkGeek locations. The stores will be selling "a limited and varied amount of units," and employees will post the amount of units they have in each store on their windows "to hopefully help with lines," a spokesperson for GameStop told Money. All stores will be opening at their usual times.
You can search for the SNES online as well here.
Target
Target will be selling the Super NES Classic Edition in stores and online on Friday, a Target spokesperson told Money. No stores are planning on any midnight openings, and Target expects the product to sell out quickly. The store's spokesperson told Money that Target "will continue to work with Nintendo throughout the season to keep up with demand."
You can find the Super NES's on Target's website here.
Toys 'R' Us
Part of the Toys 'R' Us "2017 Hot Toy List" this year, a limited number of the retro consoles will be sold at all "big box" stores (meaning, the stand-alone Toys 'R' Us locations, and no outlet or express shops with the exception of its Times Square location), a spokesperson for Toys 'R' Us told Money.
Employees will hand out tickets to customers waiting in line, and doors will open at their usual time. Toys 'R' Us will also only be selling the Super NES Classic Edition consoles in stores — not online — at this time.
Walmart
Walmart will be selling the consoles in stores and online. Though regular stores won't be opening early for the big day, Walmart's 24-hour locations will have the Super NES consoles in stock at 12:01 a.m. on Friday, a Walmart spokesperson told Money.
The product will likely appear online on Walmart's website when they are available.
Amazon
Since there are no Amazon brick-and-mortar locations you can line up at, you will be able to buy the Super NES Classic Edition online only.
Ebay
If all else fails, you can buy Super NES Classic Edition on Ebay — but be prepared to pay a jacked up price. There are already a few on sale on Ebay with prices ranging around $180 and $200, with someone going as high as $300.