Why Olive Garden Shouldn't Park Its Food Truck in Neighborhood with Great Italian Food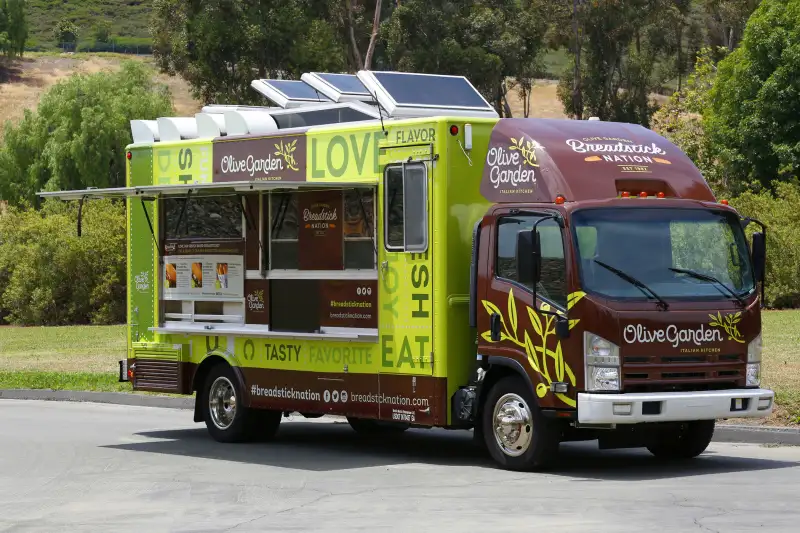 To herald the recent arrival of breadstick sandwiches to its menu, Olive Garden has sent food trucks around the country on a Breadstick Nation tour. The trucks are setting up shop in big cities around the nation and handing out free samples of chicken parmigiana and meatball sandwiches made with the chain's signature breadsticks.
Starting on Thursday, one of the trucks landed in Boston, where it will stay until Sunday, June 14. According to Boston Magazine, it'll remain mostly in the touristy Faneuil Hall area. But on Saturday, June 13, the truck will be parked in the North End, the city's Little Italy, where Italians have lived for generations and where diners go to find the area's best Italian food.
As you might guess, North End restaurant owners aren't exactly thrilled with the presence of Olive Garden. The chain bills itself as "uniquely Italian," but Olive Garden has become an easy punchline for serving what critics regard as Americanized ersatz Italian cuisine. In the past, the chain has admitted to making up Italian-sounding names for dishes like pastachetti and soffatelli, which Olive Garden chefs created out of the blue, and which you won't find anywhere in Italian-American neighborhoods like Boston's North End, let alone Italy itself.
Last fall, an epic 294-page analysis of Olive Garden was released by the Starboard hedge fund, which criticized the chain for being too stingy to salt the water when cooking pasta, as is standard in Italian cooking, and for adding menu items like fried lasagna bits, which "are not authentic Italian." Even worse, because the execution of items like fried lasagna bits was so poor at restaurants, "The actual dish was barely edible."
"There is nothing authentically Italian about Olive Garden," George Mendoza, one of the owners of Monica's Mercato Pizza in the North End, told Boston.com. "It's an insult to everyone in the North End selling Italian food for more than 100 years."
"Olive Garden has nothing Italian on their menu," another North End restaurateur, Damien DiPaola, who owns Carmelina's and Vito's, said. "Italians don't put three different types of pasta together, or pile protein on top of pasta with s*** sauce."
As for anyone tempted by Olive Garden's free breadstick sandwich offer, DiPaola issued a warning to expect "fake garlic and heartburn" as part of the experience.
Read next: 5 Fast Food Mashup Monstrosities You Know You Want to Try