The 20 Best Places to Go in 2018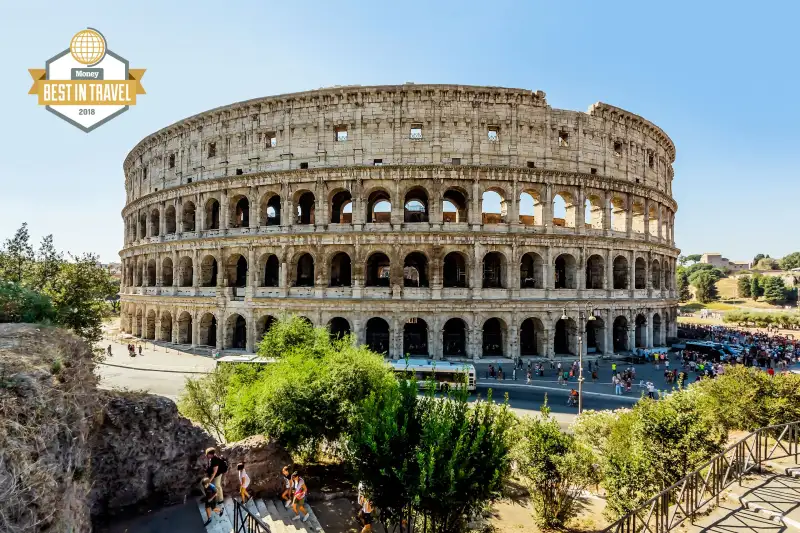 The 20 Best Places to Go in 2018
By Megan Leonhardt and Kerri Anne Renzulli
Whether you dream of escaping to a far-flung beach, adventuring up a mountain, wandering a new city's streets, discovering ancient ruins, or simply relaxing lakeside, Money's Best in Travel guide can help you make it happen.
For the third year, Money has found destinations both in the U.S. and internationally that deliver the highest value for your dollar. Each spot is packed with must-do experiences and amenities but at a price that, relatively speaking, makes it a steal. To identify these 20 places we rely on the numbers: more than 32,000 data points in total from dozens of sources, covering cost, year-over-year trends, and customer satisfaction. We got destination information from travel publisher Lonely Planet. (See full methodology.)
We've also estimated the weekly cost to visit each of these places—a tab that covers average airfare, a week's worth of hotel rooms, plus local transportation, meals, and activities for two. Money's winners aren't necessarily the cheapest, nor are they always the most luxe; they're where quality, cost, and value come together to provide a terrific travel experience.
U.S. Destinations
Rusty Kennedy—Visit Alexandria
1. Alexandria, Virginia
Average airfare: $303
Average hotel night: $140
Cost to spend a week for two: $2,540
When you hit the cobblestone streets of Alexandria, you may feel like you're a world away from the hubbub of the nation's capital—but you're actually less than 10 miles from national landmarks like the White House and the Lincoln Memorial. Alexandria's red-brick homes and a historic waterfront promenade make it a surprisingly charming, inexpensive outpost for travelers to the D.C.-area. At $140 per night on average, Alexandria hotels run almost half the cost of their downtown counterparts, according to Hotels.com.
To truly experience the Old Town neighborhood, grab an outdoor table at Hank's Oyster Bar during happy hour on a Friday night. Hank's is one of dozens of cafes, boutique shops and galleries that line the walkable mile of King Street that ends at the historic wharf. Art lovers should check out the nearby Torpedo Factory Art Center, a space housing 82 artist studios and seven galleries, featuring everything from pottery to stained glass. On the other end of town stands the legendary Birchmere Music Hall, where greats like Johnny Cash and Dave Matthews once played.
Alexandria is also the perfect jumping off point to explore George Washington's Mount Vernon estate ($20 for adults), says Evan Godt, a Lonely Planet destination editor for the Americas. Tour the colonial mansion and its four formal gardens, which have been restored to their 18th century appearance. Or rent a car (roughly $40 a day, reports Hipmunk) and explore Virginia's burgeoning wine country. A little over an hour away, you'll find RdV Vineyards (tours, $65 per person), which is known for its cult-status red blends.
Vladimir Grablev—Shutterstock
2. Harpers Ferry, West Virginia
Average airfare: $301
Average hotel night: $119
Cost to spend a week for two: $2,219
Framed by the Blue Ridge Mountains and the waters of the Potomac and Shenandoah rivers, Harpers Ferry's historic streets can feel like a living diorama. The lower part of the town, in the Harpers Ferry National Historical Park, acts as an open-air museum, showcasing 19th-century life. Here you can tour the town's most well known site, John Brown's Fort—the armory held by the abolitionist and his army for three days in 1859 as they attempted to initiate a slave uprising.
Yet the town offers more than history. Just steps from these landmarks lies the entrance to the footbridge that will take you across the Potomac River and along the scenic 184.5 mile-long Chesapeake and Ohio Canal Towpath. You can find more challenging hikes nearby: Harpers Ferry sits in the middle of the 2,178-mile Appalachian Trail, which rewards ambitious trekkers with panoramas of the Blue Ridge Mountains and the river valleys below. In warmer weather, enjoy the rivers up close with either a paddleboard adventure or a ride on raging, class-III rapids. Fishing enthusiasts will find lots of smallmouth bass here as well.
When you're done for the day, head to the upper section of town, where shops, cafes and bed and breakfasts dot the streets. A room for the night will only cost you about $120 on average, Booking.com found.
courtesy of Heavenly Mountain Resort
3. Stateline, Nevada
Average airfare: $398
Average hotel night: $151
Cost to spend a week for two: $2,467
When the snows come, the southern rim of Lake Tahoe becomes a winter wonderland. There are more than a dozen ski resorts within 50 miles of Stateline, which offers easy access to the area's scenic wonders at cheaper rates than the California towns across the border. To check out one of the area's most famous attractions, ride the Heavenly Ski Resort gondola (starting at $58 for adults) to its 10,040-foot peak, where skiers and snowboarders get access to 4,630 acres of trails ($146 for a lift pass, though that includes the gondola trip).
Even during warmer months, Stateline offers a full slate of outdoor activities. It costs nothing to visit one of the lake's crown jewels, the glacier-carved Emerald Bay State Park, although you may want to budget in a paddleboard or kayak rental (about $25) to check out Fannette Island, Lake Tahoe's only island. Or tour the 1920s mansion of Vikingsholm ($10 for adults), one of the best examples of Scandinavian architecture in the United States.
With airfares and hotels down about 5% from a year ago, now is the time to visit. In fact, travelers can find good deals on flights for around $286 roundtrip from other U.S. cities, according to airfare prediction app Hopper.
If the weather isn't cooperating, test your luck at the tables. Stateline is home to five major casinos, including top-rated Harrah's Lake Tahoe Hotel and Casino and Harveys Lake Tahoe.
4. Glen Arbor, Michigan
Average airfare: $515
Average hotel night: $150
Cost to spend a week for two: $2,689
Perfectly positioned on a small strip of land running between Glen Lake and Sleeping Bear Bay, Glen Arbor offers visitors the best of Northern Michigan. Water laps at a shore of white sand, inviting quiet sunbathers, hikers and water-sport enthusiasts.
Glen Arbor is situated in the middle of the Sleeping Bear Dunes National Lakeshore, a federally protected park, delivering easy access to 65 miles of shoreline, forested islands, walking trails (including the paved Sleeping Bear Heritage Trail), and the park's most prominent feature: mammoth sand dunes. Climb to the overlooks at the Sleeping Bear, Empire, or Pyramid Point bluffs and you'll be a treated to lake views from more than 400 feet up.
Located on the M-22, Michigan's most scenic highway, Glen Arbor also makes an ideal stop for those looking to do a little autumn leaf-peeping, while wine lovers come to taste the region's bracing Pinot Blanc and Pinot Gris. Visit the lakefront dining room at Blu to watch the sunset and sample local wines alongside upscale American dishes, such as the venison chop with walnut wild rice. If you need a more kid-friendly food destination, try Cherry Republic for a cherry Boomchunka cookie—or one of 200 other cherry-based products. Year-over-year prices for a hotel room in Glen Arbor have dropped 21%, according to Hipmunk, making this the year you should have a Michigan summer.
5. Pompano Beach, Florida
Average airfare: $278
Average hotel night: $124
Cost to spend a week for two: $2,125
Enjoy all that Florida beaches are known for—warm ocean waters, long stretches of golden sand, and tons of sunshine—at a fraction of the cost with a stay in Pompano Beach, otherwise known as "the Heart of the Gold Coast." Sitting on the Atlantic Ocean just north of Fort Lauderdale, Pompano Beach is an "affordable and family-friendly alternative to other South Florida hotspots," says Lonely Planet's Evan Godt. Average rates for hotel rooms run only $124 a night, according to Hotels.com. That's less than what you'd pay to stay in Fort Lauderdale, Miami, or West Palm Beach.
Don't think you'll be sacrificing any beach fun. Pompano still offers more than enough to satisfy every kind of water lover. From the shore, you can access natural coral reefs. Scuba divers can swim around 18 shipwrecks in the area's water. The Okinawa, sunk just off the 1,000-foot-long Pompano Beach Pier, makes for a great beginners dive, with the top of the wreck sited just 40 feet below the surface.
Named for a type of fish, Pompano Beach attracts plenty of sport fishers too. Every May, the town hosts a fishing rodeo; some catches can earn more than $18,000. Families will love the beachside playgrounds, complete with grills and picnic tables, as well as the shoreline itself—at more than 100 yards wide, it gives kids more than enough space to bury their siblings and build castles.
6. Chicago, Illinois
Average airfare: $249
Average hotel night: $208
Cost to spend a week for two: $2,713
Stunning architecture, top chefs, rabid sport fans, and impressive museums: The Windy City delivers it all, and at a discount this year, with both airfare and hotel rates down since 2016. Get your bearings by taking in views from atop the famous glass-floored Willis Tower Skydeck or on one of the city's guided architecture river cruises. In the heart of downtown, you'll find Millennium Park, home to Frank Gehry's stainless steel ribbon formation, the Pritzker Pavilion, and the 110-ton Cloud Gate sculpture, affectionately known as "The Bean." Just south sits the Art Institute where you can view impressionist masterpieces. Art lovers should also check out the 10,000-piece collection at the Museum of Mexican Art. Finally, no visit would be complete without a slice of deep-dish pizza and a ball game at Wrigley Field. Should it inspire you to get active, Chicago offers plenty of places along its city-spanning shoreline: 26 beaches and 580 parks, says Lonely Planet editor Alicia Johnson.
7. Anaheim, California
Average airfare: $302
Average hotel night: $159
Cost to spend a week for two: $2,361
Top-notch theme parks, nearby California beaches, and sunshine-filled days make Anaheim perfect for families who want to make lasting memories—at Disneyland and elsewhere. "Home to a major league baseball team and professional hockey teams and positioned with access to some of the best SoCal beaches, Anaheim has a little something for everyone in the family," says Sarah Stocking, a Lonely Planet destination editor. So you can spend a day or two at Disneyland (one-day Park Hopper passes start at $147), and still have Los Angeles at your doorstep. Plus, hotel rates in Anaheim are roughly $50 less per night than LA, according to Hotels.com.
courtesy of Lake George Regional Chamber of Commerce & CVB
8. Lake George, New York
Average airfare: $439
Average hotel night: $151
Cost to spend a week for two: $2,587
Known as the southern gateway to the Adirondacks, this upstate New York haven really comes alive during the summer months, when it draws visitors seeking greener surroundings and a small-town vibe. Situated on a 32-mile-long lake of the same name, Lake George's activities include steamboat excursions and ghost tours at the historic Fort William Henry Museum (adults, $18). Or you can tackle the 6-mile round trip "railbike" tour (starting at $80), pedaling your way through the dense Adirondack forest and across a trestle bridge. Treat yourself afterward with a visit to Adirondack Brewery, where you can pick up an IPA or seasonal specialties like hefeweizens and cucumber beers.
courtesy of the Oklahoma City Convention & Visitors Bureau
9. Oklahoma City, Oklahoma
Average airfare: $405
Average hotel night: $99
Cost to spend a week for two: $2,034
Don't write this city off as a Western throwback. "Oklahoma City has worked hard over the years to become more than just a cow town," says Ben Buckner, Lonely Planet's editor for the Western U.S. A sample itinerary: Check out the fine collection of 19th and 20th century art at the Oklahoma City Museum of Art, watch the Thunder play in the Chesapeake Energy Arena, and end up drinking and dancing in the Bricktown District.
Yet cross the Oklahoma River and you'll find more of the typical cowboy flair you might expect in Stockyards City. Local shops have everything you'd need to outfit an entire ranch—including the cattle, which you can buy at the Oklahoma National Stock Yards. For more, check out the Adventure District's National Cowboy and Western Heritage Museum.
10. Philadelphia, Pennsylvania
Average airfare: $310
Average hotel night: $190
Cost to spend a week for two: $2,749
Philadelphia delivers a choose-your-own-adventure type of trip—its patchwork of neighborhoods giving you the chance to seize vastly different experiences within the same modest boundaries. Walk the brick streets of Old City, home to Independence Hall (free admission), to experience Philadelphia during the days of the Founding Fathers. Wander the former working-class neighborhood of Fishtown to sample Philly's growing number of chef-driven eateries, recommends Trisha Ping, a Lonely Planet destination editor. Or spend the day along the diagonal Benjamin Franklin Parkway exploring art museums (like the Barnes Foundation, the Philadelphia Museum of Art, or the Rodin Museum) and shows; the Franklin Institute's Game Masters ($30 for adults) exhibition, running through September, offers an interactive look behind classic and modern video games.
International Destinations
1. Tokyo, Japan
Average airfare: $956
Average hotel night: $178
Cost to spend a week for two: $4,114
Tokyo may look straight out of a sci-fi film, thanks to its neon-lit skyscrapers and cutting-edge architecture. But it hasn't forsaken tradition in its quest to push technological boundaries. In the space of a morning, you can stare down at the city from the tallest tower in the world, the Tokyo Skytree, and then visit one of Japan's most popular shrines: Meiji Jingu, nestled in a wooded park.
Hotel prices have dropped 4% year over year, Hotels.com finds, while airfare has fallen 5%, according to Kayak—making Tokyo the best value around.
One place where Japan's respect for tradition fuses with its artisan culture: the food. Japan's cuisine has a place on Unesco's list of intangible cultural heritage, and Tokyo itself has more Michelin stars than any other city. You can go all out and pay big bucks for the best sushi experience of your life, but you could just as easily find major flavor for ¥800—less than $8. "Even a simple bowl of noodles at a modest restaurant can rival any you'll find elsewhere," says Laura Crawford, destination editor for Lonely Planet. For Michelin-starred tempura, she says, try Tempura Kondo—or go to Kyubey restaurant at lunchtime for excellent sushi at a good value. Tsukiji Market, the city's largest fish market, moves to a new site in October; go now to enjoy offerings from its many vendors—offal stew at Kitsuneya, for instance, or ramen at Chuka Soba Inoue. End your culinary tour at one of the many izakayas in the Golden Gai; Shinsuke is one of the city's most storied, Crawford says.
Zoia Kostina—Shutterstock
2. Rome, Italy
Average airfare: $847
Average hotel night: $166
Cost to spend a week for two: $4,046
One of the world's most awe-inspiring cities, Rome tops many travelers' bucket lists for its classic sites, a mix of ancient ruins and artistic masterpieces. But go beyond the historic landmarks and you may find the Italian capital's energy derives more from the here and now, with streets that teem with pedestrians and buzz with Vespas.
"A trip to Rome is as much about lapping up the dolce vita lifestyle as gorging on art and culture," says Lonely Planet's Anna Tyler. Dotted with outdoor cafes and scene-stealing piazzas, Rome's winding lanes reveal why Rome has been inspiring greats—from Michelangelo to Fellini—for generations. Not that you should skip Rome's most famous attractions, like the Colosseum ($15 for adults) or the Vatican Museums ($21 for adults).
Getting to the Eternal City has gotten much more affordable. Kayak estimates airfares to Rome are down almost 19% over a year earlier. To keep your budget in check, skip expensive taxis and Ubers (which start at "black car" pricing) and tackle the surprisingly compact city by foot or on Rome's relatively inexpensive public transit system. A ride on the city's trains, buses, and trams costs just €1.5 a ticket, less than $2.
Rome's food culture can also help keep you on a budget. The city's mouth-watering street food includes arancini (rice balls), focaccia, and the ubiquitous square slices of pizza al taglio. Meals at eateries like Panella and Sbanco will only set you back between $8 and $20.
Manuel Romaris—Getty Images
3. Mérida, Mexico
Average airfare: $414
Average hotel night: $74
Cost to spend a week for two: $2,018
Skip the busy cruise ship ports of Cancún and Cozumel and experience the Yucatán Peninsula from its cultural capital: Mérida. This colonial city features broad central plazas where you'll find locals catching up and playing music, historic churches such as the San Ildefonso Cathedral and homes that hide behind pastel-colored facades. It also boasts an impressive art scene. The Popular Art Museum showcases objects from around Mexico and the Museum of Anthropology and History, located in a Beaux Arts mansion, displays Mayan artifacts.
Don't limit your visit to the city's limits. Mérida is a perfect base for excursions into the region's UNESCO-listed archaeological sites. Drive east and you'll find Chichén Itzá, one of Mexico's best-known ruins, where the 98-foot-high step pyramid known as the Temple of Kukulcan dominates the skyline. An hour south, see ornate stone carvings and the rounded sides of the towering Pyramid of the Magician at the less crowded site of Uxmal.
Be sure to swim in one of the area's 6,000 freshwater sinkholes, known as cenotes, which were used as sacred wells by the Maya. Some can be found in another of the region's gems: the Reserva de la Biósfera Ría Celestún, a 146,000-acre wildlife reserve that shelters mangrove forests, a huge flamingo colony, and sea turtles. If you're lucky you might also catch a glimpse of an ocelot, jaguar, or spider monkey.
4. Xi'an, China
Average airfare: $902
Average hotel night: $93
Cost to spend a week for two: $2,994
For millennia, China's former capital city of Xi'an—once the endpoint for the Silk Road—has blended successive waves of cultures and flavors. "This long history of mixing has resulted in a roaring, modern city," says Lonely Planet editor Megan Eaves.
Catch one such juxtaposition near the city's 40-foot-tall Ming-era walls, which cast shadows on the 21st-century cafés and boutique hotels nearby. Rent a bike near the South ("Yongning") Gate and spend an afternoon riding along the 600-year-old structure. You can also taste the sour soups and hand-pulled Biangbiang noodles found at street vendors and cafes throughout Xi'an.
A trip to Xi'an would not be complete without visiting the famous Terra-Cotta Army. A museum just outside the city center ($22 for adults in high season) walks visitors through the history of these 8,000 statues, as well as the 1974 excavation that unearthed them after 2,000 years.
To get here, fly into Xi'an Xianyang International Airport; Hopper says you can find good deals for around $631. Hotels in the city are, on average, far cheaper than the $157 a night found in Shanghai.
5. London, England
Average airfare: $774
Average hotel night: $228
Cost to spend a week for two: $4,629
London dares you to be bored. "It is a financial and political center, a cultural icon, a food-lover's paradise, a shopper's heaven and a history-lover's dream," says Cliff Wilkinson, Lonely Planet destination editor. And, of course, you can't forget that legendary pub culture.
Never cheap, London does offer some savings for visitors this year: Hotel costs are down 3% year over year, Hotels.com found, and airfare has fallen a whopping 19%, according to Kayak. To pinch pounds during your trip, take full advantage of the city's broad slate of free attractions. Visit the British Museum, National Gallery, Kensington Gardens, Victoria & Albert, Tate Modern, and more than a dozen other institutions for nothing. And you can avoid a pricey ride on the London Eye by taking in the free 360-degree city and Thames views at the Sky Garden, a glass-enclosed three-story-tall public garden (with terrace) at the top of a skyscraper the Brits call "the walkie-talkie."
Two sites that are worth the cost of admission—at least for history buffs—are the Tower of London (about $30 for adults) which holds an infamous prison as well as the British crown jewels, and the Churchill War Rooms ($26 for adults). Tour the latter's underground bunker to see where the Allied victory was plotted during World War II.
No trip to London would be complete without a stop at a local pub; have a pint (or four) while watching a game of "footy" or rugby. One historic option is the charmingly gloomy Ye Olde Cheshire Cheese: Rebuilt after the Great Fire of 1666, its one of the city's most famous pubs, having nourished Samuel Johnson and Charles Dickens. Wine drinkers can take in history at Gordon's Wine Bar, thought to be London's oldest wine bar. For more modern tipples, visit inventive cocktail bars Nightjar and Callooh Callay, or the 1940s Tube-themed bar, Cahoots.
Tuomas Lehtinen—Getty Images
6. Jeju Island, South Korea
Average airfare: $1,034
Average hotel night: $126
Cost to spend a week for two: $3,715
South Koreans have been vacationing on Jeju for decades, but the wider world has only recently started to explore this volcanic island. The timing is right: hotel prices have tumbled by about 8%, reports Hotels.com, while flight costs (via stops in Seoul, Shanghai or other regional hubs) dropped almost 19% over the past year, according to Kayak.
Located 60 miles off South Korea's southern coast, Jeju offers outdoor wonders, says Lonely Planet's Megan Eaves. At the center of the island, Hallasan mountain soars above the surrounding national park (free admission). It's the country's highest peak, with six hiking trails that let you explore its walls. To the north is another remnant of the island's geological past: Manjanggul Lava Tube, a 5-mile-long cavern littered with volcanic stalactites, shelves and bridges.
Jeju island's relatively small size—it's only about 20 miles wide—means the ocean is never far away, so fresh, local seafood is abundant. Some of that harvest is caught by the Haenyeo, traditional female divers who reach depths of more than 90 feet, often just holding their breath.
7. Mallorca, Spain
Average airfare: $881
Average hotel night: $210
Cost to spend a week for two: $4,204
Famed largely for its beach clubs and nightlife, this Spanish island also offers sheltered beach coves and peaceful hill towns. "Even among the tourist swarms of mid-August you can find pockets of silence," says Tom Stainer, a Lonely Planet destination editor. To get to the island, fly into the chic city of Palma, and spend some time exploring. Take in the imposing Catedral de Mallorca, then have lunch at Marc Fosh—the Michelin-starred chef's namesake restaurant. A three-course meal of weekly specials, such as salmon and coffee panna cotta, will set you back less than $40.
Then go beyond the city limits: Stainer recommends visiting the nearby coves, trekking to hilltop monasteries, or cycling through the surrounding villages.
8. Tbilisi, Georgia
Average airfare: $928
Average hotel night: $127
Cost to spend a week for two: $3,348
Sandwiched between the Caucasus Mountains and the Black Sea, Georgia sits at an ancient crossroads connecting Asia to Europe. Its capital, Tbilisi, beguiles travelers with its blend of medieval and modern: Colorful balconied houses and handsome churches perch on the the banks of the Mtkvari River, while the remains of the ancient Narikala fortress tower overhead. Stay in the Rooms Hotel ($208 on average), located in a former publishing house in the Vera neighborhood, to immerse yourself in the city's blend of eras.
Outside the capital, explore the country's long history of winemaking in the province of Kakheti, where vineyards abound. "This is a place where guests are considered blessings and hospitality is the very stuff of life," says Lonely Planet's Gemma Graham.
Gavin Hellier—Robert Harding
9. Singapore
Average airfare: $926
Average hotel night: $168
Cost to spend a week for two: $3,877
Singapore's history and geography have created a cultural mashup: Mosques sit shoulder to shoulder with Hindu and Taoist temples; the island is home to four official languages (English, Malay, Mandarin, and Tamil); and hawker food centers offer diverse, delicious options. Yet Singapore does have one unifying focus: Since the city-state started its "greening" campaign in 1963, it has made huge strides in turning what was once a concrete jungle back into a living tropical ecosystem. Take the Southern Ridges walk, a partially elevated trail, for views of Singapore's blend of nature and skyscrapers. Or visit the Singapore Botanic Gardens, an extensive retreat that's home to 1,000 different orchid species. You may recognize the Gardens by the Bay from Instagram: The park's supertrees—tall structures that function as vertical gardens—light up at night, play music, and attract millions of visitors each year.
Getting to Singapore has gotten more affordable: Airfare costs are down 13%, according to Kayak, and hotel prices are down 2%, Hotels.com found.
10. Granada, Nicaragua
Average airfare: $571
Average hotel night: $47
Cost to spend a week for two: $2,210
With a central square dominated by its bright yellow cathedral, this colonial town offers picturesque cobbled streets, rainbow-colored houses with red-tile roofs, and views of the shores of Lake Nicaragua. Just offshore, meanwhile, lie the Islets of Granada: 365 small islands where you can kayak past monkeys and diverse birdlife. A couple miles west, the Laguna de Apoyo is another must-see: Its turquoise waters and laid-back lodges offer a "splendid natural respite," says Lonely Planet's Alicia Johnson. More adventurous travelers should climb or ride up the 4,600-foot Volcán Mombacho, home to coffee plantations, walking trails, a butterfly sanctuary and hot springs.
With additional reporting by Sergei Klebnikov
This story has been updated to replace an out-of-date photo of Oklahoma City.