Parents Are Increasingly Worried About the Cost of College for Their Kids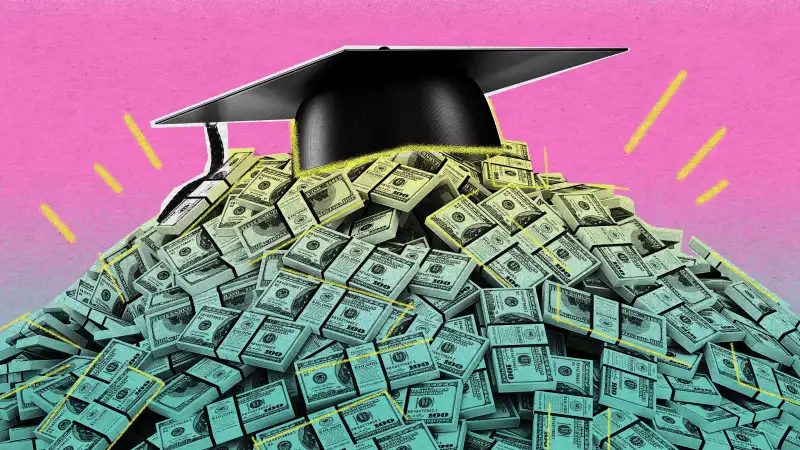 It's no secret that college is expensive. In fact, costs are so notoriously high that they're making not just students nervous but their parents, too.
A new report shows that roughly 7 in 10 parents say they are concerned about how much debt their children will be taking on by enrolling in college. The data further indicates that paying for higher education feels especially tough in the current economic environment.
What the data says
Results of a survey published by financial services firm Discover Student Loans on Wednesday find that 70% of parents say they are worried about financing their kids' college expenses — a share that's steadily climbed since at least 2021, when only 63% of parents said they felt this anxiety. Last year, the number crept up to 66%.
This may be connected to how, per the poll, over 1 in 3 parents say they are in a financially worse situation now versus last year to assist their child with college costs.
The Discover Student Loans poll was based on responses from 1,000 parents with kids between 16 and 18 years old who plan on enrolling in college or trade school. Other findings include:
Sixty-eight percent voice concerns with the amount of debt their kids will be saddled with even after the parents offer up their own financial assistance.
Ultimately, 46% of parents question whether college is worth the investment.
Even with the rising expenses, 73% of parents say that college is a necessary expense to help their child to secure good employment.
What it means
Anxiety is obviously growing when it comes to paying for higher education thanks to economic factors like inflation, layoffs and wage stagnation.
Student loan burdens are increasing, too: At the beginning of 2013, Americans' total student debt came in just under $1.1 trillion, according to Federal Reserve data. At the start of this year, that number was nearly $1.8 trillion.
It might come as a surprise, then, that the cost of college tuition has actually come down over this same period. The College Board reports that in-state public, out-of-state public and private college tuition have all decreased since 2019 (after adjusting for inflation).
The divergence may be linked to the fact that families are depending less on scholarships and awards and more on loans. According to College Ave, a private student loan company, shows that the number of students using merit aid to finance school has recently dropped by 13 percentage points while those using federal and private loans increased by 3 and 8 percentage points, respectively.
In related news
You can't talk about student debt without mentioning President Joe Biden's one-time student loan forgiveness plan, which is aimed at relieving existing federal loan debts of up to $20,000.
The proposal has been in legislative purgatory since its August 2022 announcement, becoming a hot-button partisan issue. In recent weeks, both houses of Congress voted to overturn the initiative. The Supreme Court is expected to make a ruling on the program this summer, and regardless of the decision, student loan payments — which have been suspended since 2020 — are set to resume by September.
More from Money:
Interest Rates on Federal Student Loans Will Rise Later This Year
How Much Money Should You Borrow for College? Experts Offer Some Hard Truths