How One Guy's $65 Parking Tickets Grew Into a $132,000 Nightmare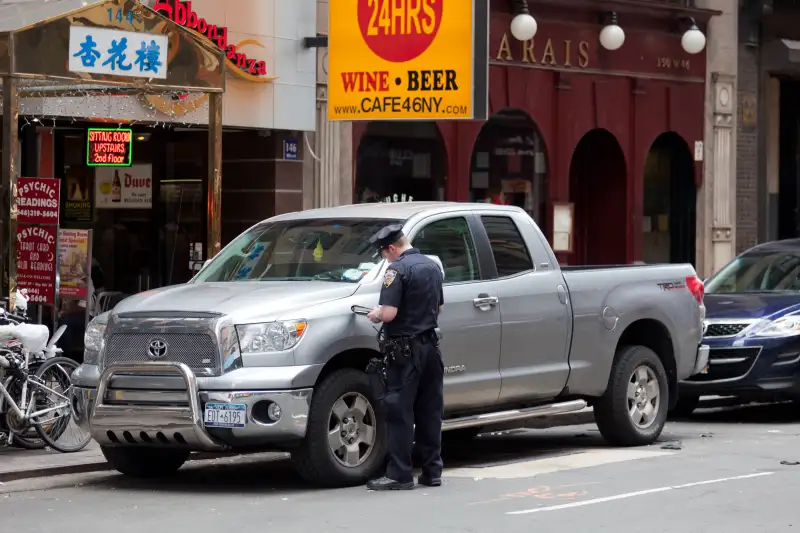 Piling up $25,000 worth of parking tickets is bad. But you know what's worse? Trying to wriggle out of paying the fines—and then watching the damage balloon to over $132,000.
This is essentially what happened in the case of Giancarlo De Lellis, a home improvement contractor who regularly does business in New York City, the New York Times reported.
Parking tickets in New York City are notoriously pricey—and all but unavoidable for many drivers. The city dished out $545 million in parking tickets last year, and the total is expected to hit $631 million in 2017.
Because safe, legal parking is so hard to come by in New York, parking tickets are often seen as part of the cost of doing business in the city. Over the course of three years, De Lellis's business accumulated $25,400 in parking tickets, in increments of $35 and $65 a pop.
Rather than simply pay up, however, De Lellis tried to cut his losses by employing the services of a man named Emmanuel Amofah, who runs a site called ParkingTicketBusters.com and wrote a book, How to Fight and Beat Your New York City Parking Tickets.
According to the Times, Amofah helped get hundreds of De Lellis' tickets dismissed—and then took 20% of each would-be fine as compensation. But the strategy backfired in a big way. Last fall, a judge deemed the situation fishy, and a city investigation found that ticket receipts handled by Amofah had been doctored—with times changed to make it look like meters were paid properly when in fact they were not.
The New York Post also covered the De Lellis-Amofah case recently, and reported that before Amofah got into the ticket-fighting business he was a court judge who spent two years hearing cases over parking violations. The Department of Finance is apparently now trying to get Amofah banned as a broker who people can pay to help them fight tickets.
De Lellis insists that he had no idea what Amofah was doing to get the tickets dismissed. The city maintains that it's De Lellis, however, who is on the hook to pay up all of the original parking tickets—plus penalties. Now that the scheme has been exposed, each $65 ticket has turned into a $345 fine. Altogether, the city says that De Lellis now owes $132,038.
De Lellis told the Post that he's responsible for the original tickets and "will pay in full now." But he thinks the additional fines are unreasonable and is trying to fight them: "That will put me out of business."