You May Be Sprinkling Wood Pulp on Your Pasta, Not Parmesan Cheese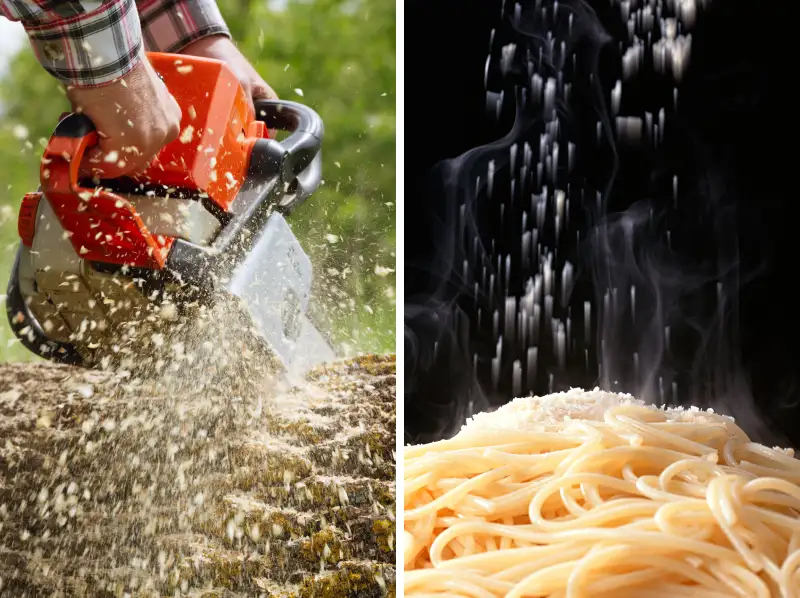 Sometimes, it's just plain impossible to tell what we're putting in our bodies. There's a long list of foods that feature labels with nice, healthy-sounding words and phrases that in fact are hard to pin down with exact definitions: "natural" and "local", for example, essentially have no precise meaning.
Yet food manufacturers and marketers take fraud and deception to an entirely different level when they straight-up lie about what's inside the packaging. Such is the case with a broad range of "extra virgin" olive oils. Random testing has shown that the majority of olive oil sold in the U.S. is adulterated and not up to the quantifiable, carefully regimented standards that need to be met to earn the "extra virgin" label.
Now, it looks like consumers who think they are buying another staple of pasta dinners—Parmesan cheese—may also not be getting what it says on the label.
Using research from FDA investigations and its own independent tests, Bloomberg News is reporting that many well-known Parmesan cheese brands use wood pulp and cellulose as cheap fillers, even when they are advertised as "100% Parmesan Cheese."
In the most egregious case, a company called Castle Cheese Inc., whose products were used in the past for brands such as Market Pantry (sold at Target) and Best Choice 100% Grated Parmesan Cheese (sold at many supermarkets) allegedly contained "no parmesan cheese" whatsoever, according to the FDA. Instead, the product was made up of a mix of Swiss, mozzarella, and white cheddar cheese, as well as a heaping dose of cellulose.
There's no mystery as to why manufacturers use fillers rather than the real deal featured on the label. As with extra virgin olive oil, substitutes are far cheaper than the genuine article. So manufacturers can profit handsomely by duping the public—at least until they get caught.
Amid the FDA inquiry, Castle Cheese Inc. stopped production of its "problematic cheese," Bloomberg noted, and the company filed for bankruptcy in 2014.