This 32-Year-Old Made $120,000 Selling T-shirts Online — Enough to Buy His First Home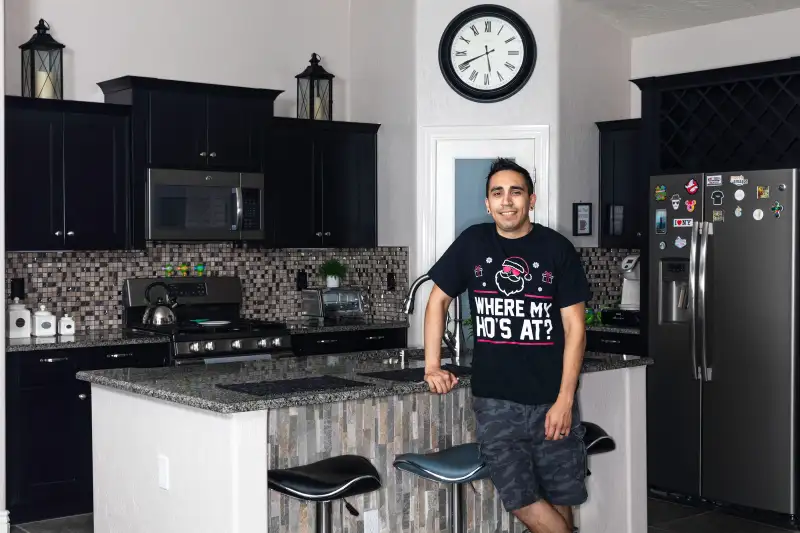 Photograph by Phil Kline for Money
Three years ago, Glen Zubia was stuck under a mountain of student loan debt, living with his parents and struggling to scrape together car payments.
Now, the 32-year-old has his own four-bedroom house in El Paso, Texas. He pulls in thousands of dollars a month from a creatively fulfilling gig where he sets his own schedule and doesn't have to worry about overhead. He even co-hosts a weekly podcast where he tells listeners all about how he turned his finances around.
The secret to his success? T-shirts.
Zubia is a master of passive income through print on demand, a system in which designers link up with sites like Amazon, Teespring and Redbubble to sell shirts and other items. Companies handle the production and customer service while paying out royalties, meaning people like Zubia can earn big without much investment or upkeep.
"It's almost unfair, when you look at people creating T-shirts the old-school way, to have that access all digitally. It's getting so much easier to make money online," Zubia says. "If you put in work, you're going to see the results."
Here's how he did it.
'I've Gotta Go All In'
Zubia is no stranger to making money off of the internet. While he was in college, he sold custom action figures on eBay; while trying to pay off credit cards, he tried writing books through Kindle Direct Publishing.
And then he found Merch by Amazon in 2015.
The print-on-demand program attracted him because it was new and came with a lot of guaranteed traffic: "My instant thought was just how many millions of people are shopping on Amazon," he says. "It sounded too good to be true."
He didn't see immediate returns; in fact, over the first three months, he made nothing. But in his fourth month, he got a check. It was $107, but it was enough to keep him him going.
"I was like, 'OK, it's getting somewhere,'" he says. "In six months, my next biggest check was $1,300. [I thought,] 'I've gotta go all in.'"
Idea, Design, Upload
So he did.
For eight months, Zubia spent his nights swigging coffee, listening to heavy metal music and making T-shirts in the office of his parents' house. He used Adobe Illustrator on his iMac to crank out a catalogue of 2,800 designs — a process that involved seemingly endless brainstorming, researching, designing and saving.
"Idea, design, upload. Idea, design, upload," he says. "I knew I had to put in work for it. No way would it happen if I were messing around."
In his spare time, Zubia would go to JC Penney, Kohl's and Walmart to take note of the silly slogans on shirts people were purchasing. He'd head home and check to make he wasn't infringing upon any trademarks. Some of his best-sellers were themed around birthdays and locations, with mottos like "Born in Chicago" or "Awesome Since 1978."
When the cash started coming in, he put it aside. Eventually, Zubia had saved $120,000 — enough to move out and into his own new home.
Working for Himself
These days, Zubia is focusing on his eBay presence, Merch Minds podcast with friend Yong Jae Chong, and YouTube channel HustlerHacks. He hasn't touched his stockpile of designs in a while, but he's still reaping the rewards. Last week, he sold 125 products and got $366.12 in royalties.
That's the beauty of passive income: It doesn't require constant attention to be profitable.
In Zubia's case, he also likes that he doesn't need a storefront in order to reach customers. Plus, he gets to set his own hours.
"You have a different type of feeling when you're working til 1, 2 in the morning for yourself than having a set salary and knowing no matter how hard you work, you're going to make the same amount," he adds.
Zubia's next goal is to figure out how to scale up or outsource parts of his ecommerce business so he can grow. He admits his passive income pursuits often aren't always entirely passive, but they're working for him — and he wants to keep it that way.
"The print-on-demand industry... it's the now, and it's the future, and I don't think a lot of people necessarily know about it," Zubia says. "Having Amazon in control of these products means it's only going to get bigger and bigger from here."