8 Signs We May Have Reached Peak Peeps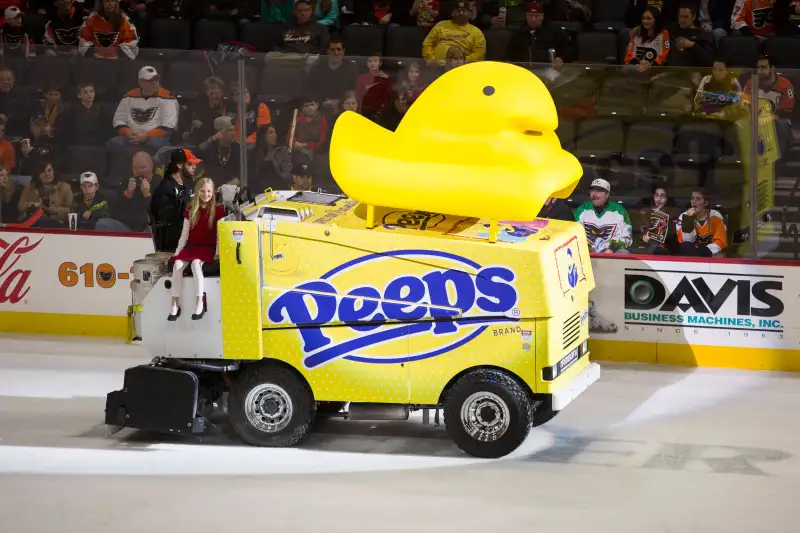 Mark Stehle—Invision for PEEPS®
There are some people out there who hate Peeps, the brightly-colored, sickly-sweet marshmallow candies that came to fame mainly for providing supercharged sugar rushes to children on Easter morning. An I Hate Marshmallow Peeps Facebook page has more than 500 likes, for instance, while the occasional blogger will feel compelled to rant about his or her Peeps hate around this time of year.
But the Peeps haters sure seem to be drastically outnumbered by the Peeps lovers, based on all the examples of peeps demonstrating their interest and devotion to Peeps candy below. The only question that remains is when Peeps' popularity will level off. Have we already hit peak Peeps? Or will this tiny iconic candy somehow become an even larger presence in American culture one day? After all, every fun meme, like every sugar rush, dies off eventually.
For now, let's reflect on a few of the signs that consumer interest in Peeps remains sky-high today:
Peeps come in more than 60 varieties. At least 35 kinds of Peeps are sold during Easter season, including sour watermelon and fudge-dipped lemon flavors, while another 30 or so varieties hit the market for Christmas, Halloween, and other periods.
You can buy an absurd amount of Peeps merch. Peeps products that have nothing to do with food include Peeps socks (bunnies or ducks, in youth and adult sizes, $9), Peeps hoodies ($40), Peeps trucker hats ($20), Peeps microbead pillows ($20), Peeps earbuds ($10), Peeps shoelace accessories ($8), Peeps scented candles ($20), and a variety of plush Peeps toys priced as high as $100.
There are Peeps art shows and contests all over. The sixth annual Peeps Art Exhibition at the Racine Art Museum in Wisconsin runs through April 12, while the Washington Post, Michigan's MLive.com, and others host Peeps diorama contests each year. The Pioneer Press in Minnesota's Twin Cities, meanwhile, has bragging rights for putting on the first Peeps diorama contest, back in 2004. Nationwide, there are more than a dozen Peeps-themed art shows and contests. One ambitious young artist made Katy Perry's Left Shark with Peeps this year.
(Perhaps matzo art could be the next trend? To celebrate Passover this year, one artist in Philadelphia used 300 boxes of matzo to create two six-foot-tall matzo towers and cover 1,200 square feet in a floor-to-ceiling exhibit called "Into the Desert.")
They're core ingredients in Easter cocktails. Restaurants, bars, and resorts roll out Peeptinis, Patron & Peep cocktails, and more, usually with bunny- or duck-shaped Peeps as garnishment.
They're being paired with craft beers too. A couple of establishments in Pennsylvania offer a three-course pairing of craft brews and Easter candy, and Peeps—made in PA—are one of the "courses." The brag-worthy gastronomic adventure costs $10, and comes with a souvenir pint glass.
Peeps Milk is a thing. Three varieties of Peeps-flavored milk went on sale a month ago: Marshmallow Milk, Chocolate Marshmallow Milk, and Easter Egg Nog. We're still waiting to see what happens when anyone is brave enough to use the milk in a bowl of sugary cereal.
So is Peepshi—a.k.a. Peep sushi rolls. Peepshi, which incorporates crispy rice treats rather than raw fish, is one of 60 official recipes listed at the Peeps website. Those are only the "official" recipes, mind you. There are hundreds if not thousands more unofficial Peeps recipes out there, including things like Peeps Pizza and Peeps Kebabs.
A Peeps movie is in the works. Around Easter time last year, filmmaker Adam Rifkin (writer of "Small Soldiers," director of "Detroit Rock City") optioned the TV and movie rights for Peeps. The plot for the film supposedly involves a wild adventure around a Peeps diorama contest, featuring a lost Peep and, we're guessing, quite a few shenanigans and sugar jokes.