Property Values Might Fall Soon — Here's What Homeowners Can Do to Prepare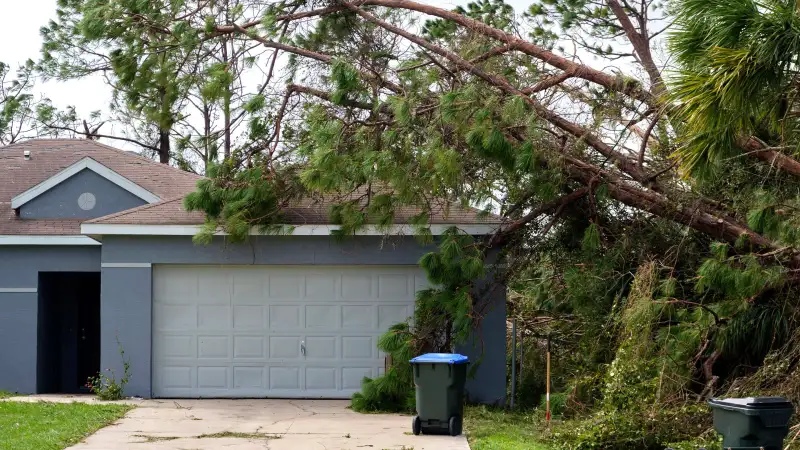 Buying a home has always been considered a good long-term investment that appreciates in value the longer you own it. But the reality is more complicated.
Sometimes homes lose value, putting financial strain (and worry) on whoever's on the deed. Ask anyone impacted by the 2007/2008 housing bubble — when home values dropped by more than 30% and millions of homeowners were forced to sell at a loss — for proof.
The good news is, most experts agree that a Great Recession-style crash is unlikely in the current market.
Still, homeowners in some cities are already seeing their home values drop several percentage points from their pandemic highs. With talk of a possible recession, and the memory of the 2007/2008 crisis still fresh in people's minds, it's only natural to worry.
To repeat: Today's market is very different from the early 2000s. Stricter lending criteria and the elimination of risky loan products like no-asset/no-credit loans means borrowers are more financially qualified to buy a home than they were in the run up to the Great Recession. What's more, many homeowners saw their home's value increase by 20% to 30% during the pandemic, so they're in in a much better position to weather a downturn.
"We're way different than we were back then," says Chuck Meier, senior vice president of mortgage at Sunrise Banks. "We have tighter lending standards. So people are well qualified in their homes."
If the thought of your house losing value is still sending shivers down your spine, know that it's better to be prepared than to scramble to find a solution if things do go belly-up. Here are some concrete steps you can take to minimize the impact on your finances down the road.
Don't panic
It's natural to feel uneasy if you bought a house for $700,000 last year that's now valued at $650,000. But how that loss in value actually impacts your life hinges on a few different factors.
If you're planning on living in the home for the rest of your life (or at least for several years), you shouldn't sweat the loss, says Scott Bridges, senior managing director of consumer direct lending at Pennymac. Values rise and fall over time, so while your home may not be worth what you initially paid at this specific moment, it could be worth twice as much ten years down the road.
And if you bought when mortgage rates were near historic lows, "that loan is worth its weight in gold," says Bridges. The ultra-low mortgage payments you're making now won't ever go up, regardless of your home's (hopefully skyrocketing) value.
If you plan on selling within a relatively short period, look into the current price trends of your local market. Some cities are seeing home values decline, but others are still experiencing gains. Knowing how hot (or not) your area is can determine whether you sell now — or hold on a little longer.
Build your cash reserves
The key to surviving an economic downturn is having an adequate emergency fund. By increasing your savings, you'll have money to fall back on, which will offset the home value loss you may experience — or at least help you weather the storm until it passes.
One tried and true option to build your savings is to cut down on unnecessary expenses. Another is to look for ways to make homeownership less costly. If your home has decreased in value since you bought it, ask your county government to reassess your property taxes. (You can find information on how to request a reassessment on your county's official website.)
"It can save you money," says Bridges. During the 2007/2008 financial crisis, Bridges adds, he did this himself.
Another way to lower homeownership costs is to check how much equity you've built in your home. Once you've gained at least 20% equity, you can ask your lender to remove the private mortgage insurance (PMI), reducing your monthly payments and boosting your savings. It's better to do this when property values are high: The opportunity might not be there when your home's value falls.
Manage your debt
Homeowners gained a record amount of equity over the pandemic, and many are still holding on to a large chunk of it. According to real estate data firm CoreLogic, the average homeowner had $274,000 in home equity during the first quarter of 2023, despite declining price growth.
But just because you have a lot of equity doesn't mean you should take on new debt. Again, home prices are inflated right now, and if they drop significantly, you'll lose that value.
"Don't go out there and spend that equity that might be artificial," says Meier. Instead, find ways to reduce your existing debt and increase your savings in the process.
There is a caveat to this. If you have high-interest debt from credit cards or a personal loan, taking out a home equity loan or line of credit at a lower rate might make sense, since it can lead to lower monthly payments (and more money you can funnel into your savings account).
Facing the prospect of a financial loss is never easy. But if you take care of your finances and prepare, your odds of coming out of the turmoil with your home intact are strong.
More from Money:
8 Best Mortgage Refinance Companies of July 2023
Here's How Many Homeowners Could Be Stuck With Underwater Mortgages in 2023
The 10 cities With the Biggest Drops in Rent Prices Since Last Year
Rates are subject to change. All information provided here is accurate as of the publish date.