People in This State Drink the Most Pumpkin Spice Lattes in the Country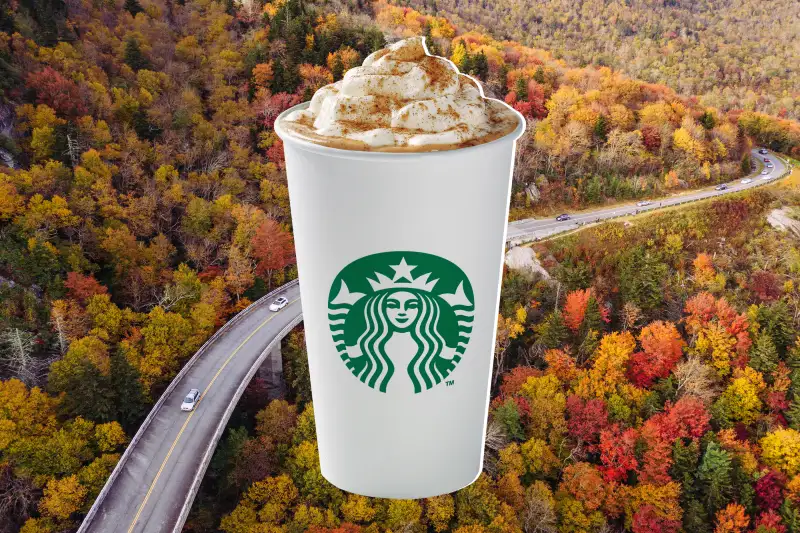 (PSL) Courtesy of Starbucks; (road) Getty Images
Step aside, decorative gourd season — for people in the Beaver State, it's pumpkin spice latte time.
Even though Starbucks started selling its famous fall beverages back in August, it's now officially autumn. And according to data from financial services company Square, that's especially good news for customers in Oregon: the No. 1 state for pumpkin spice latte consumption.
Square took a look at PSL transactions from across the country last year at small businesses that use its card readers. It found that after Oregon, people in Wisconsin, Ohio, Iowa and North Dakota drink the most pumpkin spice lattes when adjusted to account for state population.
Vermont and Maine, where September and October are all about fall foliage, surprisingly drink the fewest number of PSLs.
Nationally, cafes certainly make a lot of money off of the fall trend. Pumpkin popularity tends to pick up starting in August, peak in October and wind down in January, giving stores several months of solid sales.
Square says the cheapest version of the beverage can be found in South Dakota, where the average PSL is $3.56.
The most expensive is in Tennessee, where it costs about $5.
Starbucks declined to go into detail for this story, but the coffee chain arguably started the nation's pumpkin spice obsession. A spokesman tells Money the PSL is the company's top-selling seasonal beverage of all time, available in more than 50 countries and selling more than 350 million over the past 15 years. It even has its own 26,000-plus Facebook fan group.
Whether you like them or not, PSLs are making a lot of money. Prices vary by location, but if you estimate conservatively that each cup cost $4, the drinks have generated some $1.4 billion for Starbucks.
And it's not just lattes: A Nielsen study found that about a third of Americans said they bought a pumpkin-flavored product in 2014. The most popular items were pie filling, which saw nearly $135 million in sales; cream, with about $48 million; and coffee, with roughly $33 million.
Inexplicably also on the list was dog food, which brought in almost $13 million.
But next time you open your wallet to pay for something pumpkin-inspired, beware. Last year, Magnify Money identified a pumpkin spice tax that increased the price of pumpkin-flavored products by 7.98%.
That's a premium you don't need to pay if you make your own spice mix. It's just cinnamon, ginger, nutmeg, allspice and cloves.