Ranch Dressing Is Now a $1 Billion Industry. Here's Why It Beats Ketchup as Millennials' Favorite Condiment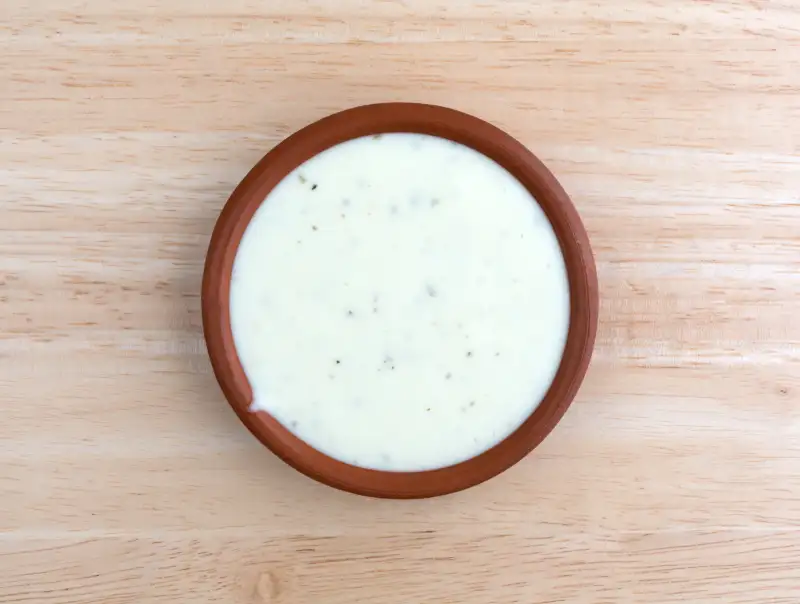 BWFolsom—Getty Images/iStockphoto
White Claw may be the official drink of Hot Girl Summer, but everybody's favorite "healthy" beverage is no match for everybody's favorite "healthy" condiment.
That's right, millennials! According to Nielsen data cited in AdAge, the hottest food trend of 2019 isn't spiked seltzer or even Popeye's chicken (though it pairs DELIGHTFULLY with both), but that white slop you toss on your baby carrots, iceberg lettuce, and—depending on your personal (inferior) palate—pizza.
Ranch dressing is now a $1 billion industry, surpassing U.S. ketchup sales of $833 million, AdAge says. Hidden Valley sales have grown 3% over the last year alone, while other dressing sales have stayed flat or declined.
The condiment, which was invented in the 1950s, overtook Italian dressing as America's favorite lettuce accoutrements in the early 90s, according to Slate. And thanks to those ding dang Gen Y-ers, who have already been blamed for killing mayonnaise, ranch dressing continues to outpace every other option: A whopping 40% of Americans named ranch their favorite dressing in a 2017 survey from the (very real) Association for Dressings and Sauces. No other dressings came close — Italian, the runner up, clocked in at 10%.
"It's found on more than half of restaurant menus and in 75 percent of homes in the U.S.," Jacquie Klein, director of the brand studio that oversees Hidden Valley marketing, told AdAge. "It's really embedded in our culture."
Courtesy of Hidden Valley
Klein went on to talk about Hidden Valley "ranch fountains" at weddings and "mini-kegs" at backyard BBQs. This month, the brand is launching a "Coast 2 Coast Ranch Tour" at 22 restaurants throughout the country — where dishes like "bacon ranch mochi muffins" and "whole ranch-friend game hens" will be making their god-forsaken appearance.
If you haven't already navigated away from this page in disgust, you can mosey over to this one for details.