Why Poke Is Emerging as the Next Fast-Casual Restaurant Phenomenon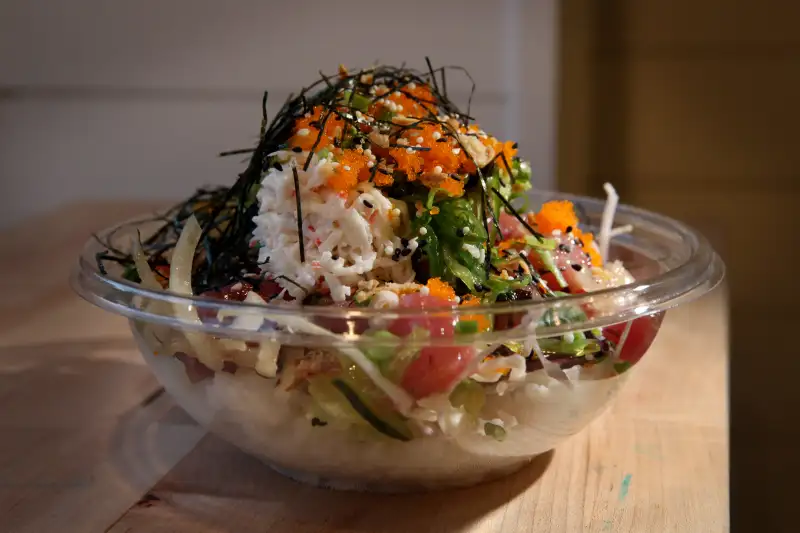 Boston Globe—Boston Globe via Getty Images
If you haven't tried poke yet, you're about to have a lot more opportunities, as one of the leading poke restaurant chains looks to expand in a major way.
The Chicago-based Aloha Poke Company launched in March 2016 in the Windy City's French Market, and it was a sensation. The wait to order during lunch hours often stretched more than 30 minutes, despite somewhat high prices — roughly $15 for one of the poke chain's signature bowls.
After adding locations throughout the city and into Denver, Aloha Poke started a bigger push to go national after adding Former Potbelly Exec Chris Birkinshaw as Chief Executive Officer. Now the company is looking to bowl over America, with plans for aggressive nationwide expansion. According to The Chicago Tribune, Aloha Poke plans to have 100 locations open by the end of 2020, with an eye towards cities such as Orlando, Atlanta, and Cleveland.
Poke is a traditional Hawaiian dish, based around cubed marinated fish, rice, seaweed, and chopped kukui nut, with the option to add other vegetables and toppings. According to the The Washington Post, it was a meal not well-known outside of Hawaii until a few years ago, but "today there are 1,811 poke restaurants outside of Hawaii, with much of that growth coming in the last two years."
Aloha Poke clearly has designs on becoming the next Chipotle, which is to say dominating the field of healthy, fast casual dining that's pricier than burgers-and-fries style fast food but not as expensive as a meal at a traditional restaurant. But there have been some choppy waters during poke's steep rise in popularity.
The poke game has gotten crowded of late, as Aloha Poke is competing with the California-based Poke Bar, which has 68 locations nationwide, and the New York-based Pokeworks, which has 37. Also several non-Hawaiian eateries have added poke options to their menus. It's become such a competitive field that two Aloha Poke locations in San Diego and Los Angeles closed, in part, because "the southern California poke scene was already so crowded," according to the Tribune.
Based around seafood and vegetables, poke has been called one of the healthier meal options out there. Even so, Aloha Poke has had its share of bad press, some of it self-inflicted. Last year, the company sent cease-and-desist letters to Hawaiian poke restaurants that used the word aloha, a traditional Hawaiian greeting, in their names.
This set off a wave of controversial and discussions about cultural appropriation, with detractors pointing out that the Midwest-based company didn't have any founders of Hawaiian descent. Some of the company's stores were picketed by activists, and legislation in Hawaii to protect against cultural appropriation named the company for "in essence claiming ownership" of "aloha." Birkinshaw apologized, saying the company had no intention to own the words "aloha" or "poke."