'We've Sold Out Continuously.' Meet the Reusable Straw Sellers Cashing In on the Plastic Backlash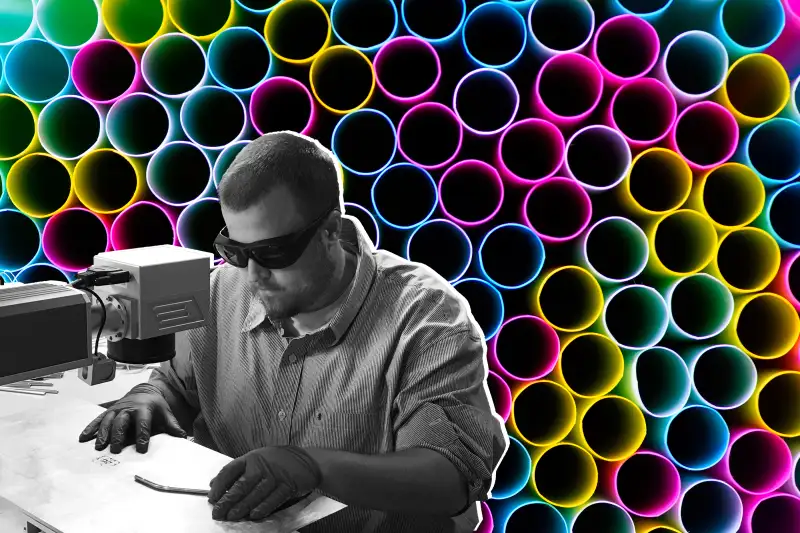 (straws) Getty Images; (straw manufacturing) courtesy of Elegancy Jewelers
The growing backlash against plastic straws isn't just shrinking trash piles and saving sea turtles from surgery—it's also generating a ton of cash for the online vendors who sell alternative options.
Metal, paper, glass and otherwise reusable straws are more popular than ever as major cities like Seattle and companies like Starbucks move away from traditional plastic straws. With the movement reaching a fever pitch, people are looking to purchase more environmentally sound choices.
And because it's 2018, they're looking online.
"It's just sort of exploded," Cindy Schiff, the founder of GreenPaxx, a shop that sells adjustable silicone straws and other healthy living products, tells Money. "I have people daily emailing me saying that they want my straws, they want my straws ... it has been challenging to keep up with everything."
Small business owners tell Money they're being inundated with orders, in some cases having to hire extra help or put "sold out" notices on their websites in order to cope with the rising demand for straws.
courtesy of Elegancy Jewelers
E-Business Is Booming
Etsy searches for metal straws are up 205% over the past six months compared to this time last year, a spokeswoman for the e-commerce site tells Money. Glass straw queries have increased 63% in the same period. (Plastic straw searches, meanwhile, have fallen 11%.)
Sellers like Ryan Lysaght, the owner of Elegancy Jewelers in southern Maryland, are certainly feeling the love. Lysaght says he's seen a "huge" spike in Etsy sales of his stainless steel straws, which he sells in packs of five for $4.95.
Before the recent straw boom, he usually could turn orders around in one business day. Now, he's so busy that it can take up to five.
"It's a struggle trying to keep up with the amount of people," he says.
Orders have jumped 743% this year compared to the same period in 2017, Lysaght says, partly because customers have started buying personalized straws in bulk to give out at weddings and birthday parties. For those, he creates the designs in Photoshop and then watches as a machine engraves each straw. He makes about a 30% profit on each pack.
When finished, Lysaght wraps each shipment in tissue paper. He used to use plastic packaging, but he's recently traded that for biodegradable materials.
courtesy of Elegancy Jewelers
The Case Against Plastic
It may seem like it came out of nowhere, but the plastic straw movement is everywhere.
Since February, plastic straw bans have either taken effect in or been considered by lawmakers in Seattle, New York City, Miami Beach and Malibu, Calif. Starbucks, American Airlines and SeaWorld are among the high-profile brands that have recently announced plans to phase out the products. Everyone from actor Adrian Grenier to U.K. Prime Minister Theresa May has gotten on board with the initiative.
It may rely on some slightly controversial statistics — one unofficial researcher claims that Americans use 500 million straws a day, while other estimates range from 170 million to 390 million, according to the New York Times — but the trend is clearly catching on.
Traditional plastic straw manufacturers are unhappy about the situation. Scott DeFife, the Plastics Industry Association's vice president of government affairs, told NBC News that activists should focus on recycling instead of condemning a specific product. DeFife added that he thinks the plastic straw bans result in a "false sense of accomplishment."
'Sold Out Continuously'
The global market for straws of all kinds is big: In 2017, it was valued at $924 million, according to Future Market Insights. But it's hard to say how much the reusable straw sector is worth on its own. Research groups such as IBIS World and Orbis Research tell Money they don't yet have any available data breaking it down.
Rita DiOrio, the New Jersey-based co-founder of Koffie Straw, can anecdotally attest to the trend.
Traffic to her website, which sells silicone straws designed to fit into coffee cups, is 10 times what it normally is. That's not the only sign of success: Over the past few weeks, her company has expanded into four new countries and 30 additional stores.
"We've sold out continuously," she tells Money.
Koffie Straws come in $11.99 packages of two in blue, purple or brown. DiOrio says she's currently selling about 20,000 units, or 40,000 straws, a month. (You can do the math.)
Previously, each month's Koffie Straw profits had to go toward buying the next batch of straws. Now, DiOrio says she's raking in enough revenue that she can experiment with compostable packaging and pricing options.
Her favorite part of the business, though, is when customers with disabilities contact her with stories of how the straws have helped them. DiOrio's inbox is filled with emails from people who have tremors and other conditions praising her straws for slotting into lidded cups, thus preventing spills and preserving their ability to drink on their own.
It's Not Easy Selling Straws
Though the straw fad may be profitable, it can be a lot to manage.
Schiff, of GreenPaxx, says the surge in interest has forced to her to hire more employees to help with shipping the $10.95 four-packs from Long Island, New York.
It's also inspired a lot of imitation. An Amazon search for "reusable straws" turns up over 9,000 results, which is problematic for Schiff—for the past seven years, she's held a patent on her design.
"I've spent a good amount of profit on lawyers' fees," she says. "It's exciting that people are on board, but it's disheartening that people are copycatting."
Schiff's bendable silicone straws come in two pieces and allow users to adjust their length. She estimates that she's kept "at least half a million" plastic straws from entering landfills since she started her business. In keeping with that theme, GreenPaxx sponsors a handful of advocacy groups, including Greenpeace and the Ocean Conservancy.
Despite the stress, Schiff says she's overjoyed the reusable straw trend is spreading because it could inspire people to become healthier and more environmentally friendly in other areas of their life as well.
The fact that it helps her bottom line is just an added bonus.
"It's been phenomenal," she says. "I'm catching up, and I hope that it continues ... because I was always just this crazy person who carried around a straw."