Money Reader, Meet Your Fierce New Consumer Advocate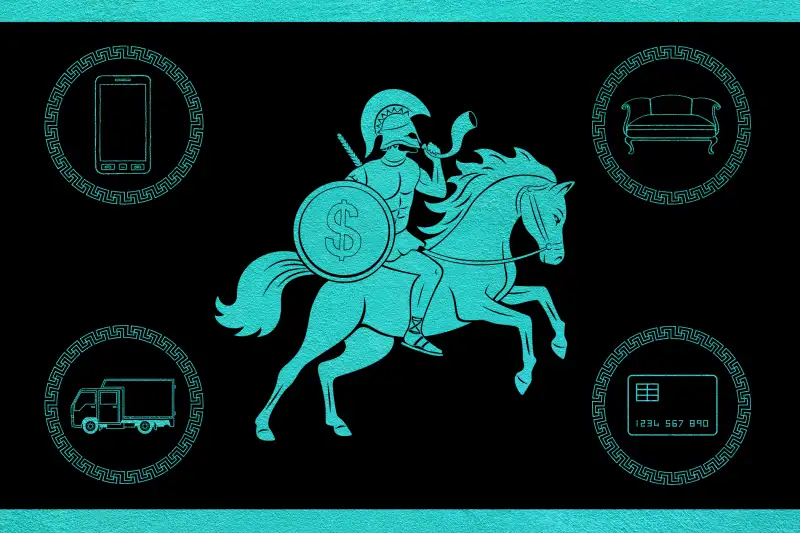 Illustration by Money; Getty Images (7); Dreamstime (1)
Adria Gross' problem looked unsolvable.
She'd paid more than $500 for a Kenmore Elite vacuum cleaner at Sears. But when she turned it on, it sucked — not just literally, but also figuratively.
"It burned the carpet in my hallway," remembers Gross, an insurance industry consultant in Monroe, New York. "There were dark brown streaks across the floor and it smelled like burnt plastic."
Gross estimated the damage to her carpet at around $1,000. She asked Sears to replace the household appliance and the rug, and while the company quickly agreed to swap out the defective vacuum cleaner for a new one, it balked at fixing the floor.
Ever been there? Sure you have. Customer service is fast becoming a lost art for not just some companies, but entire industries. The problem-solving resources you used to count on seem to have vanished. But there's hope for disappointed customers, including new tactics and one brand-new resource. You're reading it right now.
More than a third of customers in one survey admit they've lost their temper with a customer service professional. Of those, 7 in 10 asked for a supervisor, and 40% threatened to switch to a competitor. Three in ten customers hung up. But most never tried. For every customer who bothers to complain, 26 remain silent.
For Gross, the "nos" came from everywhere. A Sears customer service representative denied the company was responsible for the scorched floor. The executive office also turned her down. Even Gross' husband said the carpet was a lost cause. "He told me, 'Good luck,'" she remembers.
But should it really take luck to get a company to do the right thing?
A reliable barometer of customer service expectations that shows a bothersome, year-over-year decline in customer satisfaction doesn't exist. But there's plenty of evidence that service levels are plummeting for key businesses.
Telephone companies are hovering near all-time low service scores, notching up a weak 70 out of 100 on the authoritative American Customer Satisfaction Index. Food manufacturers, with an industry average of 76, are at an all-time low. Also on customers' black lists: subscription TV (65) and airlines (72). (By the way, that's the highest score ever for airlines.)
"Companies are promising to deliver great service," explains customer service expert Shep Hyken. "They tout their awards and bombard us with images of happy customers. The result is an expectation that many companies can't live up to."
"We're not happy until you're not happy"
Do you really need the statistics to know what's happening? Probably not. "The customer is always right" has become "We're not happy until you're not happy."
Question is, what do you do about it? You used to be able to complain to a store manager or contact one of several independent consumer advocates, who could take up your claim. But today, that same supervisor is likely to offer a scripted nonresponse. And the journalists who used to help are almost all gone. Their "on your side" newspaper columns were canceled a long time ago, replaced with more advertiser-friendly features.
Gross decided to ignore the "nos" and put on her advocate hat, pressing her case with Sears. It wasn't easy. Even after denials by the customer service department and the executive office, she didn't give up. Following several more rounds of spirited back-and-forth, Sears relented and replaced Gross' carpet.
"They paid for all of it," she says. "I never saw a bill."
Brian Hanover, a Sears spokesman, said the company was happy to help.
"Our priority has always been to make sure our members and customers are satisfied with their purchases," he says. "We evaluate all member concerns on an individual basis with the goal of reaching a solution that will satisfy that member's situation. Sears understands the importance of building relationships with its members, not just transactions. We're pleased our associates handled Ms. Gross' situation to her satisfaction and look forward to welcoming her as a valued Sears member for years to come."
How to navigate the system
In the 21st century world of customer dis-service, you don't have to be a consumer advocate to get the service you deserve. But you will need to become your own advocate.
Simply put, the system is rigged to turn away as many unhappy customers as possible while still following the law. It's a calculated corporate decision that weighs the business a company will lose against the employee time and resources necessary to make you happy again. Under this system, the customer is almost never right.
Getting good service is more of a paint-by-number proposition today. Whether it's a broken household appliance or a lost hotel reservation, you're likely to run up against the first line of defense—an intransigent, script-reading employee. Bear in mind that most consumers don't get that far. They simply accept poor service and move on. Statistically, you are the one who dared speak up among 26 who stayed quiet.
If the rehearsed "no" doesn't put you off, maybe a halfhearted offer of points or a gift certificate that quickly expires will end your mission. But you should know this: The company values those points at a fraction of a penny each for internal accounting purposes, and less than 10% of the vouchers are ever redeemed.
Read: My Satellite TV Company Damaged My Roof and Won't Pay. Help!
In other words, it's an empty apology.
If you stay the course, you'll probably do better. The secret is something I call the three "Ps" of advocacy: be patient, polite, and persistent.
Appealing to a manager, as Gross did, is a first step. But VPs and C-level executives go to great lengths to hide their direct phone numbers and email addresses from their own customers. And who has the time to go on a fact-finding mission to research these concealed contacts? That's why one of the first things I did when I started advocating for consumers was to post that information on my consumer advocacy site.
Taking matters into your own hands
Looping in an executive works. But you have to also know what to say. That's where self-advocacy becomes so important. You have to know what your rights are under the law, under your warranty, and perhaps most importantly, under the implied promises made by a business.
For example, Gross could have invoked Sears' own mission statement, to "provide quality products and services at great value" and to build "positive, lasting relationships with our customers." Certainly, burning a carpet and then sticking her with the bill is not a way to build a positive or lasting relationship.
Read: I've Wasted Hours Trying to Get My Elderly Mother's Phone Line to Work
If the carrot doesn't work, you have to try a little stick.
"I may have also mentioned that my next stop was the the New York Attorney General," she says. Gross had a small advantage; her consulting practice focuses on helping patients process insurance claims when they're unfairly denied, so she had a basic knowledge of the appeals process.
What if that hadn't worked? She could have taken Sears to small-claims court in New York, but there's a $15 to $20 filing fee, plus it's time-consuming. Victory in small claims court is by no means assured. And after that, she would have been out of options.
And that's wrong.
A helping hand
Four years ago, when I wrote my book Scammed: How to Save Money and Find Better Service in a World of Schemes, Swindles and Shady Deals, I decided to do something about that. I'd already been helping resolve consumer complaints as the reader advocate for a travel magazine, but I felt I should do more than document the sad decline of customer service and the hopelessness that consumers like Gross feel.
So I started taking cases from readers, fielding questions about everything from broken laptop computers to busted water heaters. Instead of simply offering advice on how to avoid a problem, I offered consumers ammunition: names, email addresses, and direct phone numbers of executives; and strategies for resolving a case before it became a court case. And true to its name, "Problem Solved," the feature helped secure an apology, a refund or facilitated a fix.
Read: American Express Wouldn't Help Me Retrieve $600 in Stolen Debit Card Funds
Then, a few months ago, Money.com agreed to become a regular home for Problem Solved, in effect making me Money's consumer advocate.
We've already run seven Problem Solved columns—and starting this month, you'll read about a new case here every week. I'll tell you how to navigate the customer service maze and win. And I'll show you how to beat the system legally—no tricks, no hacks—by holding a company to its promises.
The cases I cover are enlightening and sometimes entertaining, but they will always make you a better consumer. That's not just an implied promise. It's a guarantee.
You can send your stories of consumer frustration to Christopher Elliott at chris@elliott.org or get help with your problem at his consumer advocacy site.